Jennifer Roberts' Challenge
She won. Now, she says, 'the real work begins.' She has a lot to do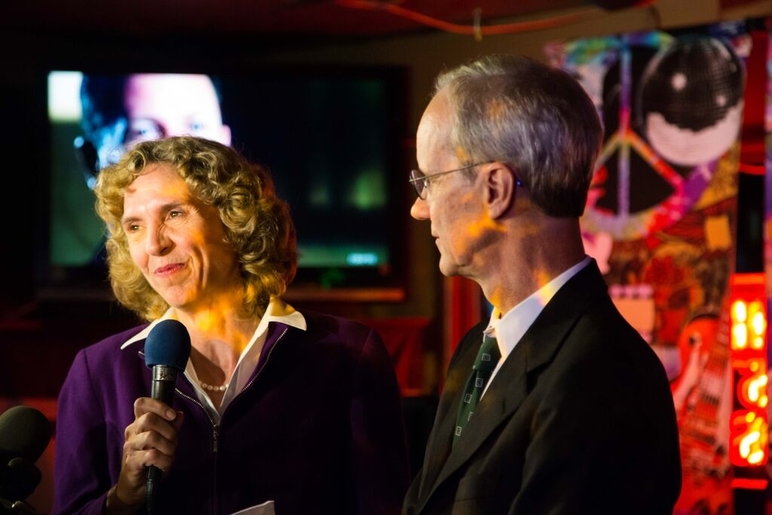 The Jennifer Roberts crowd had to wait for two hours, longer than was comfortable. People were packed into the port side of Jackalope Jacks in Elizabeth—trivia night took up starboard—and the place went stifling quickly on a wet Tuesday night.
The election returns were projected from an iPhone onto a screen wedged between the dartboards and the Hoop Fever game. The iPhone battery kept draining, and the returns—46 percent reporting, then 55, then 73—showed Roberts, a Democrat, leading by only a few thousand votes in the Charlotte mayor's race over Republican Edwin Peacock. People chatted, clutched their beers, smiled, but no one celebrated early.
Finally, at 9:43 p.m., a small whoop: 85 percent reporting. Battery at 42 percent. Roberts with 53.2 percent, Peacock with 46.7. The mayor-elect arrived 13 minutes later with her husband, Manley, to a sweaty group chanting, "Jen-ni-fer! Jen-ni-fer!" She'll be only the third woman to serve as Charlotte's mayor, the first to head both the city and Mecklenburg County governments. She'll also be the fifth Charlotte mayor in three years.
"There can be no doubt," she said, "that this will send a message heard in every corner of our city."
Roberts didn't specify what the message was supposed to be, or how many Charlotteans would hear it. Peacock was the aggressor in the final month of the campaign, and it showed on Election Night: Roberts won with 52.26 percent to his 47.6, a margin of only 3,723 votes in a heavily Democratic city.
Roberts announced her candidacy in May 2014, long before anyone else, and she went from what The Charlotte Observer termed a "long shot"; to a well-funded contender; to the prohibitive favorite after dispatching Mayor Dan Clodfelter in the primary; to an uneasy victory after polls had shown her with a 15-point lead. Roberts accomplished the near-impossible as a campaigner: She won as an underachieving underdog.
Roberts was a varsity volleyball player at UNC Chapel Hill in the late 1970s and early '80s, and she seemed to have adopted Dean Smith's four-corners approach to playing with a lead in basketball. In the campaign's final weeks, as Peacock and the county GOP assailed her with television ads and direct mailers for her role in the county's 2011 revaluation fiasco and perceived lack of a crime plan, Roberts declined to bite. "My campaign is positive," she said during a debate two weeks ago. The approach nearly bit her.
She chose to play it safe and count on the connections she'd made throughout the city as she campaigned over the previous 18 months—leading the Observer, in a stunner, to endorse her opponent and accuse Roberts of "timidity." It's hard to disagree given her choice not to go after Peacock, if for no reason other than his personal and professional ties to Governor and ex-Mayor Pat McCrory. He's not the popular, moderate "Mayor Pat" anymore, and the area was ripe for exploration; Peacock himself said after his loss two years ago to Patrick Cannon that he thought his association with McCrory and GOP lawmakers contributed to his loss.
"Peacock would've had my vote if it wasn't for McCrory. I voted for McCrory again and again [as mayor] and got burned" once he became governor, said Claire Helm, an unaffiliated voter who cast her ballot Tuesday evening at Plaza Road Children's Academy. "And I went to school with Edwin Peacock."
Roberts focused on three campaign issues: expanding economic opportunity throughout the city; improved public schools and expanded after-school programs; and job recruitment and creation, especially for women and minorities.
All three are tough nuts, and Roberts' prescription for trying to break the shells boils down to her ability to convene and persuade, which is about all a Charlotte mayor can do. She repeated often her success in helping raise $8 million in private money for a new domestic violence shelter on West Boulevard, and she's suggested that the same kind of effort could lead to better programs and initiatives from the city.
There's no doubt that Roberts is smart, well-connected, and can bring people together to solve a problem. Whether she can do it from the mayor's office, and successfully get her efforts through the City Council, is another matter. The carried-over 9-2 Democratic majority on the council is no guarantee of a cakewalk for a Democratic mayor; you could ask Anthony Foxx about that.
Foxx, now the U.S. Secretary of Transportation, was the last Charlotte mayor with a cohesive vision of expanding growth and opportunity throughout the city, with a policy platform that covered every base, from land use to transportation to neighborhood improvements. He didn't win every battle, of course, but he (and Pat McCrory, for that matter) understood the need for Charlotte mayors to discover and embrace a basic story about the city and its future, then push for specific policies to try to enact it.
While Roberts' stated goals are praiseworthy, she hasn't blended those and others into a cohesive view that combines the big and small pictures, the short and long views. One thing we all know about Jennifer Roberts—she's an intelligent woman with energy to burn. The city would benefit from the mayor-elect turning her energy toward that goal and embracing the concept her opponent, Peacock, cited every chance he got: leadership.