Jenny & Bryce
October 18, 2013: Salisbury Station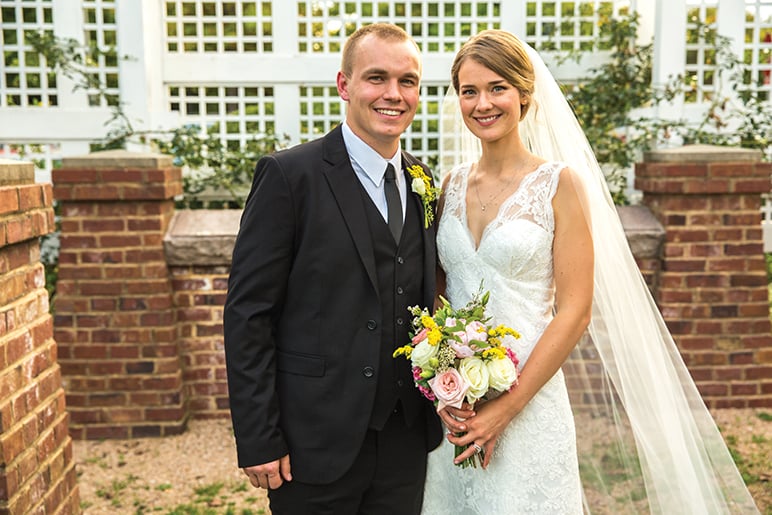 Photographs by Jacob Jones Photography
Jenny Harvey and Bryce Randall met at freshman orientation on their first day of Bryan College. Six years later, he surprised his sweetheart with a trip to Charleston, South Carolina, and sang her a love song on the beach before proposing.
Bryce's father officiated the ceremony, and Jenny's dearest friend, Abby Clifford, sang for the mothers' and grandmothers' entrance. The bride entered on her father's arm to the song Bryce sang when he proposed, "First Day of My Life" by Bright Eyes. Jenny's brothers gave a blessing, both fathers shared stories, and Bryce slipped his grandmother's wedding band on Jenny's finger. "We'd been waiting for what felt like forever to finally be getting married," Jenny says. "And when Bryce teared up saying our vows, it was the most special moment."
DJ Groove announced their first dance, Little Joy's "Brand New Start," before the family-style dinner prepared by The Buttercup Café & Catering—fried chicken, crab cakes, macaroni and cheese, salad, and cheese biscuits. Tables lining the pavilion dance floor held coffee, hot cider, almond-vanilla cupcakes, flavored popcorn, mini tarts, lemon pies, and a coconut-cream wedding cake. Under a cloud of bubbles, the Randalls left for Saint Lucia to enjoy beaches and rain-forest hikes, snorkeling and spa lounging.