Jerald Melberg Gallery Exhibition Bridges Two Arts Scenes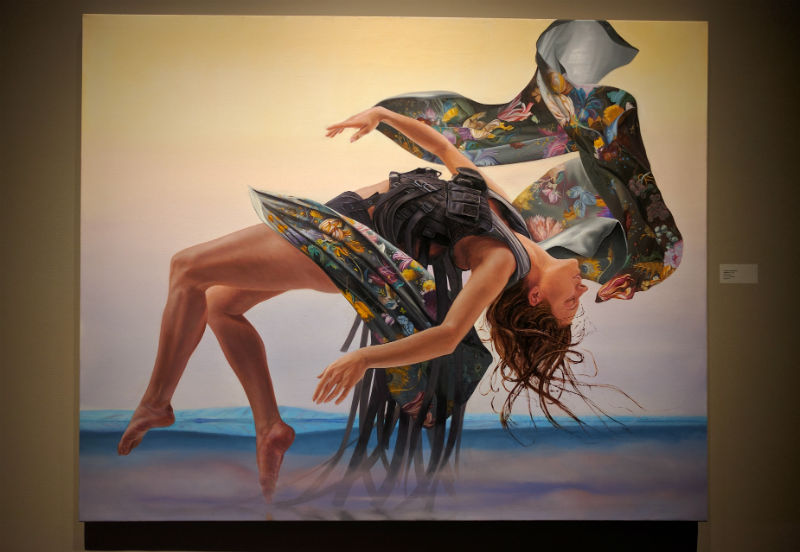 JUST OVER a year ago, Charlotte magazine previewed Robert Motherwell: A Centenary Exhibition at Jerald Melberg Gallery. The show shined as an example of what this Cotswold arts venue does best: provide Charlotte with world-renowned work and museum-quality staging. This is a place that represents names like Motherwell, Ida Kohlmeyer, Wolf Kahn, and the city's own Romare Bearden, luminaries both working today and long deceased.
That's the role that the gallery's played for 32 years, building its own national base of clients and artists and exhibiting at art fairs across the country. Yet there came a point, during that time, when Melberg began reflecting on his relationship with community the gallery inhabits. "I've been doing such a considerable amount of my business on a national and even international level, and artists on that level, that through the years, I started to realize that I've lost some contact with my city," Melberg says. "So I decided to do something about that."
Around eight months ago, the Jerald Melberg Gallery team began work on Two to Watch, a show that focuses on artists on the rise in Charlotte. He scoured portfolios, attended shows, and spoke with colleagues across the city for this unprecedented show for the space. In the end, Melberg landed on two artists: sculptor Matthew Steele and painter Nick Napoletano. The two may share the bill, but Two to Watch isn't a pairing: It's two exhibitions in one, with each artist granted his own room.
On the Thursday before the show opened, Napoletano is visiting the gallery to see his work on the walls of Jerald Melberg Gallery for the first time. The 25-year-old artist is noticeably thrilled to see his work staged in Melberg's gallery. He moves closer to scrutinize the paintings, finished just in time for the show. "Do you want me to touch this up?" he asks, pointing to the side of the canvas.
There aren't many shared attributes between Napoletano's work and Steele's sculptures, but their processes share one attribute: both are meticulous. "Craftsmanship" is a word that comes up a few times during a sitdown with Melberg and Napoletano. "I used to jury seven to nine shows a year—everything from museum shows to outdoor art in the park shows," Melberg says. "I've done them all. Often, I could tell whether I was going to include something in the exhibition from seeing the back before I saw the front. You know exactly what I'm talking about."
Napoletano nods, and chimes in: "It's the care and consideration when building the framework on which the painting sits."
"How well done are the stretchers?" Melberg adds. "How well done is the canvas?"
It's one of those points that seem so obvious when said, yet isn't often articulated outside of the world inhabited by gallery owners, curators, and working artists.
Napoletano has only called Charlotte home for a year, though he quickly turned heads in the region for his classical, hyperrealistic painting that adorns a billboard in Plaza Midwood as part of the ArtPop program. The grand "Fraternal Correspondence" was crafted over 1,000 hours and represents an ideal that Napoletano's carried with him through bouncing around the East Coast. Napoletano's new work maintains that level of quality, but there's an evolution: "It's a mash-up, for sure," he says. "The classical framework is the springboard by which everything has been built. It's now repurposing and retooling it to be as relevant to contemporary society as possible."
Napoletano moved here from New York City, though the artist bounced around the East Coast and sampled several art scenes before settling down here. "Charlotte's on the rise, and if you can be on the forefront of that, there's real room for growth and impact and positivity," he says. "I had passed through here, and it just seemed like the right time and place to be."
Steele's sculptures have been seen in Charlotte exhibitions before Two to Watch, but never quite like this. Attendees of uptown's Skyline Artists in Residences showcases, now renamed Goodyear Arts in its new location, may remember Steele's 69-foot-long "Lure," a piece that literally protruded through a store set for demolition. As shown in Two to Watch, Steele's usual work is much smaller, though just as intricate and ambitious. The one-time McColl Center artist-in-residence and Indiana native is now creative services manager at the popular arts spot. Like many artists-in-residence at McColl, his stay in Charlotte became a permanent thing.
Steele's sculptures occupy the first room in the venue, which was packed on the rainy Friday opening of Two to Watch, the day after my conversation with Melberg and Napoletano. The room is a blend of the 20-something arts crowd heading to a Goodyear Arts showcase right after, Melberg's loyal clientele, and a broader cross-section of Charlotte artists and patrons. The backdrop of this gallery, with its precise lighting and positioning, adds a serene quality to pieces. Melberg says that with the show, he "wants to make an introduction that I think no one else can."
"I thought the show could do two things," Melberg says. "One: It could bring a group of people in the city into my gallery that have been here rarely, if at all. And two, it could give my clientele the opportunity to see these people they have not seen. I'm trying to be the narrow point of the hourglass here, and we'll see what happens. I am really delighted to present this show to my community. I am delighted I can bring a new audience and introduce my audience to a couple artists that I think are worthy to see, worthy to watch."
Two to Watch runs through Sept. 10. The gallery is open Monday through Friday, 10 a.m.-6 p.m., and Saturday, 10 a.m.-4 p.m.