Jerald Melberg Gallery Offers Comprehensive Look at Motherwell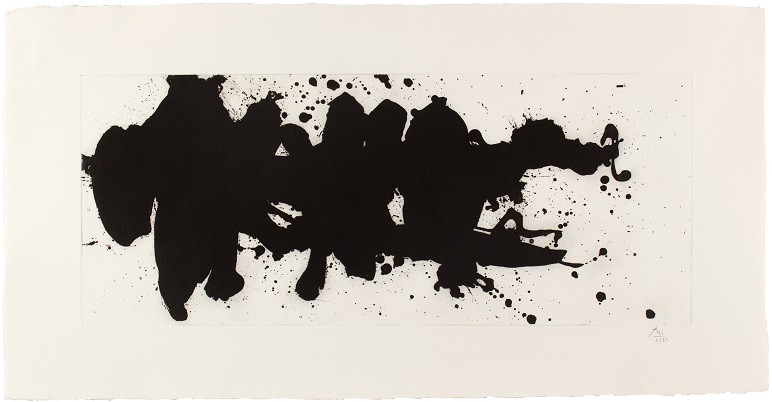 THEY COME FROM all over—FedExed from Texas, transported in trucks from New York, or borrowed from other galleries. Each component is a piece of a puzzle, one that when displayed on the walls of the Jerald Melberg Gallery this Saturday, will represent the life of Robert Motherwell. The abstract expressionist is the subject of the Cotswold locale's latest exhibition: Robert Motherwell: A Centenary Exhibition. To celebrate the 100th anniversary of Motherwell's birth, gallery staff and owner Jerald Melberg staff spent 18 months curating and collecting a comprehensive representation of his career. Even thirty years after Melberg left his position as a curator for the Mint Museum, his knack for thoroughness and providing context shines.
"You spend a lot of time in galleries and you will probably notice a difference, that this place is more like a museum," says Grace Cote, senior coordinator for the gallery. "I would say the main objective of this exhibition is purely to educate. That's why we are working so hard on the text [displayed beside the works]. That's why it took 18 months to get a good sampling of the many, many styles Motherwell worked in. This is a museum-quality show. This is an exhibition."
The program also comes with a blessing—or, in more official terms, an authorization—from the Dedalus Foundation, which manages the artist's work. The foundation was started by Motherwell a decade before his death in 1991, and since, has promoted public conversation and education in modern art, through grants and the loaning of Motherwell's work. Jerald Melberg Gallery is one of four galleries to directly represent the foundation. This program is the only centenary (or in other terms, 100th anniversary) exhibit in the world that's approved by Dedalus.
Motherwell's work fell under the abstract expressionism label, considered to be the first true artistic movement for the U.S. He was the youngest among a group called the "New York School," which emerged during the 1940s and included figures like Jackson Pollock, Mark Rothko, and Willem de Kooning. The timeline of Motherwell's work, often a collection of sparse shapes and colors that serve as symbols, will be represented on the walls of the Melberg Gallery by nearly 90 pieces. Twenty-two represent his suite of Ulysses prints, created to illustrate the modernist novel by James Joyce. (Motherwell was a Joyce scholar, evident in his foundation's name, borrowed from a protagonist in the author's books. Melberg adds that "the Joycean themes flowed from his brain into his hand and onto the paper.") From 1965, there are 12 pieces that represent the 500-plus Lyric Suite, ink drawings on rice paper that took on lives of their own once ink marked them. There are examples of the Elegies, the Gestures, and the Opens. Much of the work has inspired Melberg to come up with his own term for the artistic process.
"I'm a firm believer in that a lot of art is what I termed a 'controlled accident,'" Melberg says. "And that's really the case with how Motherwell came up with the Opens. One day, he was in his studio and he had leaned a small canvas against a larger canvas. By pure happenstance, he happened to see it in a way he never had seen. He painted around it, and it inspired an entirely new series. I think that's a controlled accident."
Abstract expressionism isn't a universally beloved genre of fine art, and Melberg expects varying opinions when the exhibit kicks off on Saturday. "Hopefully, any and all art should challenge you in some way," Melberg says. "And there are going to be some people who are going to look at these and say, 'Ah, it's like a Rorschach test. What's this have to do with anything?' But I say this: At least it's affected them. At least it's made them make a statement. I hope some people some people come in and say, 'Well, I guess this guy's important. Let me go check him out.' Others are going to be people in here once a week for an hour. Some of those people are my collectors, who are chomping at the bit for this thing to go on the walls."
Robert Motherwell: A Centenary Exhibition presents not only the opportunity to see much of the artist's work, but also the opportunity to own it. Prices aren't prominently displayed, as Motherwell maintains that he wants visitors to see the art for itself, not its estimated value.
Still, for Melberg, this exhibit is a personal one. When explaining his excitement for the upcoming exhibit, he calls back to a feeling he had after his first meeting with the Dedalus Foundation, 12 years ago. "I left the office, and 12 floors later, when I got off the elevator, it hit me," Melberg says. "I had just become a representative of the Dedalus Foundation. And I have never lost sight of that. I have never taken it for granted. It is as important to me as anything."
The exhibit runs through Aug. 29. Click here for more information about the gallery.