Jerry Orr is Chuck Norris
The saga of the Charlotte airport, as told through a series of GIFs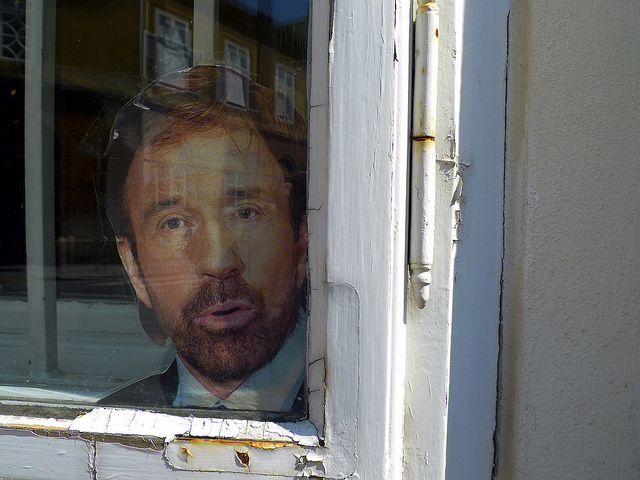 Last week, after more than 70 years of city control, North Carolina's General Assembly passed a bill to immediately take Charlotte/Douglas International Airport away from Charlotte and place it in the hands of an authority. This is an important story. So important, that a friend of mine put it this way: "Now that I don't work in the media anymore," he said, "I don't give a s–t about the airport story."
Fair point. It's complex. It's about broad themes of power struggles and proper governance and the long-term future of Charlotte's headquarters economy. But will this cause my airfare to go up? Is parking going to get any better or worse? Will my bags make it to their destination? Wait, none of those things is going to immediately change? Okay, fine. While you talk about the airport, I'm going to click around the rest of the local TV stations until I see something on fire.
Truth is, nobody has done a good job making the airport story exciting. To remedy that, I present to you the latest installment of Boring Story Made Exciting By A Series of GIFs, featuring the aviation director as depicted by Chuck Norris:
—
Jerry Orr started working at Charlotte Douglas International Airport in 1975, and was put in charge of it in 1989. He kept costs low, which made US Airways happy. Nobody messed with him:

But when the city took over policing at the airport after a teen stowed away in the wheel well of a jet, Orr was upset with the intrusion. It wasn't long before a bill was introduced to take control away from the city. Some saw it as a subtle effort by Orr to fight back:

Orr said publicly that an authority was a good idea, which flew in the face of the opinions of his bosses at the city of Charlotte. But Orr wasn't fired, and the city had to deal with it:

Once the bill passed, Orr sent a letter saying that since the city no longer had control of the airport, he no longer worked for the city. He worked for an authority, but was still in charge of the airport. It was seen as a kick to the face to city leaders:

The city saw the letter as a resignation, and since they had asked for and received a temporary restraining order blocking the law and keeping the airport under Charlotte's control, Orr found himself out of a job:

A lawsuit blocking the takeover is almost certainly coming. But of course, if the city loses, then Orr once again will be in charge of the airport, without oversight from the pesky City of Charlotte:

Thumbs up indeed.
UPDATE (7/25/2013, 10:10 a.m.): So apparently there's a new deal that would keep the airport under city control? I'm as confused as Jerry "Chuck Norris" Orr staring at this bear:

UPDATE (7/25/2013, 10:34 a.m.): Never mind, Rep. Ruth Samuelson just killed that plan. Orr wins, no matter who grapples with him:

UPDATE (7/25/2013, 1:03 p.m.): NO WAIT THE BILL IS BACK AND IT JUST PASSED THE HOUSE RULES COMMITTEE. But I ask you, Charlotte city manager Ron Carlee and Rep. Becky Carney (D-Mecklenburg), who is this really about?
When asked about Jerry Orr, Carlee says it's not helpful to comment about any one person, the airport is more than just one person. #ncga

— Jeremy Markovich (@deftlyinane) July 25, 2013
Carney says airport fight is now all about one man – Jerry Orr #clt #ncga

— Ely Portillo (@ESPortillo) July 25, 2013
Cue the fireworks and American flag: