Jet Set with Amy Vermillion
Amy Vermillion explains how to spruce up $40 million airplanes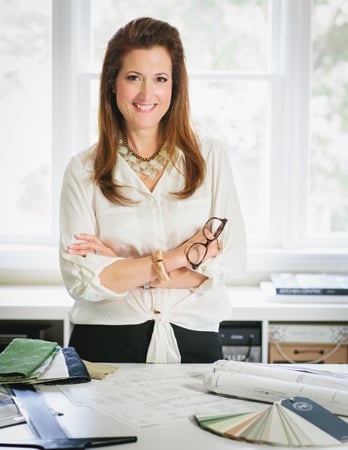 Accustomed to working on high-end homes, south Charlotte-based interior designer Amy Vermillion was familiar with astronomical decorating budgets. A few years ago, she started designing private jets—and discovered they typically sell for $40 million, unadorned. Her clients come from Charlotte and around the country. Bonus: She gets a luxurious ride home after work.
I got started doing planes when a residential client said, "We're buying a jet, and we'd love for you to do it." I'd never done anything like it, so I met with a chief pilot [who is in charge of the crew and flight schedules for owners of multiple planes] and read everything I could get my hands on. I got an education!
When you purchase a new jet, it comes green. They fly the jet like a tin can; there's nothing in it. It's covered in green paint, and then I get hired to work with the people who complete everything inside. I say I want this kind of seat, carpeting, everything from the exterior paint scheme to picking china, cashmere throws, and monogrammed cocktail napkins. One jet can take two years to finish.
The most challenging thing about designing for jets is weight! Everything is about weight and how that affects fuel capacity. And then, of course, staying within a budget. Even though we're talking about big budgets, my clients still want value. Usability is important too. A plane needs to stay in service for a long time. So I try to choose things that are timeless and still trendy.
The VIP seat is where whoever owns the aircraft sits. And that is their seat. No one else sits in it, and from that seat the VIP can control everything: the lights, the temperature, the cameras on the plane [on the belly, nose, and tail]. The cameras really turn it into a thrill ride—you can see yourself coming in for a landing.
The next thing I really want to do is a yacht! I've tackled the whole weight issue on a plane and all the specifics that go with it. I think a yacht would just have more water-based specifics. I don't have a bead on one yet, but with my clients, you never know who's gonna say, "I bought a yacht!"