Jim Szoke: The Voice of the Panthers
Meet the man who has been narrating the team's games since 1995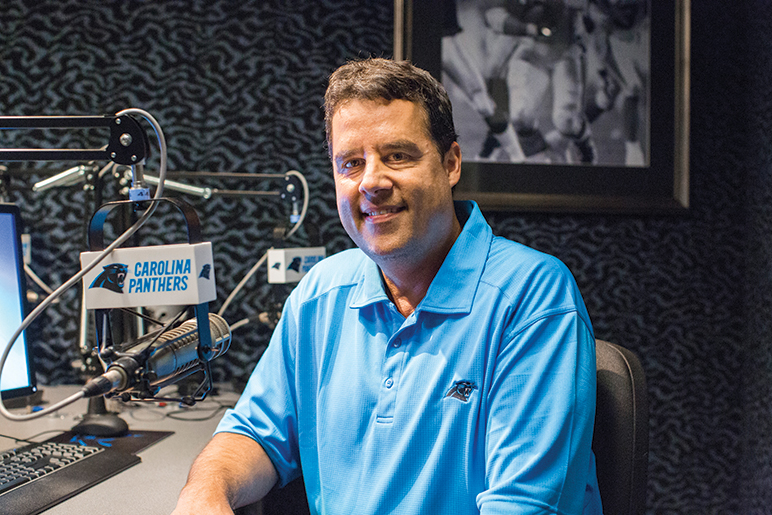 The Carolina Panthers have had two home stadiums, four head coaches, and more than 300 regular-season games. Through it all, there has been one constant: Jim Szoke, a commentator on the WBT radio broadcasts, has been narrating games since the franchise began in 1995. Here, he shares some favorite memories with writer Matt Crossman.
We're in a unique role in that we're the voices of the local team. … At heart, we're Panthers' fans. We get to know all the guys. We travel with them, we fly with them, we stay in the hotels, we eat meals with them. You become a fan. There's no denying when the Panthers are playing somebody, we want the Panthers to win, and it comes through in the way we call it—without being total homers. So by nature, that's more fun. And when it's not going well, it's not as fun.
We used to do a weekly show at a Longhorn Steakhouse, which is no longer here, over on Morehead Street. It was me, Bill Polian, who was the GM at the time, and Bill Rosinski [the former play-by-play man]. This was probably 1998, something like that. The show was sponsored by City Chevrolet. Every break, all year, I would throw to break saying, "City Chevrolet." At some point in late November, out of nowhere, I said, "Brought to you by shitty Chevrolet" in front of a restaurant full of people. I thought, "Well, there's no clever way out of that." During the commercial break, Bill Polian is trying to console me by saying things he's said in the past, mishaps. I said, "No, Bill, not as good as what I just did."
One of my favorite people was Sam Mills [the Panthers' linebacker and coach who died of cancer in 2005]. It became a habit—go to practice on Wednesday and go see Sam Mills after practice for an interview. Beyond what a ferocious competitor he was, he was just such a nice guy, such a thoughtful human being. He was always consistently in a very good mood. He just loved football. He was great at talking X's and O's, but he really just had a good feel for the sociology and psychology of the game.
For those lucky 32 places that have NFL football, there's nothing else like it. It's great to have NBA, NHL, Major League Baseball, but this is, if you had to pick one, a nation of NFL fans. We're lucky to have one of the 32.
I've not worked with anyone in our booth who preplans what they're going to say as far as, I'm going to say this or, This is my catchphrase. There are certain guys around the league, they call touchdowns the exact same way every time. There's nothing wrong with that. But I think it's fun that it's organic the way we call the game, whether it's a highlight call or anything in the course of action. It's not like some ESPN catchphrase that we say over and over again to get a T-shirt deal.