JJ's Red Hots Sausage Fest this Saturday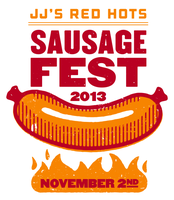 Since opening in July 2012, JJ's Red Hots on East Boulevard has long been a supporter of Charlotte breweries, devoting its taps to local beers while also carrying a wide selection of canned craft beers.
This Saturday, sausage and craft beer lovers will unite once again at JJ's Second Annual Sausage Fest. From 4 p.m. to 9 p.m., enjoy unlimited sausage and craft beer samples, all for just $25. There will also be live music from Putney's End and The Whisky Dollars, along with cornhole and other games.
A number of local breweries and bottle shops will be represented at the Sausage Fest, including Olde Mecklenburg, NoDa, Triple C, Unknown Brewing, Good Bottle Co. and Salud Beer Shop. They'll be pouring unlimited samples, and you can also get a full pint of any beer for $3, which includes a pint glass from that brewery.
There will be numerous sausages featured, highlighted by a smoked venison sausage with mustard made from Triple C's Road to Nowhere Porter. JJ's bratwurst will also feature Sierra Nevada stout mustard (along with traditional sauerkraut, of course). Other sausages include Korean bulgogi with wasabi aioli, chicken poblano with cilantro-lime crema and Andouille with remoulade and slaw.
Some proceeds from the event will benefit the All-In to Fight Cancer nonprofit group. Tickets for the Sausage Fest (there are additional prices if you just want the food, as well as for kids) can be purchased here.