Jock Rock: Vinny Esposito
Ever wonder who chooses the music at Panthers games? It's this guy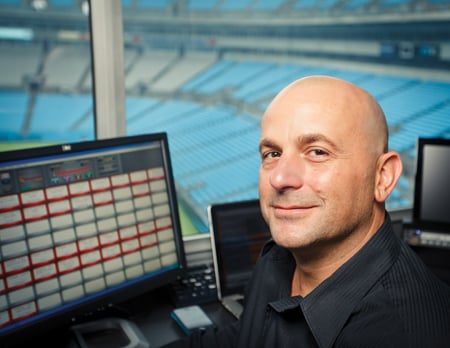 This season at Bank of America Stadium, fans sitting on the twenty-five-yard line may look up and wonder who the Joe Pesci lookalike is in the press box, occasionally perusing the crowd below.
Vinny Esposito, the game-day DJ for the Carolina Panthers, watches the crowd to see how fans react to the music that blasts from the stadium's speakers. Entering his second season with the Panthers, he translates his own DJ style to that of a stadium DJ. "I've been picking songs like I pick at parties, and it's been working," he says.
Esposito and his wife, Diane, are also co-owners of Split Second Sound Entertainment. The company and its crew of forty DJs provided entertainment at nearly 700 private parties last year, including weddings for the NBA's Stephen Curry and Raymond Felton. "We teach [our DJs] about psychology, behavior, cultures, we teach them about people and learning how to read and react to them," he says.
That party DJ mind-set transitions smoothly to game-day duties. Each week, Esposito compiles a song library to fit any of the unpredictable scenarios that an NFL game may present. He says it's all about "being able to go in any direction … just like a party. It's deejaying for 70,000 people."
Panthers fans will remember "the monsoon game" versus the Jacksonville Jaguars on September 25, 2011. During a stoppage in play, Fox Sports decided not to cut to commercial for its TV audience. As the rain drenched fans, Esposito heard the stadium's producer in his headset say, "We're not going to commercial. Play something." He chose the techno favorite "Sandstorm."
"You saw people jumping and dancing everywhere in the rain … it was crazy," he says.
Esposito plans to keep shaking up the soundtrack. After experimenting last season, longtime fan favorites like "Hell's Bells," "Welcome to the Jungle," and "Crazy Train" will return to the rotation. But Esposito is also adding new songs to introduce players, precede kickoffs, and accompany certain defensive possessions. He is considering playing an energy-filled track like "Headstrong" by Trapt following a positive defensive play, and something like "Wake Me Up Inside" by Evanescence when the "team needs some life in them."
Esposito says he has a blast with his job. "I'm like a kid in a candy store."
Pop Quiz with Vinny Esposito
We tested Esposito's skill in selecting a song to capture a given mood. Here are his picks for the following situations:

A streaker runs out onto the field. It's up to you to help divert attention from the guy looking for his fifteen seconds of fame. I'm going to play a very mellow song like "Blackwater" [by the Doobie Brothers]. It's going to be one of my injury songs.
Ron Rivera is giving a fiery pregame speech. To keep the vibe going, you drop a song immediately after his final word. "Mama Said Knock You Out" by LL Cool J or "All I Do Is Win" by DJ Khaled.
Some teams dance together before or during games. Ron Rivera decides to support a full-team synchronized dance session before a game and looks to you to provide the perfect track. "This is How We Do It" [by Montell Jordan] or "I Am Number One" by Nelly, which is a song I play for Cam [Newton] a lot.
Pretend the PGA Tour is dominated by a Happy Gilmore–type culture. What would you play to pump up the golfers? "Save a Horse (Ride a Cowboy)" [by Big & Rich] or "Margaritaville."
Cam Newton brings a date to a fancy prepared dinner on the fifty-yard line. You have the duty of picking the background soundtrack. Luther Vandross's "If This World Were Mine." That's the exact song I would do. If he's on a date with a girl right there, that would be the song to play.
While at work, a person finds out he has won the lottery. Subsequently, this person decides to quit the job he hates—in an emphatic fashion. The easy thing would be to say "Take This Job and Shove It" [by Johnny Paycheck], but no, "Two Tickets to Paradise" [by Eddie Money].
You are sitting around at home on a Saturday with no one to play music for but yourself (and maybe the dog, too). You know, I never do that … that's a really good question. … You actually stumped me. I'm always a situation person. It'd probably be eighties rock, Skid Row, something like that. I can't give you an exact song because I'm all about the feel and the atmosphere. So, I fail that answer.