Joedance Film Festival Goes Virtual—And Continues Pushing Cancer Research
A decade after he died of bone cancer, Joe Restaino lives on through the annual event and critical medical advancements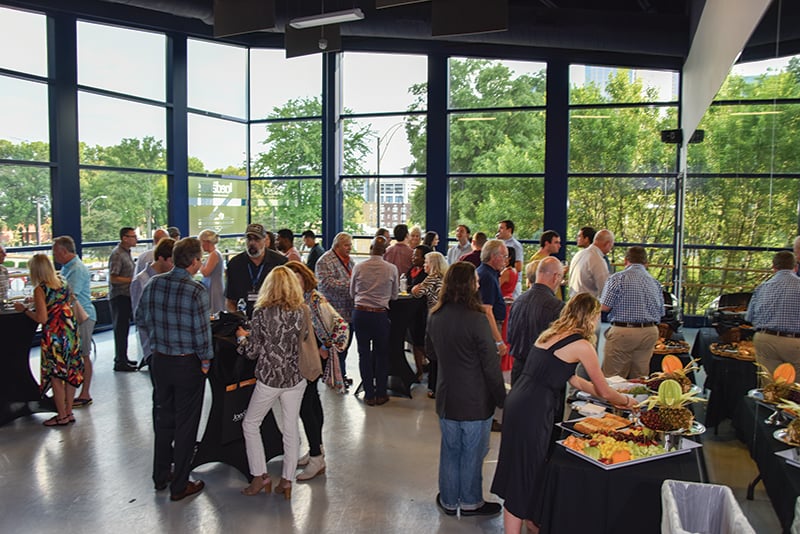 A question runs through Diane Restaino's mind each time she makes a decision as the captain of a growing non profit for pediatric cancer research: What would Joe want?
Her son, Joe Restaino, died of bone cancer in 2010, at age 20. As he waged his 4-year battle with osteosarcoma, up until he could no longer talk, Joe gave his parents a specific list and made them promise they'd follow through.
"He never asked me to find a cure. It was always about finding a better way to treat cancer," Diane says, talking by phone from her home during the height of the coronavirus lockdown. "He said, 'I want you to fund a clinical trial. I want you to create an internship program. I want you to find better ways to treat kids, and I want you to be a part of research every day.'"
The phone line goes quiet for a moment.
"That's a big list."
But she and Mike Restaino, her husband and Joe's father, have powered through it over the last 10 years. In 2010, just a few months after Joe's death, the family channeled their love of movies into a mini-film festival, hooking up a DVD player to a neighbor's porch and projecting Sundance movies in the courtyard of their Fourth Ward townhome community.
The Joedance Film Festival eventually turned into a multi-day event and moved to the Charlotte Ballet headquarters on North Tryon Street in 2018 and 2019. Instead of showing Sundance movies, they now host three nights of short features by filmmakers connected to the Carolinas, Tennessee, and Georgia.
This year, the festival will happen virtually from August 6-8 due to COVID-19. Organizers have received a record number of film submissions and as of early June were working on a livestreaming platform that will make viewers feel they're at the event and not at home. At press time, the festivals had raised more than $205,000 for cancer research at Atrium Health Levine Children's Hospital.
It's not money that Diane and her board hands over blindly with a prop check and a "see you next year" mentality. A few times each year, she sits down with Dr. Javier Oesterheld, the specialty medical director for pediatric hematology, oncology, bone marrow transplantation, and palliative care at Levine Children's Hospital, to talk about how to put the Joedance donations to work.
Joe's list sits squarely in her mind: Clinical trials. Intern­ship program. Research. For clinical trials, Joedance funds are combined with donations from two larger Charlotte-based pediatric cancer nonprofits, the Isabella Santos Foundation and the Jeff Gordon Children's Foundation, to fund a trial created by Oesterheld to treat sarcomas in children. Sarcomas are a broad group of cancers that begin in the bones and soft tissues.
Donations from philanthropic groups are critical to trials, which typically cost hundreds of thousands of dollars and take three to seven years. "It's incredibly difficult to get funding for these trials," he says, "because unfortunately, most of the funding in this country goes to adult cancers." Trials for childhood cancers work like this, Oesterheld explains: Once a new drug has been tried on cells, animal models, and adults, it is given to 12 to 15 pediatric patients to determine if it's safe. If it is, dozens of patients enroll to see if it works on specific types of tumors. Dozens of children have been treated in the pediatric sarcoma trial at 13 institutions nationwide where the study chair is at Levine Children's Hospital, he says.
Conducting the trial in Charlotte is a big deal for local families, who usually have to spend time and money on travel to far-flung states. "That was a huge part of my mission statement for our team here," Oesterheld says. "I don't want people to have to leave Charlotte." He believes Diane helps donors grasp that concept. Other fundraising groups may raise more money, but Restaino breaks it down through her Joedance community in a way people can understand.
"One thing she doesn't give herself enough credit for is that they bring awareness more than lots of people in town," he says. "That film festival gets people to really talk about pediatric cancer. Why are we sending patients to wherever for treatment? Why can't they just stay here?"
When doctors approached Joe and Diane about a clinical trial, Joe responded with an emphatic yes. "Joe wanted to do it," she says, "because he wanted to see if somebody else could benefit from what he was going through."
Joedance funds also pay for a pediatric oncology summer internship program each year at Levine Children's Hospital. The focus of the internship changes by the year, and this summer's intern will assist in the study of brain tumors. Past interns have worked on projects ranging from a mouthwash called Healios to combat sores in chemotherapy patients—now a standard protocol for pediatric cancer patients—to the study of integrative oncology, the use of mind-body practices like art therapy and massage.
And that research component Joe so badly wanted? Joedance will fund a research technician's salary for three years in Levine's newly opened basic science lab. "Joe gave me a pretty clear road map, which I am very fortunate for," Diane says. "I always say to people, 'Let's keep in mind that he is 20 years old. These are his wishes, not mine.'"
Oesterheld wasn't Joe Restaino's primary oncologist, but he got to know Joe as he went through treatment. He's still amazed at the thought of a pediatric cancer patient able to express what he wanted his parents to do after he died, and for them to do it.
"Her take on raising awareness—to do a film festival that Charlotte didn't know it needed, and the fact that her son told her, 'I need you to do x, y and z'—there's so much power to that," Oesterheld says. "She was such an advocate for her son, and her son was such a beautiful human, and it's just amazing to see what she has done in his memory. I say to her, 'Joe would be so proud of you right now.'"
CRISTINA BOLLING, a Charlotte writer, has reported on Charlotte's immigration, arts, and popular culture scene since 2000.
---
Want to go?
The Joedance Virtual Film Festival runs August 6-8. Tickets range from $10 for students to $70 for all-access passes and can be purchased at joedance.org/tickets.