Joedance: The Film Fest Next Door
The event preserves a young man's legacy and raises money for cancer research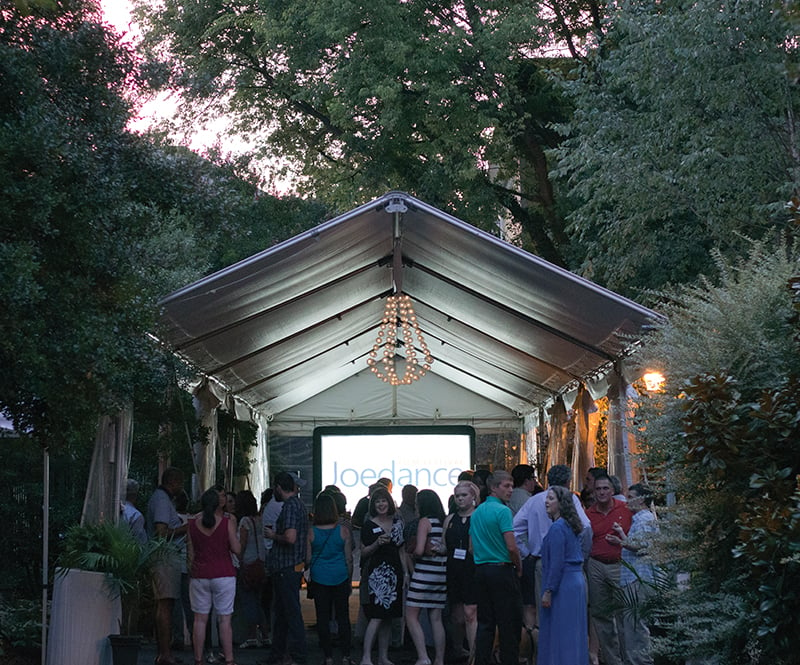 EACH DAY, Diane Restaino walks past the private courtyard next to her 10th Street townhome in Fourth Ward. Most weekends, it's a spot for Restaino and her neighbors to stop and relax and catch up over a glass of wine. In early August, though, the tranquil enclosure and walkway transform into the site of Joedance, a two-day film festival with hundreds of attendees and two screens.
"Everyone that lives here knows this happens every year," Diane says. "We have wonderful neighbors who let us take over this whole area for four days. Literally, no one can get back here once the tents are up."
In 2010, 15 people showed up to the first-ever Joedance. That was just months after Diane's 20-year-old son, Joe, died after a four-year battle with bone cancer.
Joe was diagnosed with osteosarcoma in 2006. Amid treatments and surgeries and heartache, he graduated from the prestigious McCallie School, a boarding and high school in Chattanooga, Tennessee, as a captain of the swim team and the holder of high honors. For a time, the cancer went away. But after it returned during his first semester at the University of Pennsylvania, he withdrew, backpacked across Europe, and learned how to sail. He maintained his love of films, often accompanying his family to the cinema and movie nights at Fourth Ward townhomes. He returned to McCallie for one last chapel talk, in which former and current students share their experiences, in September 2009. The following January, he passed away.
During his last months, Joe asked his mother to start an event in Charlotte to raise money for cancer research. A conversation in the Restainos' living room with a few family friends after Joe's death sparked the idea for Joedance; the name is a reference to the Sundance Film Festival in Utah. The family ordered Sundance-accepted films from Netflix for the first event and hung a projector off a neighbor's railing, aimed at the side of another's house. The first event netted $950 in donations, which went to the Levine Children's Hospital's rare pediatric cancer research and clinical trials.
"Joe didn't want his whole name on anything," Restaino says. "He was just like that. For the first one, our family just figured people came because they wanted to help us through a hard time. And then they asked us if we'd want to do it again. So we did it again."
The Restainos established Joedance as a nonprofit organization in 2012. Archer Daniels Midland and McCallie became sponsors. A couple of years later, Rock Bottom Brewery made a beer for the festival. And in 2015, the Joedance logo adorned driver Jimmy Weller's car during a NASCAR Nationwide Series race. This year, organizers say the festival will raise at least $100,000. The money goes toward projects such as Healios, a mouthwash to combat the painful sores brought on by chemotherapy.
Filmmakers from across the United States now submit to the festival. Program director Will Davis, a filmmaker and UNC Charlotte professor, selects the lineup from the field of entries. The only requirement for entrants: One of a film's crew members must have a Charlotte connection. The intimate event evolved into a testing ground for film pros. One short was selected for the Cannes Film Festival. Another, 2015's Sea Horse, ended up on Netflix.
The crowd at Joedance is a mix of film-lovers, filmmakers, family friends, and Joe's McCallie classmates. Joe's younger siblings, twins David and Tony, also come back home for the event. David is a film studies grad and writer who crafts Diane's keynote speech each year; Tony is in the Medical Services graduate program at Boston University.
Today, as she strolls through the courtyard, Diane smiles as she reflects on the festival's beginnings. She gestures toward the railing that once held a projector. "It started with people just coming together for people to remember a really great kid who loved going to the movies with his family," she says. "And it's still a tradition in our family."
---
This article appears in the August 2016 issue of Charlotte Magazine
Did you like what you read here? Subscribe to Charlotte Magazine »
---