Joe's Jeans Printed Denim Coming Soon at Fresh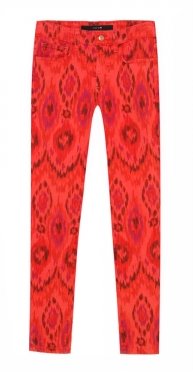 Did you miss the boat on colored denim? Get on it; it's sailing well through the summer. Now, stay with us: we're keeping the color, but adding some print. Still game? It's a little daring, but paired with played down neutrals and mellow accessories that don't do too much competing, we can't resist.
Printed denim–in skinnies and minis–by Joe's Jeans is coming soon to Fresh. We love the oh-so-springy and feminine designs we're finding in the sneak peek (Fresh's Facebook sneak peek, that is). Think: poppies in full bloom, soft, watercolor florals, tribal, and leopard prints on vibrant palettes of peach, hot pink, geranium, and lilac.
Friendly tip: with this trend raring, you'll want to shop the goods before they're as good as gone.