John Autry Fights a Border War
New City Council Member John Autry is fighting to keep the east side from going further south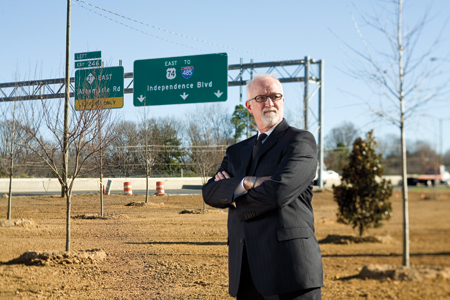 Just days after taking the oath of office in December, new Charlotte City Council Member John Autry is already holding court. The Democrat and District 5 representative has convened twenty people at a business park near the intersection of Albemarle and Sharon Amity roads.
A new median on the section of state-operated Albemarle Road between Independence Boulevard and Sharon Amity Road has prohibited left turns into the business park. Business has suffered as a result. The park sits at 30 percent occupancy, and frustration among the property owner and remaining tenants is mounting. In the past, Autry says the state would often get a jumbled and incoherent message from neighbors, businesses, and city officials. Now, Autry wants a different approach. He hopes this meeting is an important—albeit small—step toward bringing his diverse district closer together.
"Residents, business owners, and city leadership have to determine together what's best for the neighborhood," Autry says. "If they don't, the state will get mixed signals and is more likely to waste money now and later trying to fix and refix the same problem."
Later, North Carolina Department of Transportation leaders tell Autry they hear the district's concerns about the median, although they don't promise any changes. But for Autry, it's a start. It's now on him to represent and help fix a once-booming commercial and residential corridor that's gone bust.
Autry's involvement in east Charlotte affairs goes back decades. After serving in the Navy in the 1970s, he returned to North Carolina in the 1980s. A man who still commands a room with his height and gray goatee, Autry worked in front of and behind the camera in Charlotte, in film projects and later as a television news reporter. He also tended bar at the now-defunct Grady's restaurant on Albemarle Road. Autry, fifty-eight, can easily rattle off east Charlotte hot spots of yesteryear—Rock & Roll Emporium, the Comedy Zone, Mamma Lena's.
In the late 1990s, Autry began getting more involved in grassroots causes, fighting for things like bicycle lanes and the demolition of unsightly buildings. He later became vice president of the Coventry Woods Neighborhood Association, in the heart of the east side off North Sharon Amity Road (he still lives there). Autry, who is a partner and chief technology officer at Wide Area Rapid Notification, LLC, which provides continuity solutions during emergencies for large institutions, says his experience gives him "the confidence, connections, and wherewithal to run and eventually lead District 5." When Nancy Carter—who had represented the district since 1999—told Autry she would not run for reelection after her sixth term, he considered running himself. In late 2010, after discussing it with friends and supporters, the husband, father, and grandfather entered the race.
After winning the primary and soundly defeating Republican Dennis Peterson in November, Autry is now the face, the advocate, and the defender of a section of the city desperately in need of a revival and reversal of fortune. No area of the city has seen as much change in the past fifteen years as District 5, a section that stretches outbound from uptown along Independence Boulevard, Central Avenue, and Albemarle Road to the edge of Mecklenburg County. Autry believes a central cause of east Charlotte's decline is the trend of lower-income families moving into housing units originally built for younger, more upscale singles. He argues that the glut of lower-income apartments then deteriorated, resulting in the thinning out of what had been solid middle-class enclaves. Once that happened, Autry says the perception of the east side and the business clientele changed.
"When businesses realize residents aren't buying the same things [that they used to], those businesses leave," he says.
Hastened by the widening of Independence Boulevard, which made it difficult for people to access businesses along the former two-lane road, national retail chains moved out, leaving behind vacant, crumbling eyesores in their place. Gradually, but consistently, the east side became unrecognizable to those who remember the glory days of the 1970s, 1980s, and early 1990s. For Autry, it was the decline and eventual closing of Eastland Mall, which opened in 1975, that "was the real poke in the eye."
Autry hates the word "mall." He'd rather just say Eastland.
No place symbolizes the challenge of the east side more than that of the abandoned ninety-acre shopping center, which closed in the summer of 2010. There was optimism in late 2010, when Texas real estate company Boxer Property purchased the interior of the mall. Shortly after, Boxer President Andrew Segal outlined his vision for the shopping center—a mom-and-pop, small-business-operated, Latino-themed "El Mercado at Eastland Mall" that was scheduled to be open at Christmastime. But since then, the developer has delayed construction plans, and the future of Eastland remains an unanswered question.
"I used to be in those Eastland meetings, and after a while, I'd just roll my eyes. It became just talk to me," Autry says. "Neighbors want shovels in the ground, they want work done, not more planning speak."
Autry says he's heard of three "solid" opportunities for Eastland should the Boxer idea fall through. He doesn't want to disclose too many details, or excite neighbors, until there's actual work being done. He's seen enough optimistic drawings and hopeful blueprints.
While Autry works with the city to spark private-sector interest and investment in east Charlotte, business owners like Bill Miller worry about the future. Miller and his wife, Sardha, own The Flower Hut, in the 6300 block of East Independence. For twenty-five years—two generations of prom corsages—they were located closer to town, in the 5200 block. That changed in early 2011, when an NCDOT employee told them their store was in the construction crosshairs of the next Independence widening phase, scheduled to begin in August 2012 and wrap up three years later. They would lose all of their parking. "It was clear it would be the decimation of our business," if they had kept the same location, Miller says.
The Millers moved the shop down Independence, closer to Harris Boulevard. It's just to the east of where the state will finish the nearly two miles of widening that starts at Sharon Amity. State officials estimate thirty businesses and fifteen homes will be affected with the construction. But those on the east side wonder if the long-term impact will be much greater long after the bulldozers and asphalt trucks finish their work. They've been down this road before.
Autry—and others—says that more than 100 Independence-area businesses closed or moved as a result of the last widening project, from 2001 to 2006, from Eastway Drive to just past Albemarle Road. At the ghost town Coliseum Center, a sign reading, "Yes, we are still open" sits underneath one that says, "Moved to 9519 S BV." "When those businesses went, it wasn't just an effect that stopped at Albemarle," Miller says. "The ripples went down Independence."
In his first term of his first elected public office, Autry deals with this constant uncertainty on a daily basis. He says he often wakes up at 4 a.m. with the needs of his district on his mind. Autry is already averaging about 100 district-related emails a day. Despite the immense challenges, Autry remains upbeat. He speaks highly of a December district gathering at a Salvadoran restaurant on Central Avenue, where Latinos, Asians, and whites enjoyed a night of dancing, conversation, and pupusas, a fried tortilla dish. It's that feeling of community, despite racial and social demographic divisions, that Autry wants to promote, not run away from, as the lasting perception of east Charlotte.
"Everyone has competing visions for the east side," Autry says. "But we are all in this together. We have cohesion, not division."