John Nolan: From Long Island to North Davidson
Taking Back Sunday member talks Queen City life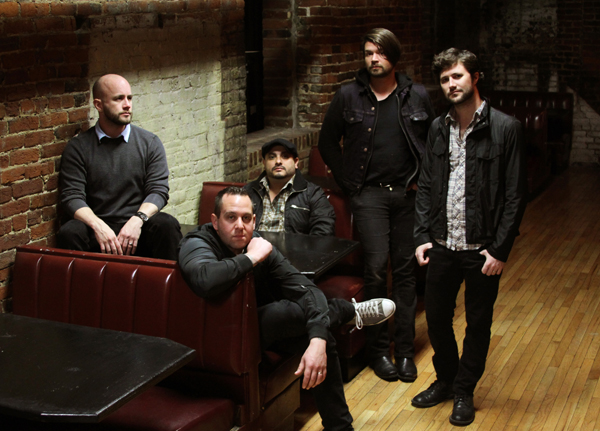 NoDa resident John Nolan and a neighbor down the street are typical friends. They've shared successes and frustrations, have fallen out and rekindled ties over the years. They've worked alongside each other, professionally and personally, as both moved into fatherhood and settled into Charlotte's popular arts district.
COURTESY
John Nolan, far right, sings and plays guitar in Taking Back Sunday.
Oh, and don't forget that they're both members of Taking Back Sunday, a nationally touring rock act that's sold millions of records, with one considered a touchstone of the post-hardcore and emo genres.
Nolan, 35, tackles guitar and vocal duties for the band, with fellow Charlottean Adam Lazzara as the group's lead singer. The former rift between the two is covered ground, having been the subject of countless articles and interviews over the years. They're past that, and though it's tough to say that Charlotte is directly inspiring Nolan's music, it's clear that the city has a role.
"I think everything affects your process," Nolan says, "everything that happens in your day-to-day life. It's kind of hard to pinpoint a lot of it, and say how it does or whatever. In a practical sense, living so close to where Adam is has made it easier to get together and work on music and songwriting."
Nolan and company are at work on a new album, the band's sixth and his third. The three other members of the band are split between Cleveland and Long Island, N.Y. It was the latter's music scene that gave birth to Taking Back Sunday, as well as Brand New, an act that shared a romanticized rivalry with Nolan's band as they gained popularity.
Nolan's now 13 years and nearly 700 miles away from the rock outfit's inception, after relocating here nearly two years ago. He's married now, and has a son, barely over a year old. Aside from a group of friends living within blocks, the family enjoys other aspects of NoDa. "It's a nice area," Nolan says. "We like living in a place where you can just walk to get food or go out at night. It's nice to be within walking distance of a lot of stuff, you know?"
His wife, Camille, also a musician, has joined him onstage for solo shows. These sets feature newer songs, as well as selections from Nolan's other band, Straylight Run. When she can, Camille brings piano and guitar accompaniment to gigs like a recent spot at the Evening Muse. "We always would play music together at home, ever since we've lived together," Nolan said. "When I started to tour solo stuff, that was about 2008, she would come out and play."
As Taking Back Sunday gears up for another tour, with Charlotte as a stop in November, fans can expect to hear early and newer selections from the band's arsenal. Nolan wouldn't say the feeling is nostalgia when they play those familiar, opening chords of tracks from the old days. It's the kind of excitement that comes as a response from crowd that demands to hear them—one that continues to celebrate the record that started it all for a young band from Long Island.
"It's pretty amazing," Nolan says. "It doesn't really make a lot of sense to me, even after all this time. It didn't really make a lot of sense at the time it was happening either. The album just took off. And the fact that it continues to mean so much to people is amazing to me. It's hard to believe, you know? I feel very, very lucky. I don't feel like any of us did anything to consciously make that happen. I just feel very fortunate that it hit people the way it did."
Taking Back Sunday newest record has not been given a release date. The band is slated to play The Fillmore on Nov. 3 Check out a track from their latest, self-titled album below.