Join Us Sunday at Myers Park United Methodist Church for a Discussion—"Race, Youth and Football."
The 90-minute program is a spinoff of Charlotte magazine's three-part series, "Mustang Green: A Season of Hope in a Segregated City."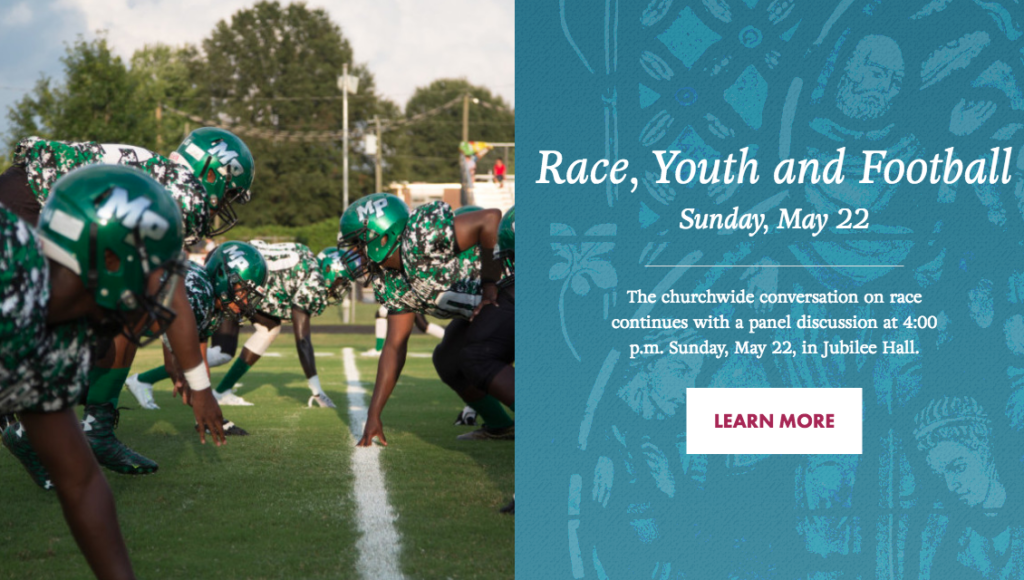 "This isn't a story about a small town way out in the country where every store closes on game night. This is a story about a football team in the heart of the second-fastest growing big city in America, a city that's increasingly diverse and trying to figure out how we'll all live next to each other after generations of segregation in our neighborhoods and schools. It's a story about what it's like to take kids who in many ways are born opposites and put them together under helmets that are the same cost and color." —Chapter 1
This spring, Charlotte magazine presented "Mustang Green: A Season of Hope in a Segregated City." The three-part series followed the 2015 Myers Park High School football team, a team made up of 35 white players and 32 black players, a team that is an anomaly in a city where nearly half the schools are segregated by race. The series wasn't about wins and losses; it was about a group of boys and their coaches who had no choice but to come together.
Leaders at Myers Park United Methodist Church want to bring the series to life and continue the conversation.
Join us at the church at 4 p.m. Sunday, May 22 for a special presentation titled, "Race, Youth and Football." The discussion will include two players from the 2015 team, cornerback Jamal Watson and quarterback Jack Davidson, along with coach Scott Chadwick. Charlotte magazine executive editor Michael Graff, who spent the entire fall with team during his reporting of "Mustang Green," will moderate.
For more information, click here.