Jon Stewart and North Carolina, Through the Years
Tracking The Daily Show's development as it tackled North Carolina's moments of zen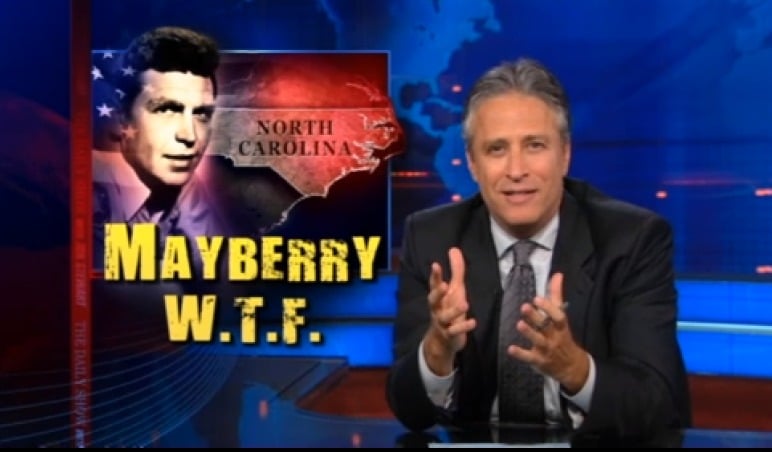 One of the pleasures of digging back through The Daily Show's archives for clips—aside from just watching them again—is tracking the program's development from silly to profound, from goofy to incisive. (While still retaining a healthy portion of silly and goofy.)
I figured, with the news yesterday that Jon Stewart will be stepping down as host this year, I'd round up some classic North Carolina-related TDS clips for your viewing enjoyment, especially as the state grew more prominent in national politics.
But the clips, viewed in order, tell a kind of story. When Stewart took over for Craig Kilborn in 1999, The Daily Show was still an inconsequential, though funny, series of sketches and fake interviews, much of it centered on pop culture or News of the Weird fare.
Over the years, and especially after 9/11, it changed under Stewart's direction. It managed something extraordinary, staying consistently funny while offering some of the smartest commentary on the news and the ideas behind it found anywhere. The show sometimes broke, and made, news itself; Aasif Mandvi's interview with Buncombe County Republican Party official Don Yelton—"You know that we can hear you, right?"—led to Yelton's dismissal from the county party. More important, it laid bare the true sentiment behind North Carolina's voter ID law.
Anyway, enjoy. The solace here is that TDS will go on, and, as John Oliver proved last year, it doesn't necessarily need Stewart in the host's chair to be funnier and smarter than just about anyone.
Dispatch from Booger Mountain, April 1, 1999:
The kerfuffle over UNC and the Quran (with correspondent Mo Rocca!), Oct. 8, 2002:
The excesses in media coverage of the Duke lacrosse story, April 18, 2006:
"Mayberry W.T.F.," on North Carolinians turning against Andy Griffith, Sept. 14, 2010:
On John Edwards, Rielle Hunter, and the meltdown of the N.C. Democratic Party, April 26, 2012:
The Daily Show does Charlotte during the DNC, Sept. 4, 2012:
The aforementioned Aasif Mandvi segment on the voter ID law, Oct. 23, 2013:
On U.S. Sen. Dunghands von FecalFingers, a.k.a. Thom Tillis, Feb. 4, 2015: