Judiciary for Sale
It's time to dump judicial elections in North Carolina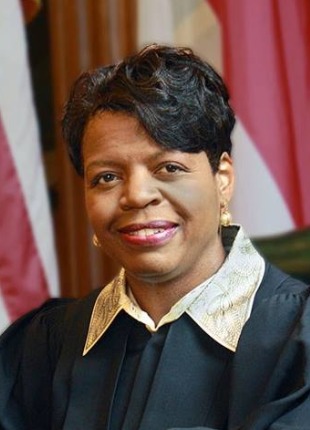 The judge, clad in a t-shirt, cap, and workout shorts instead of his customary black robe, rolled out his yoga mat Saturday morning at the Carol A. Hoefener Community Services Center gym in First Ward.
John Bowers was there for a unique fundraiser, a coupling of workout and luncheon. Gov. McCrory appointed him last month to the Superior Court bench to replace a retired judge, H. William Constangy. Bowers, a Myers Park High and UNC Chapel Hill graduate, is running for a full term. He faces three opponents in the Nov. 4 election: Wells Fargo senior counsel Carla Archie, Assistant District Attorney David Kelly, and private practitioner Eric Montgomery, a former Bank of America lawyer.
So why the yoga mat? Bowers' younger sister, Mary Helen, happens to be a renowned ballet dancer and instructor who's branched into dance-inspired workouts for non-dancers. People could come for the workout and stay for the luncheon, or just do one. John Bowers, a trim 43-year-old, stretched and contorted with the group.
I spoke briefly with him afterward. We talked about the basic absurdity of judicial elections: that when it comes to those, basically, we're all low-information voters.
"Well," he said, "lawyers are, too."
Letting the people vote for judges sounds commonsensical. It just seems more small-d democratic to put judicial candidates on the ballot rather than let a nonpartisan panel of attorneys select candidates for the governor to choose, as is the case in roughly half the states.
But Citizens United and, in North Carolina, the elimination of the public financing option for judicial elections have led inevitably to scenes like this, as chronicled this week by James Oliphant in the National Journal, who followed state Supreme Court Justice Cheri Beasley as she traversed the state begging for dollars:
Cheri Beasley wants me to drive. This, on its own, wouldn't seem extraordinary except when you consider that Beasley is a justice on the North Carolina Supreme Court, and I'm someone she met an hour ago. It's a 75-mile trip from Raleigh to Greensboro for a candidates forum, and she doesn't have a driver—or any staffer along for that matter. It's just her and me. After mentally flipping through the possible issues presented by this arrangement (Ethical problem? No. Possible campaign finance violation? I didn't think so.), I slide behind the wheel of her Nissan Murano and we're off, cruising away from Beasley's house of worship, the First Baptist Church.
In 2008, when she ran for an Appellate Court seat and won, Beasley became the first African-American woman elected to a statewide office who hadn't first been appointed to that office by the governor. Beasley is running for office again, this time trying to hold on to her Supreme Court seat (which she did secure by appointment, two years ago). But everything is different, and everything is harder. She's facing a stiff challenge from Mike Robinson, a bow-tie-sporting Winston-Salem lawyer with a background representing companies in civil lawsuits. Robinson is supported by the North Carolina Chamber of Commerce and other business groups, and he self-identifies as a "judicial conservative."
That's why Beasley has spent most of the summer campaigning across the state, traveling to far-flung towns along the Outer Banks to the east and the Blue Ridge Mountains to the west, spending entire days behind the wheel to get to events and speak to as few as 40 people at a time. She estimates she's put 40,000 miles on her SUV this year alone.
When Beasley isn't racking up miles, she and her three-person staff are phoning donors for money—something that's been, as she puts it, "a struggle." Her most recent financial report, released over the summer, showed her trailing Robinson in campaign funds. She may not have enough cash to air TV ads in the weeks right before the election in all three major markets in the state—Raleigh-Durham, Greensboro, and Charlotte. Robinson, on the other hand, has more than 700 ads already booked.
Having spent most of her career in public service, Beasley lacks some of the legal and business connections that other judicial candidates use to raise money. She started as a public defender down in Fayetteville, the home of Fort Bragg, a rough-and-tumble town that once carried the nickname "Fayette-nam" for the sordid entertainments it provided for its resident soldiers. Beasley made her bones representing domestic abusers, thieves, and, at times, murderers, but she also made enough friends and supporters to get elected as a trial judge. She's been on the bench ever since.
In her previous campaign, in 2008, Beasley took advantage of a state public-financing program to help judicial aspirants. The system, which provided a fixed amount of campaign funds and limited the amount a candidate could raise, was designed to bolster underdogs and reduce the influence of big money in judicial races. Beasley was the candidate public financing was made for.
But last year, the Republican-dominated Legislature repealed the public-financing program. As a result, candidates have to solicit every dollar they get. That's one reason Beasley had skipped a candidates forum in Raleigh the previous night, to attend a fundraiser in Winston-Salem. (She had shown up for a forum held the night before that in Charlotte.)
Now we're pulling into the parking lot of a resort hotel in Greensboro for yet another forum. (If you're scoring at home, that's at least 400 more miles over the past three days.) Beasley opens up the lift-back door and removes several campaign signs. In a magenta suit and heels, she schleps them into the hotel lobby.
Tables line the walls outside the ballroom where Beasley is scheduled to speak. Next to her signs, she places handout cards with her picture on them. Robinson has his own paraphernalia already there—not just signs but also buttons and bumper stickers that read I LIKE MIKE. They cost money. Just like TV ads, radio ads, mailers. And that money has to come from somewhere.
And it's coming, believe me—nearly $3 million as of the end of June, according to the Institute for Southern Studies, and that's just for Supreme Court and state Court of Appeals elections. The implications are obvious, as the institute's report on judicial campaign spending summarizes:
"Now, North Carolina judicial hopefuls must again raise money for ads and other campaigning from private donors, and contributors include interests that may have court business before the very judges they are financially backing."
This shouldn't be a point of contention. Massive campaign contributions don't square with the bedrock principle of a fair and impartial judiciary.
But that's where we are. And when you factor in the near-certain ignorance by the voting public of what judges do, much less the rulings they make and the justification for them, the field is even more ripe for purchase. (Look back at this year's disgraceful big-business smear campaign against N.C. Supreme Court Justice Robin Hudson for a glimpse of the shape of the future.)
The only way you can accurately gauge whether a judge is or is not doing a good job is to examine, in minute detail, individual cases and the laws that apply to them. No one, not even most lawyers, have the time, energy, or skill to do so. That's what John Bowers was talking about after his workout at the Hoefener Center, before he spoke to the larger group at the luncheon about exactly what he does and such basics as the difference between Superior and District Court.
The voting public is flying blind, and millions of dollars are pouring into the system while it's dark. It's time for North Carolinians to start calling for appointed judges. No system is perfect, of course. But the one we have is grotesque, and it's getting worse.