July 4th Food Events
Combining patriotism and food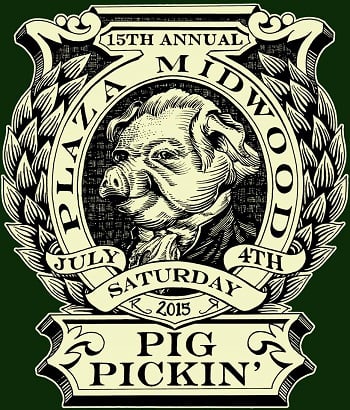 Fireworks, red, white, and blue paraphernalia, flags, barbecues, and all things Americana are on the docket for this weekend. Of course, here's a list of some food-focused events for July 4th:
15th Annual 4th of July Pig Pickin': Plaza Midwood is set to host its annual pig pickin' in celebration of our country. The event takes place from 4 p.m. to 10 p.m. on July 4 with free music on stages at The Diamond; Sherwin-Williams; and Snug Harbor. In addition to the pig pickin', Plaza Midwood restaurants Midwood Smokehouse, Bistro La Bon, Zada Jane's, Thomas Street Tavern, and Pizza Peel will all have special July 4th menu options. Mac's BBQ and Mama's Caribbean Kitchen will be vending at the Sherwin-Williams stage.
Sycamore Brewing Food and Music: Enjoy a free concert plus delicious food on Saturday, July 4 at Sycamore Brewing. The music starts at 2 p.m. with Pluto for Planet; Dirt Poor will take the stage at 6 p.m. Hot Box Next Level Street Food—a food truck—will be serving up.
JJ's Red Hots: What's more American than a hot dog? JJ's is celebrating on Saturday, July 4 with $1 hot dogs (includes the dog, bun, relish, diced onions, and yellow mustard) at both JJ's locations; 1514 East Blvd. in Dilworth and 15105 North John J Delaney Dr. in Ballantyne.
Blue: Live music by The Presley Group will accompany a three-course tasting menu for $34.95. Holiday-themed drink specials will also be served, including five-dollar glasses of red and white wine or a blue Mediterranean martini.
In addition to these food-specific events, don't be afraid to bring your own food to one of the many parades and/or fireworks displays around Charlotte this weekend:
On Friday, July 3, the Charlotte Symphony Orchestra Summer Pops series, which runs all summer, will celebrate the 4th with some patriotic favorites.
On Saturday, July 4, the U.S. National Whitewater Fourth of July Festival will take place, bringing together live music and fireworks over the manmade whitewater river. Bring out your blanket or chairs, pick a spot and enjoy.
Also on Saturday, the SkyShow 2015 in Uptown will return with the largest fireworks display in the Southeast—right over the BB&T Ballpark. Gates open at 5 p.m. Pre-game festivities include live music, food, carnival rides, games, prizes, and more. After the game, enjoy the fireworks!