Just Breathe
5 Easy ways for the strained bride to de-stress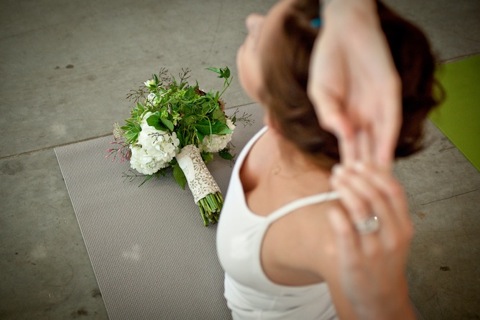 The seemingly endless intricacies involved in planning a wedding are enough to make even the most level-headed bride to-be peevish. The upward momentum and anticipation of a wedding's grand significance can push you to your limit when you least expect it. So when a small detail unravels, or the most important vendor cancels last minute, it's always helpful to have a few tricks up your sleeve to help you pick up the pieces with poise and move on to the next thing. The bottom line: no matter how big or small the stressor, take five minutes to spend solo and reflect on what your marriage will entail. A wedding is simply one day. The greatest events will be those to follow. Don't get caught up in the small things and always bring your focus back to what counts: spending your life with the love of your life. That said, here are a few additional tactics for kicking wedding jitter stress to the curb.
1. Revisit a neglected routine. Be it your early morning yoga class or your favorite running trail, make the time for a repeat session immediately. A bit of reflection on a scenic run or an hour to put paint and brush to canvas can be just what you need to get back in your groove. Familiar activities create instant stress relief, and these are so often the very activities put on the back burner during the wedding planning process.
2. Give your ladies-in-waiting a break. While one of the unspoken duties of the MOH and rest of the bridal party is to be readily available for a bride on the verge of a breakdown, cut the girls some slack and go straight to the most familiar, never-failing source: a parent. Making the decision to tie the knot initiates a new grown-up chapter of life, but sometimes what you need is a good cry and a hug with mom or dad. It helps ease the feeling of being forgotten so often bestowed in parents before a child weds, and it's an unbeatable method of concilation.
3. Butterfly Effect. Recreate your first date with your fiancé. So often couples become so wrapped up in trying to balance work and planning efforts that date nights become repeat evenings spent sitting in front of the television. Neglecting to maintain the initial magic of your relationship can become a stressor in itself. Break out of the box and take time to remember those first butterflies and the first page of your fairy tale.
4. Stay Frugal. With the tremendous expense of planning the wedding already on your plate, tremendous stress is an easy instigator for retail therapy or an inpromptu vacation in hopes of eliminating worries. Not only will the stresses be right there waiting on the other side, you'll have the added guilt of unnecessary spending and a likely unhappy set of parents or fiancé for your monetary misuse. Sticking to budget will help you feel in control through the chaos of planning, and that in itself is the perfect remedy for stress.
5. Bask in the bridal attention. In just a flash, your wedding, reception and honeymoon will have past. All the parties and showers will be distant memories–nothing more than fond memories, Facebook photos and funny anecdotes for future dinner parties. Relish in the doting and attention you'll receive as the couple of the year. You'll never have those moments again. Look forward to each little event, be it a bridal party luncheon or a mother-in-law spa day. Each of these activities are solely intended to celebrate your upcoming nuptials and the unique qualities you and your fiancé possess. Stay actively aware of this and always remember to stay thankful for the many people you have to share those moments with.