Katie + Rob
Myers Park Country Club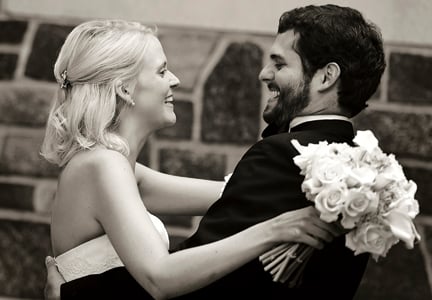 August 15, 2009
After being friends for nearly a year, Katie Phillips thought Rob Reed would be a great match for one of her roommates. But it wasn't long before they realized that particular match wouldn't work out. "We ended up really hitting it off," says Katie, twenty-eight, a legislative assistant for a lobbying group. A few days later, the couple had their first date. And just three-plus years after that, the couple was set to wed.
On an early August evening, a strapless Judd Waddell-clad Katie carrying a bouquet of white roses, hydrangeas, and calla lilies, was escorted by her father to meet her groom, twenty-seven, a lawyer. Flanked by bridesmaids in Bill Levkoff gowns and groomsmen in black tuxedos, the couple exchanged traditional vows.
After the ceremony, 330 guests gathered at Myers Park Country Club, where the dining included a mac and cheese bar and a delectable wedding cake of vanilla, chocolate chip, coconut, carrot, and red velvet by For Goodness Cakes.
After dancing to the Voltage Brothers, guests noshed on a late-night menu of hush puppies and barbecue sliders before visiting the candy bar stocked full of the couples' favorite sweets: jelly beans, Sour Patch Kids, Reese's Peanut Butter Cups, and M&M's.