Keeping It Real at The Thirsty Beaver and The Rat's Nest
Plaza Midwood's The Thirsty Beaver Saloon—where the owners are brothers who wear cowboy hats unironically and, yes, everybody knows your name—just might be the most authentic place in Charlotte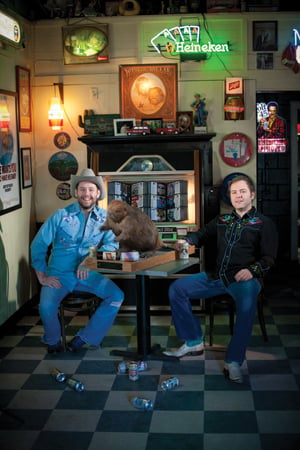 It's 4:30 p.m. on a breezy Sunday in early February, and a crowd is already filing into The Thirsty Beaver Saloon. In an hour, all the parking spaces will be full, leaving patrons to wedge their cars onto the grass lot behind the orange cinderblock building with a grinning cowboy beaver painted on the side. The place is rumored to have been a gambling house before the homey bar moved in—hence the lock on the front door that the new owners have never removed.
Musicians from the local Americana outfit Leadville Social Club lug guitar cases through the crowd. It's a tight squeeze as friends stop and chat. The chatter creates a constant hum beneath the classic country tunes playing on the jukebox. The walls are lined with pop culture memorabilia from decades past—worn Simpsons figures, kids' lunchboxes, toys, and vintage posters. But do not mistake this for a TGI Friday's—the faded colors and bent corners show that this stuff actually belonged to someone, as did the old 45 records and ticket stubs embedded in the bar.
The Thirsty Beaver—a real, live honky-tonk in view of the Charlotte skyline—sits on the far side of the railroad tracks that cross Central Avenue, just a short walk from Plaza Midwood's hip retail district. If some of its neighbors are the cool kids in school, The Thirsty Beaver is the kid who doesn't try to be cool but somehow just is.
"I drive past fifteen bars to get here," says Mint Hill's Terry Roberts, who casts himself as the "Norm" in this Pabst-flavored version of Cheers. He compares it to the fifty-year-old bar his father hung out in when he was growing up in small-town Ohio. "I guess I'm following the lead of my old man. [The Beaver] is that divey, neighborhood, old-time honky-tonk. It's as one-of-a-kind as you can get."
Russ Ward discovered The Beaver a few months after it opened in January 2008 and has come in every weekend since. He's an aging, old-school punk rocker hanging out in a country bar. "It has something to do with the integrity and genuineness of the people that run it," he says. "There's no other bar I will go to. You'd be hard pressed to find more genuine, warm, friendly people."
Ask most patrons of The Thirsty Beaver why they frequent the place, and it usually comes back to the owners of the bar, Brian and Mark Wilson. The Wilson brothers, forty-two and thirty-six, respectively, look a lot alike at first. Both wear traditional Western style shirts—the kind with pearl snaps and embroidery—and vintage concert T-shirts from long-departed country acts. Brian, who can often be found at his NoDa thrift store, The Rat's Nest (which sells items like the ones they themselves wear and that adorn the walls of The Beaver), is older, more talkative, and has curlier hair and a five o'clock shadow. Mark has a bit of a baby face behind his beard, and his close-cropped hair is often hidden beneath a wide-brimmed cowboy hat, an accessory that they both wear frequently along with cowboy boots. Don't mistake the look for a costume—it's who they are.
Watch an exclusive short film on the Wilson Brothers by Charlotte Video Project
The Wilson brothers have created something authentically old school in an age where so-called "entertainment complexes" spend thousands of dollars to define and market a brand. The Beaver doesn't have a website. A regular customer runs its Facebook page. There's no cover charge for live music, but bands usually make at least a few hundred bucks by passing the hat—often more than they would playing a traditional live music venue.
The appeal of The Rat's Nest and The Thirsty Beaver extends beyond one type of person or economic class. On a Friday night during gallery crawls, Brian offers The Rat's Nest visitors a beer while they eye his 1970s relics and admire the selection of colorful, used cowboy boots. He spends most Wednesdays looking through other people's attics for vintage finds. He meets people and listens to their stories, just like the folks who frequent The Thirsty Beaver share shots and shoot the breeze. Many of the customers travel to watch each other's bands play, and some have joined Brian and Mark on vacation or to see country legends such as Merle Haggard in nearby cities.
Elizabeth Peters, a single mother and graphic designer, stopped in one Tuesday after hearing about it from a "fancy" client. "I was intrigued if she had a good time. I was on my way home from work and I pulled into the parking lot and I thought, 'I'm going to have a beer.' I'd never been to a bar by myself and I was terrified," she recalls. There was only one other customer, but the bar filled up in half an hour. "Everyone was so friendly and looked normal. That it was this hole in the wall and all these different people would be there and the music would be so phenomenal—I was hooked."
Brian's and Mark's father, Ben, a retired Methodist preacher, hears stories like that every time he stops by the bar. He says you can feel the life there when you walk in. "People want to be there and enjoy themselves. So many of those people are so good to Brian and Mark. They treat them so well. They like what they're doing and want to be a part of it."
The community that has sprung up around The Beaver can be traced to the Wilsons' childhood, when they spent summers in a mountain cabin in rural Ashe County.
"That mountain-simple lifestyle kind of bled into us," Brian says. "Instead of rebelling against any of that like a lot of kids did, we always embraced it. We always wanted to hang out with the family and do similar things. From the earliest time, we would all go looking at stuff on Friday evenings or Saturday afternoons—motorcycles, clothes, cars.
"Having a good childhood and having all these things from our childhood—those are good memories for us. When you put them on display, you realize other people have fond memories of them too. That's one thing we strive to do—to make it a personal bar. People in the bar take it just as personally as we take it."
Ben Wilson ministered in Union, Lincoln, and Cabarrus counties, and in Hickory, Albemarle, and Charlotte. The boys began playing music in church together as teenagers. Mark sang classic country songs that bordered on gospel and Brian played drums. The brothers' shared interest in collectibles, country culture, and music touches all aspects of their lives.
Brian left a well-paying job as a sound engineer for the Speed Channel to open The Rat's Nest in 2005. His parents were concerned about their son giving up a comfortable job but recognized his ability to spot vintage treasures. Soon after opening, Brian and Mark began jamming in the grassy area out back during gallery crawls. They adopted the name Loose Lugnuts. The Thirsty Beaver was a natural extension of The Rat's Nest. The irony of the sons of a preacher opening a bar isn't lost on the family.
"We didn't want [our parents] to disapprove," says Brian. "We wanted the place to be a positive experience. In the church our dad was more about having a positive influence on people. It was never about being super religious. It was about being your best, helping when you can."
Adds their father, "I knew they were going to be responsible. I never dreamed it would be the kind of thing it is. They've tried to make this bar something of a community gathering place. They want a place where people feel like they have a place to come to and people care about them and hear what they have to say. In that way they are doing something of real service and helping people and making people who might otherwise feel left out feel included."
He and Brian are quick to give their customers credit for keeping the bar running. Their staff has nurtured it as well, establishing live music and a large Bloody Mary menu on Sundays (with local ingredients), DJs geared toward a younger crowd on punk rock Wednesdays, and Beavergrass jams. A number of patrons take out trash, play designated driver, roll T-shirts, or update the list of upcoming concerts on the chalkboard above the bar.
"After a while you feel like you want to help out," says Ward, who was blown away when the staff and clientele threw him a surprise fortieth birthday party last September. "You have a vested interest in the place."
By the time Leadville Social Club's set begins on that February evening, some of the crowd has overflowed toward the back room where the pool tables are. More shuffle in through the front door, where as soon as they enter, they end up on "stage," which is just a small space in the corner by the door. Brian and Mark are still all smiles, greeting friends and regulars with hugs and handshakes while shifting between work and play modes—not that there's much of a difference.
It's a scene that plays out every Sunday and most other nights as well. It fits with a story that Ben Wilson likes to tell: "A guy, who was an architect, came up to me at The Thirsty Beaver and said, 'Some people work all their lives to try to create something unique and special. Your sons have just done it overnight.'"