Keeping It Simple
Graphic designer Rachel Martin brings sustainability—and style—to her modern Wesley Heights home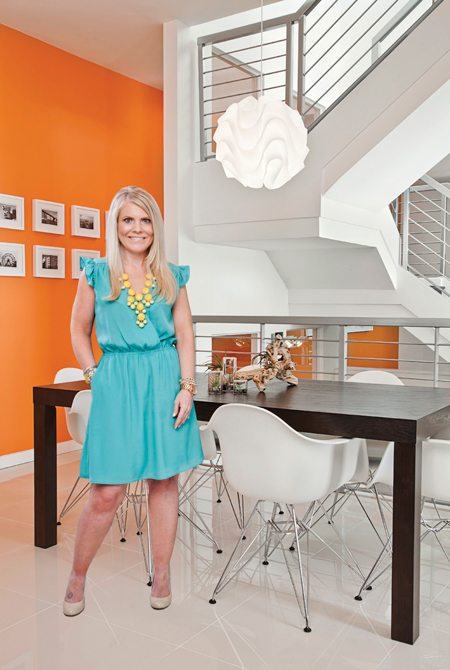 For graphic designer Rachel Martin, sustainability is just as important as style—especially when it comes to her Wesley Heights home
How would you describe your design aesthetic?
I take a clean and simple approach to both my graphic design and my home. I'm a modernist. I'm a minimalist, too, probably from living in New York City where everything has to have a dual purpose to fit in a tiny apartment. When you don't have a lot of stuff around you, it clears your mind.
What advice would you give to people who want to de-clutter or simplify their décor?
Feature the items that mean something to you. If you're holding on to other things, ask yourself why you're keeping them. If you haven't used it in the last year—or two years tops—it's time to get rid of it. I like to use this rule: if you had to get up and leave your home, what would you carry with you that would fit in a car? If you wouldn't bring it with you, take a second look, because those material possessions probably aren't worth keeping.
Your air plant living wall is a nice juxtaposition of natural beauty in a modern home. What are some other ways you create this balance?
Liquid Design did a beautiful job designing these homes, but there are lots of hard lines and white surfaces. I think it looked beautiful as it was, but we decided to add color. So, each room has an accent wall that contributes to the mood of the room. Our leaf-green bedroom mirrors the colors of the outdoors, and it's a relaxing shade. We chose warm, dark chocolate Wenge wood for our cabinets, our kitchen table, our coffee table, and bed. And little touches of vintage items, like my mother's antiques displayed on the kitchen counter, balance the old with the new.
Your company, Rachel Martin Design, is a sustainable and socially responsible business. How have you incorporated this principle into your home?
When we moved to Charlotte in 2007 we really searched before finding this neighborhood [Celadon in Wesley Heights]. It's a twenty-four-unit complex and the first LEED certified (Leadership in Energy and Environmental Design) neighborhood in Charlotte. We wanted a home that felt modern but that was also environmentally forward-thinking. For example, this home has recycled newspaper insulation, appliances that are all Energy Star-rated and floor-to-ceiling windows that let in natural light, reducing our electricity bill. Our bamboo floors were grown sustainably in three to five years [compared to hardwood floors, which reach maturity in sixty-plus years]. In terms of decorating, we research businesses before we buy from them. We try to buy from local and American companies that use recycled products and pay fair wages.
What are your some of your favorite pieces?
Our living room table is from West Elm, which used to be just a small store in Dumbo [Down Under the Manhattan Bridge Overpass neighborhood in Brooklyn, New York] that we always loved. We like elegant pieces that are multipurpose. Most of the art in the house is mine from college when I studied fine art. The living room features one of these paintings. It has a lot of twigs and branches, paper towels, wax, and layers of paint. I've redone it about ten times. As an artist, you go through phases, and this one has transitioned to fit different moods and spaces. It used to be black during a Goth phase, then a patriotic blue and red. The white tones it all down, but it has a lot of textural interest and it calms down a bright orange wall.
What advice would you give to someone who wants to incorporate sustainable elements?
Do your research! Eco-friendly companies, materials, and products are often cost-effective. Most appliances are Energy Star–rated, but you can also look for Green-e-certified products. Ecolabel Index is a great online resource for defining green certification labels. When you're buying a new home, it's good to live in that space and buy piece by piece over time. You don't want to buy items you're going to get rid of in five years but pieces you'll pass down to kids and grandchildren.