Keeping Time
Clockmaker and owner of the Antique Clock Shop talks about what's trending right this minute and how to find the right piece for your home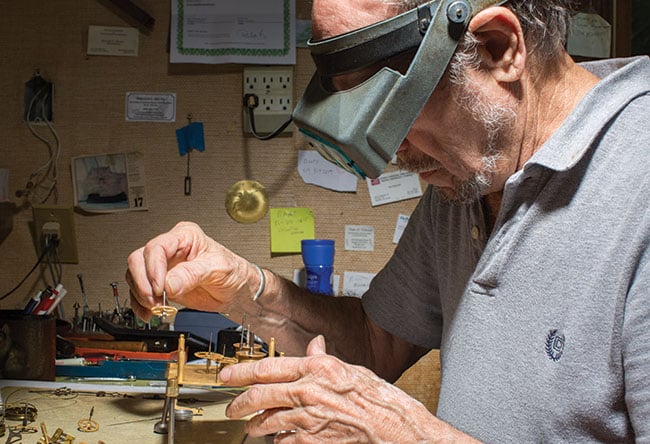 The Antique Clock Shop, nestled in the heart of downtown Waxhaw, sits beneath a clock tower and has been a staple on Providence Road for more than four decades. The 71-year-old clockmaker and owner, Kemp Heinbaugh, apprenticed under the original owner before buying the shop in 1985 and works side by side with his daughter designing, creating, repairing, and restoring clocks just about every day of the year.
Why has clock making become a lost art?
I make the gears, the parts, and everything that goes with designing and building a clock. It's a lost art. You have to love it. You have to have a design, a conception: What do you want the case to look like, the movement? Do you want it just to keep time or perform other functions? Do you want it to do an hour strike? Play a tune? There's a lot that goes into it. Some clocks just make ticking sounds, but some clocks play the famous Westminster tune.
What should you look for when buying a clock?
First I think you should decide if you want a wall clock or one that is designed to sit on a shelf. It's equally as important to make note of whether it's original. You don't want one that's been changed some way or has a battery mechanism in it. Check to see if the glass has been taken out, whether the case has been refinished, and if the hands look right for the piece. We have lots of clocks for sale, but you can find good clocks online, at estate sales, and at flea markets. In our shop, our least expensive clock is $300, and we have things all the way up to $15,000.
What trends are you seeing right now?
Grandfather and cuckoo clocks are always the most popular. Lately people are dressing up their homes with wall clocks, large ones that can take the place of a grandfather clock. Anytime you put a mechanical device in a room, it becomes a focal point, especially [a clock] with a moving pendulum.
What kind of maintenance do you recommend?
I believe in letting sleeping clocks lie. Why should we touch it if it's not broken? Leave it alone and enjoy it. But again, our major business is repairing clocks. We get antique clocks that are broken, and we see more mechanical clocks than anything else. When you buy one, you have to realize it may have to be repaired. Find out whether there is a guarantee because [it's always good to have] assurance it's going to continue to work.
What are some of the more unusual items in your shop?
We've got this big, round, 30-day Seth Thomas clock that was made in 1901 and was featured in The Hunger Games. They rented it for two months, and I believe they kept it at the Phillip Morris plant where they filmed. It sells for $2,200. [The Seth Thomas Clock Company dates back to the 1800s; the iconic four-faced clock in New York City's Grand Central Terminal is a Seth Thomas clock.] We have another called "The Huntress" that sells for $3,250. It's a statue of a lady carrying a bird in her outstretched hand, and there's an actual clock ticking on the tip of her finger. It was made in 1909.