Keeping Up with 'All the Great Books (Abridged)'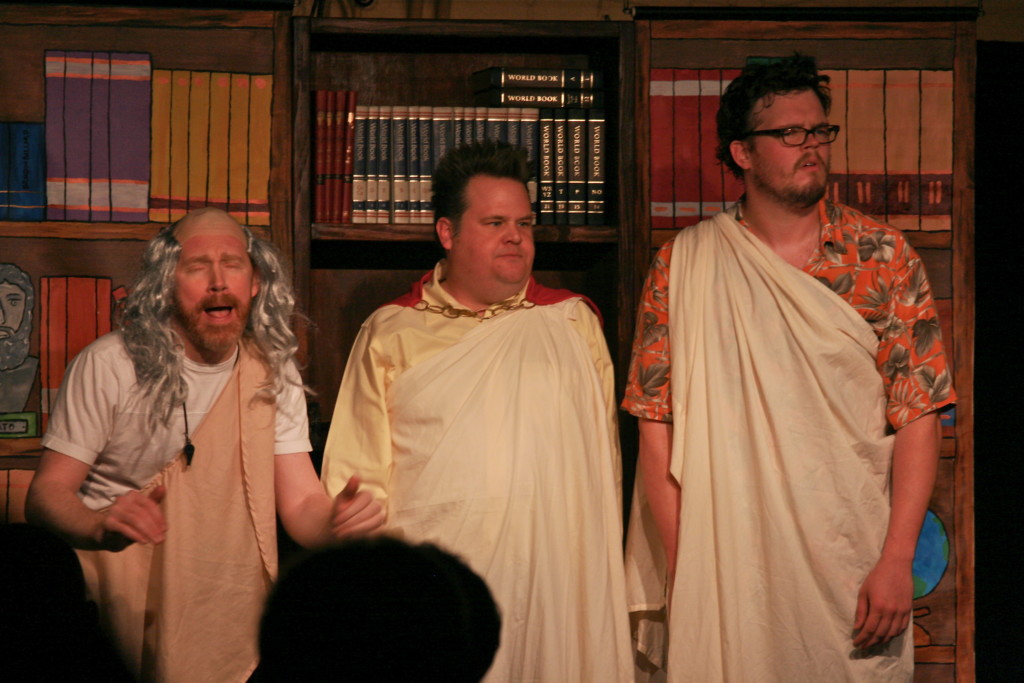 All the Great Books (Abridged) does something that you don't see very often in modern theater. It's a throwback to Vaudeville while remaining current. It has the kind of frenetic pace that mimics our own attention spans while mixing in word puns, slapstick, and straight forward jokes. A speed that most new plays tend to eschew as old fashioned.
The play was written Reed Martin and Austin Tichenor of the Reduced Shakespeare Company, where it became a cult classic. The basic premise: three guys — Brandon Lee Ballard, Christopher Jones, and Jay Russell — break down about 90 of the world's great pieces of literature in about 90 minutes. They do this through a fake classroom setting with all of the high school archetypes — Coach, the catty drama teacher and the stoner.
The premise seems postmodern as an examination of what literary criticism means to the Cliff's Notes generation (there is actually a joke to the point in this second act), maybe it's a take on our laziness to find our own meaning in the works (several jokes to this point) or maybe it's just a comedy that doesn't take itself – or literature – too seriously. I tend to believe it's the latter as most of the play tends to lift a particular piece of literature before dashing it under today's morality. (See the 2 minutes of discussion of what to call the character Jim from Huckleberry Finn)
I was lucky enough to see the opening night of the performance at Wine-Up, when all the performers were giving it everything they had. Watching this play is like watching a marathon ran in 100-yard bursts. The actors are seemingly constantly moving and dashing about the stage, playing with the audience then one actor would dart off set to change into another costume. Brandon Ballard, who famously gives everything he has to a performance, was given a towel before the show to help cool him off in between costume changes.
Stephen Seay, who produced this play, deserves a lot of credit for the monumental logistical undertaking this play must have been. I lost count of the number of costume changes and music cues only a few minutes in.
The play is hands down one of the most enjoyable times I've had watching Charlotte's players play. The joy the three shared on stage permeated the audience. At one point the audience was asked to throw dodgeballs at them as part of a bit.
Its a show that lends itself to a setting like Wine Up. It's intimate, it's engaging and it's just a lot of fun. I recommend anyone who is looking for a good laugh to see this show.
The remaining dates for the performances are Thursday, March 7, and Saturday, March 9, at 7:30. Tickets are $10 in advance and $15 at the door.