Keith Scott: What We Know—And What We Don't
The latest on the investigation into Scott's shooting after days of protests, unrest, and questions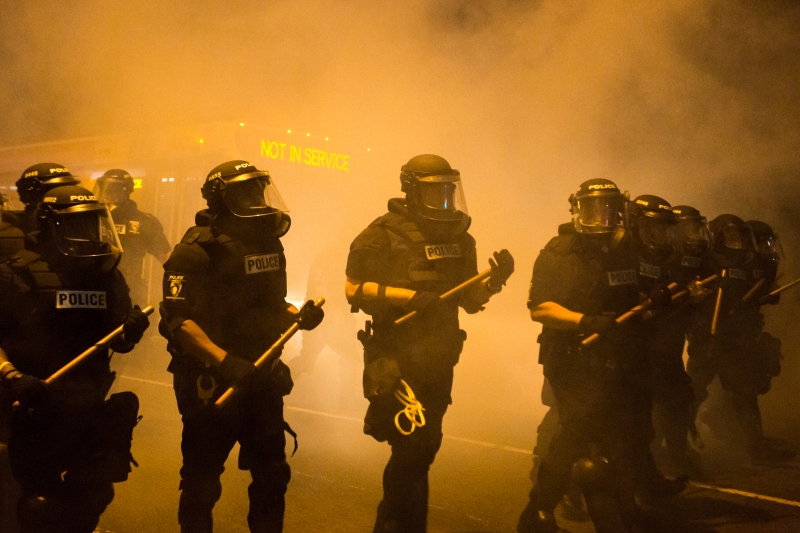 UPDATE, OCTOBER 5—CMPD has released the remaining video from the dashboard and body-worn cameras from officers on the scene when Scott was shot. The footage is extremely graphic. The department has also announced plans to review its body-worn camera procedures and de-escalation techniques in the wake of Scott's shooting.
ORIGINAL POST, SEPTEMBER 30
FOG ENVELOPED CHARLOTTE'S SKYLINE Friday morning as workers walked across the Tryon Street bridge over Interstate 277 from South End to uptown. Bistro tables were in front of coffee shops once again. There were hints that things were back to normal—though our city is far from that.
Plywood remains in front of broken windows and questions still hang over Charlotte like low clouds 10 days after a Charlotte-Mecklenburg police officer shot and killed Keith Lamont Scott.
Here's what we know, what we don't, and what we're looking into as the case stretches into its second week.
WHAT WE KNOW
Scott's funeral arrangements are pending; a memorial for Scott continues to grow at the University City apartment complex where he was shot.

Officer Brentley Vinson, a two-year veteran of CMPD remains on administrative leave pending the outcome of an internal investigation about the department's policies and procedures, as well as an external inquiry by the State Bureau of Investigation. According to CMPD, Vinson said he felt Scott presented an "imminent physical threat," and that's why Vinson used deadly force.

CMPD has released about two minutes of video footage from officers' body-worn and dashboard cameras. The department is refusing to release an additional two hours of footage from the scene, saying the videos show graphic images of Scott bleeding, officers driving to the scene, and "nothing relevant to the shooting."

The videos released so far—by CMPD and cell phone footage captured by Scott's wife—show Scott refusing to get out of his car and ignoring commands from officers. He steps away from the car, backward and away from Vinson. An ankle holster is visible on the outside of his right leg.

The videos do not show Scott holding a gun or pointing one at officers. His hands are at his side when he is shot four times.

The footage also doesn't show Vinson's point of view—he wasn't wearing a body camera.

CMPD Chief Kerr Putney said officers were at the apartment complex that afternoon to serve a warrant on someone else. The officers, Putney said, were parked in a car next to Scott's and noticed him "rolling a marijuana blunt." Putney said officers saw Scott "produce a firearm"—a Colt pistol—while he was sitting in the car. The presence of marijuana and a gun prompted officers to intervene.

Scott's family said he was sitting in his car reading a book while waiting for a relative to get off the school bus.

CMPD has also released audio of a 911 call from a witness along with police radio traffic from the scene. In one clip an officer said he saw "a guy parked next to us that was rolling— rolling a joint and had a gun," and in a second clip an officer said, "We got shots fired, one suspect down."

Scott served time in a Texas prison for assault with a deadly weapon and had convictions in South Carolina for traffic offenses and in Gaston County for DWI and assault with a deadly weapon. Last year, Scott's wife, Rakeyia, briefly asked the court for a protective order against him, claiming he hit an eight-year-old child. Rakeyia Scott voluntarily removed the protective order 11 days after it was issued, saying her husband no longer posed a threat to the family.
WHAT WE DON'T KNOW
What information did CMPD officers have about Scott's criminal record and did that affect officers' decision to make contact with him?

What, precisely, did Vinson deem an "imminent physical threat" by Scott that required the use of lethal force?

Who were the other CMPD officers on the scene? What did they see and hear? Which officer failed to activate a body-worn camera until after the shooting, and will that officer be disciplined for violating CMPD regulations?

What does Rakeyia Scott mean when, in the video she filmed, she yells, "Keith, don't you do it"?

Scott's family said he had a traumatic brain injury that he sustained in a motorcycle accident last year. In Rakeyia Scott's video, she tells officers that her husband "has just taken his medicine." What role, if any, did the TBI and medication play in Scott's condition at the time of the shooting?
There are also plenty of open questions about the City of Charlotte's response to Scott's shooting, the violence that followed, and the death of protester Justin Carr, who was shot in the head outside the Omni Hotel during last Wednesday's unrest.
As the editors of this magazine wrote in an editorial this week, those questions will linger without additional transparency from local leaders.