Kendra Scott Opens Store in SouthPark
The jewelry designer speaks about her line, legacy at opening event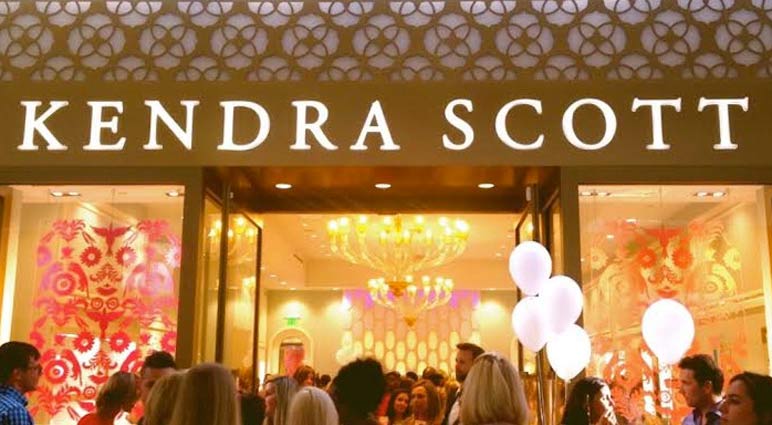 It's opening night and the room is filled with women beaming with excitement and decked out in colorful pieces of jewelry. All eyes are on the woman of the night, jewelry designer Kendra Scott, who has made a stop at SouthPark Mall to celebrate the launch of her new store. Though she is busy socializing with friends, families, and fans, Scott sets aside some time to chat with me. It quickly becomes clear why people adore this woman and are here to support her business. She is kind, genuine, and truly has a success story to tell.
Scott, an Austin, Texas, native, has always had a passion for the fashion industry. She started with a hat shop for women going through chemotherapy where she sold pieces of jewelry on the side. After the popularity of her jewelry there grew, she realized jewelry was her future and began creating and designing pieces with only $500 to start the business. Today, her jewelry line has turned into a multi million-dollar brand. Scott describes the success for her business with the motto "what matters to you, matters to us." Starting this company to give back in a meaningful way, her business emphasizes the importance of philanthropy and donating proceeds to local hospitals and non-profits. For the opening of her store in Charlotte, 20 percent of the sales were donated to the Junior League of Charlotte, Inc.
Kendra Scott jewelry is sold in more than 1,000 boutiques and retail stores, including Nordstrom and Neiman Marcus. By the end of the year, there will be 38 flagship stores, and we're lucky enough to have a store of our own. Scott wanted a store in Charlotte because she loves the city and thinks of it as her "home away from home." She has family here, including a sister who she is very close with. Family has always been very important to her, and she's important to her family: her husband and three adorable boys stand by her side at this event.
Scott says SouthPark Mall was the best place for her new store because of the feel of the place itself and synergy with other brands located here, such as Anthropologie and Kate Spade, which she believes compliment her brand. Scott has been visiting Charlotte for years, and now checking in on the store gives her another reason to travel here. Given the turn out tonight, those business visit here will be nearly as enjoyable as family time.
The women here adore her jewelry because they are high quality pieces made at an attainable price point. The beautiful semi-precious stones can be worn by any woman from fourteen years old to fifty and can be spotted on celebrities like Hilary Duff and Selena Gomez. Scott says she created this jewelry to fit anyone's style, whether you are a Southern girl or want more of an edgy look.
Besides the SouthPark Mall, where can you spot Scott out and about in the Queen City? She most likely won't be at any fancy restaurant Uptown. She'd rather be spending quality time with her family, who love the outdoors, either hiking trails or at her sister's place on Lake Wylie. She says earlier that day before the event, they were all out on the lake paddle boarding and wakeboarding.
Scott is a down-to-earth girl, with a love for what she does and even greater love for her family and giving back to her community. She hopes her brand will become a legacy, one that she hopes to leave to her boys, and one we're glad she's bringing to Charlotte.