Kick it Up a Notch with KYCK, a Social Network for Soccer Fans
KYCK.com hopes to kickstart the local start-up community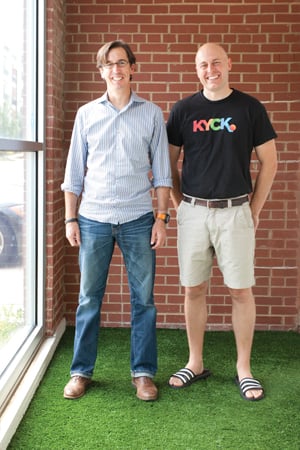 A tech start-up has chosen Charlotte over New York and Silicon Valley to be the headquarters for "the global fútbol experience."
KYCK.com, founded by Charlotte entrepreneurial veterans Mac Lackey and Ross Saldarini, is a social media platform built to connect soccer fans worldwide in a way that larger networks like Facebook and Twitter can't. The company has ten full-time employees who work on its website and mobile app.
The idea makes business sense, even if the location of its headquarters might puzzle other tech types. But Lackey and Saldarini are not deterred. "Ross and I have enjoyed proving that you can build and sell and grow start-ups in a town that is known as a banking town," says Lackey. The two have founded several successful companies, including InternetSoccer.com, which sold for $15 million in 1999, and Mountain Khakis, 75 percent of which sold for an undisclosed amount last year.
There are difficulties in building a start-up in Charlotte, Lackey says, but the advantages should not be overlooked. There's less competition for talent, translating to lower cost for high-quality employees. The relatively low cost of living doesn't hurt. And the local start-up culture is improving.
"There is a community of people who have been through the cycle, they've raised money, they've hired teams," says Lackey. "That community makes it faster and easier to get [others] started."
Raising money remains the most significant hurdle. "[It has been] consistently challenging for the last fifteen years," says Lackey. He says it's an ongoing challenge to convince local investors to provide significant capital to entrepreneurs. KYCK, however, managed to secure more than $1 million in its first round of fundraising.
The catch: the majority of those investors aren't local. KYCK's major capital providers hail from Silicon Valley, New York, and Dubai, places that are no strangers to start-up success stories. Investors there are more willing to provide capital because they 've experienced large returns before. Charlotte, however, is still waiting on a breakout success to inspire that confidence.
"[There have been] a lot of singles and doubles, but no grand slams," says Saldarini.
Lackey believes a grand slam here could be catalytic to the start-up community.
"I'd like KYCK to be one of those," says Lackey.