Kicking off Charlotte's Coming Out Party at CarolinaFest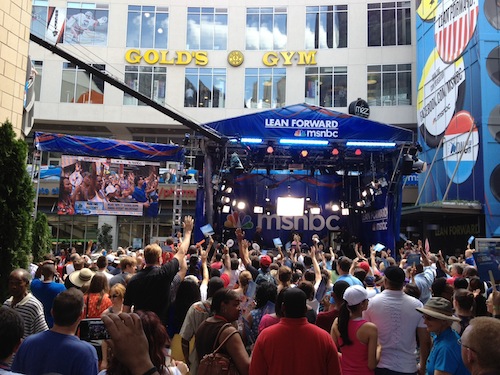 There has never been a day in Charlotte like yesterday.
An estimated 30,000 people turned out uptown for CarolinaFest. A lot were visitors, sure, but plenty were locals. It's sort of amazing, if you think about it. First, this event was going to be held at Charlotte Motor Speedway. Then, organizers announced that it was moving uptown. They said they wanted it to be more accessible, more tied into Charlotte. Naysayers speculated that the Charlotte in 2012 host committee was having trouble raising the funds necessary for the grand production that a Speedway event would be.
Whatever the reason, the correct decision was made. I've been to a lot of Charlotte street festivals over the past decade and a half. None of them approached CarolinaFest. It stretched down Tryon Street from Stonewall to Trade. Every block was jammed with citizens. I passed by Tom Hanchett, staff historian of Levine Museum of the New South (and in-demand interview from the national press this week). "I have never seen this many people having this good of a time in Charlotte," he said.
It had all the components of a typical street festival in Charlotte, but better. There were two stages, one featuring mostly regional acts, the other featuring mostly national acts. The Mint, Bechtler, and Gantt museums were free, and there were lines to get in (that they had AC did not hurt). Mayor Anthony Foxx's Legacy Village, which highlighted key initiatives that he hopes lives on after the convention, was filled with families learning about area educational, recycling, and sustainable agriculture programs. Ty Pennington helped build a house.
Along another block: booths and booth of vendors peddling all sorts of Obama tchotchkes. The next block: regional food vendors, including a few of your favorite food trucks.
There was an extraordinary blend of people on the street. I saw lots of locals, and I saw lots of visitors. I saw Michael Marsicano, CEO of Foundation for the Carolinas, walk by in shorts and a polo, smile on his face. I talked to Bob Morgan, Executive Director of the Charlotte Chamber, and he was beaming. He told of happening upon James Taylor doing a soundcheck at Trade and Tryon at 8:30 a.m. I saw David Furman, prominent center city developer, inside the Google Lounge, grinning.
About that Google Lounge, located from the week on a formerly vacant lot at Third and Tryon streets. A local company, Boxman Studios, which repurposes shipping containers into all sorts of things, helped build it. They used thirty-two shipping containers. Inside the lounge, I talked to Jim Mitchum, who works for Boxman. He hadn't been able to talk about the project, due to a gag order from Google. And he'd been too busy to get downtown to see it while it was under construction. He was almost giddy as he stood and looked. "It's pretty cool to see people hanging out in your stuff," he told me.
But really, what made CarolinaFest stand out were the sideshows. Sideshows that, on any other weekend in Charlotte, would be the main attraction. MSNBC was filming live in the EpiCentre. Correspondents from The Daily Show were walking around, interviewing people. I accidentally photobombed Chris Matthews on the sidewalk alongside South Tryon Street. James Carville bought two key lime shell-shaped truffles from Bar Cocoa inside the Ritz. Karl Rove huddled with staffer, signing the occasional autograph. A woman stared at him, trying to place him. "Who is that," she asked a friend. "Karl Rove," came the answer. Pause, still staring. "Why am I looking at Karl Rove?" Then she moved on.
A little later, I fell in step next to a delegate from Colorado. She is a convention veteran. "A lot of cities," she said, "the people there seem almost annoyed or inconvenienced. But not here. Here, everyone is so welcoming."
She told how, at every official function, there have been volunteers, telling the story of Charlotte, pointing out where they should go. "There is such a sense of civic pride here."
And that, really, was the theme of the day. It was civic pride bordering on neediness. We all know that Charlotte really wants people to like it. This was our chance.
There were almost more volunteers than police officers. They smiled and danced. They said "Welcome to Charlotte" until their voices cracked. They cautioned people to watch their step over cables laid in the street. They offered directions, advice, compliments (love those buttons! Nice hat!).
Later in the afternoon, before Jeff Bridges took the stage, only to get rained out, I sat on a step outside the Mint Museum and watched. A party of international diplomats streamed by. Their faces were predictably dour, suits expectedly sharp. They seemed jaded to the world. But then a funny thing happened. One by one, they stopped, took out their cell phones, and snapped pictures, of the Mint, of the stage in the street, of the trees, of the people. Documenting small scenes of Charlotte's coming out party. And what a party it was, and is turning out to be.