Kids Convention June 2, Access to America Dialogue Series June 6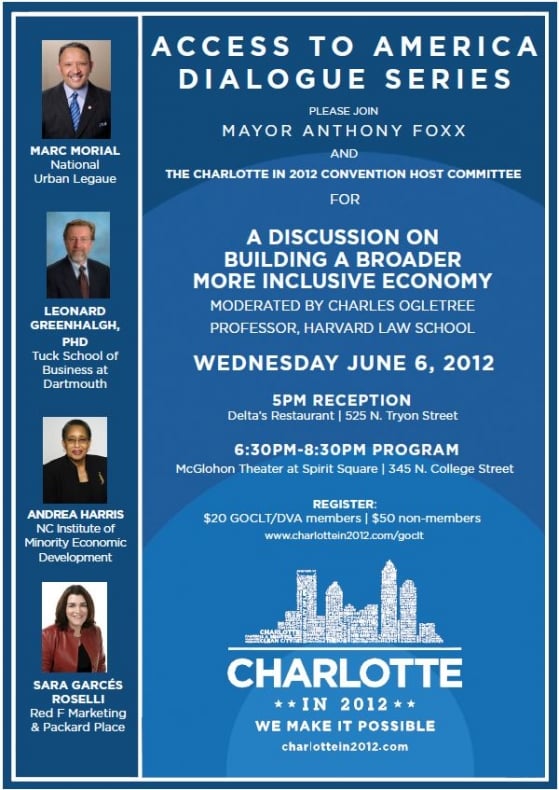 The Charlotte in 2012 Convention Host Committee has announced two engaging events scheduled for the first week in June.
Kids Convention 2012 takes place Saturday, June 2 at the EpiCentre, 210 E. Trade St., and is for students from kindergarten to eighth grade (and their parents or guardians). The host committee is partnering with GenerationNation, a local nonprofit organization that educates students about government, civic participation, and leadership (formerly known as Kids Voting Mecklenburg), to present the event. Students will learn about the Democratic National Convention, including an appearance by Mayor Anthony Foxx. There will also be youth entertainment acts performing and various activities for children.
This is a free, nonpartisan event, and attendees are encouraged to register in advance (click here). Registration will also open the day of the event at 10:30 a.m., with the Kids Convention going 11 a.m.-3 p.m. Guests are asked to donate a school supply, which will be collected and donated to a local school and to a local youth organization offering summer programs. Visit charlottein2012.com/blog/come_to_kids_convention_2012 for complete details.
The next event is for grownups. The host committee and Mayor Foxx, who serves as co-chair, present the Access to America Dialogue Series with an event taking place Wednesday, June 6. That evening will feature "A Discussion on Building a Broader, More Inclusive Economy," moderated by Charles Ogletree, a professor at Harvard Law School, and featuring guest speaker Marc Morial, president of the National Urban League. Panelists include Leonard Greenhalgh, of Tuck School of Business at Dartmouth; Andrea Harris, of the NC Institute of Minority Economic Development; and Sara Garcés Roselli, of Red F Marketing and Packard Place.
GO CLT and DVA, a young professionals group and women's group, respectively, of volunteers supporting Charlotte in 2012, are co-hosting a reception at 5 p.m. at Delta's Restaurant, 525 N. Tryon St. The dialogue series event will follow at 6:30 p.m. at McGlohon Theater at Spirit Square, 345 N. College St. You can register to attend the dialogue series event for free by clicking here. Tickets for the reception are $20 for GO CLT/DVA members; $50 for nonmembers/general public, which grants you membership; and $100 for VIP. Visit charlottein2012.com/goclt to register to attend the reception.