King of Gloves: Pat Morrell's Style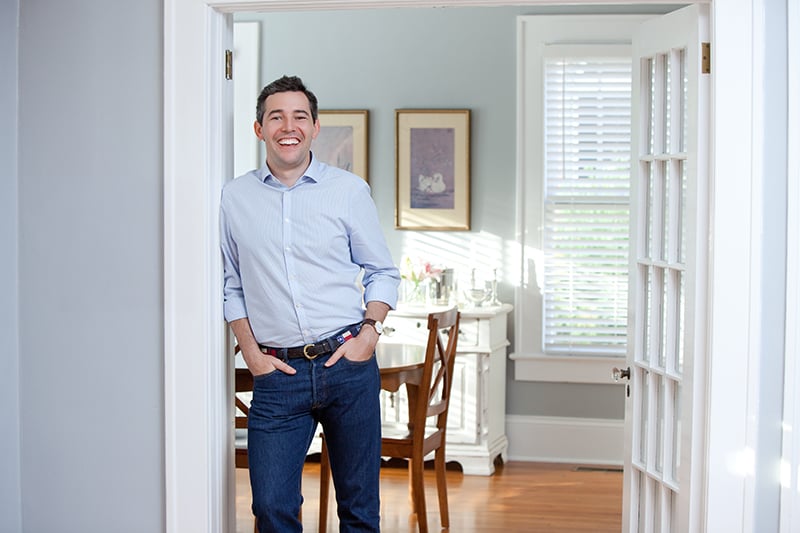 PAT MORRELL LIKES to solve problems. No, he isn't a mathematician. But in his day job at Sealed Air Corporation—the company that invented Bubble Wrap—whose global headquarters are in Charlotte, he leads a sales team looking for answers to customers' problems.
Two years ago, he had a problem of his own—finding gloves that fit. He decided he probably wasn't the only person with hard-to-fit hands. Taking the plunge into entrepreneurship, he launched FitzGerald Morrell, a custom glove company. Each pair of made-to-measure gloves is sewn in England from gorgeous leathers (think emerald, electric blue, or cognac), and orders take two months to fill. They're also not cheap; one pair costs more than $200.
The company has a distinctive voice—Morrell's, to be exact. It's a Southern voice (he has a political science degree from Sewanee, The University of the South) with straightforward charm, clarity, and old-school sincerity. And the company isn't just digitally genteel—Morrell includes a handwritten thank-you note with each order.
Tending to business from his house on nights and weekends, he's running a true cottage industry—or, more precisely, a bungalow industry—in Plaza Midwood with the help of his wife, Clay.
They'll be in Raleigh for Thanksgiving this year with their one-year-old daughter, Nina, visiting Morrell's parents, who still live in the big house he grew up in. As the youngest of three sons, he's looking forward to sharing holiday essentials with his daughter, from giving thanks to having pie for dessert. "She's developed an appetite for turkey already," he brags.
And after the turkey?
"I look forward to introducing her to the nuanced art of the Thanksgiving Day nap," he says, "while some kind of football game is on."
---
Flag Belt // While a student at Sewanee, Morrell noticed his Charleston friends wore preppy belts with South Carolina flags. When he couldn't find a comparable one with North Carolina flags, Clay (now his wife) needlepointed one.
---
Broughton Gloves // Morrell's personal favorite, these gloves have a subtle style for city or country. Morrell dons them daily in fall and winter for walking Abbott, his English springer spaniel, who inspired the hat-wearing dog in the company's logo.
---
Cheerwine // Launched north of Charlotte, in Salisbury, this cola got its name from cherry flavoring and a color resembling red wine. The Morrells gave out glass bottles as favors at their wedding.
---
This article appears in the November 2016 issue of Charlotte Magazine
Did you like what you read here? Subscribe to Charlotte Magazine »
---