King of the Meats
Mellow Mushroom introduces a bacon-themed fall menu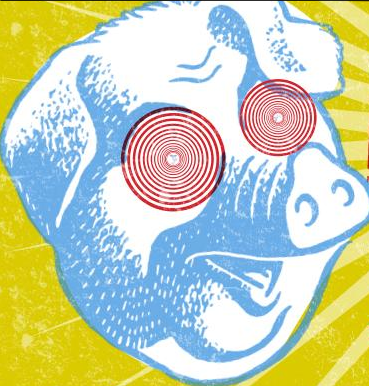 If bacon is wrong, I don't want to be right. That brings me to my second and probably more important point. Mellow Mushroom has unveiled its new bacon-themed fall menu. It's for a limited time because the universe is unfair sometimes, but here is everything you need to know:
The official name of this meaty menu is the Bootleg Bacon Fest, which is available from now through November 23. Bacon is the focus of most of the dishes (shocking), although pork is also spotlighted.
Let's itemize and expand, friends. We've got two new cocktails, a new munchie, three specialty pizzas, a new hoagie, and a new dessert:
Don't Mind If I Dip: A warm concoction made with cream, Italian sausage, artichoke hearts, tomatoes, carmelized onions and MontAmoré cheese. Served with pita chips.
Wake-n-Bacon: A Mellow pizza with olive oil and garlic base, roasted asparagus, bacon, shiitake, button, and Portobello mushrooms, mozzarella and MontAmoré cheese, and a fresh egg on top.
Bubba's Bacon Bonanza: Pizza No. 2 for the fall menu offers bacon, honey-glazed ham, pulled pork, mozzarella and cheddar cheeses, and carmelized onions under a drizzle of BBQ sauce, cilantro and pickled red onions.
The BLT Buckle: The last specialty pizza, this pie is topped with bacon, mozzarella and MontAmoré cheeses, then topped with ribbons of romaine lettuce, diced tomatoes, and more bacon.
Doublewide: A Cuban-style sandwich topped with pulled pork, bacon, honey-glazed ham, mozzarella and MontAmoré cheeses, pickled red onions, cucumbers, and creamy dijonnaise between a sliced French roll.
Family Feud: Made with smashed Oreo cookies, vanilla bean mousse and fresh bananas under a waterfall of chocolate sauce, this dessert, although meant to be shared, may cause a fight or two.
Red Bourbon Barrel: Made with maker's Mark bourbon, maple syrup and fresh citrus, layered with Gnarly Head Merlot, it's a taste of autumn.
Call Me Pumpkin: Sailor Jerry Rum plus Monin pumpkin spice, agave sour mix, and Mellow meringue are paired with cinnamon sugar on the rim.
If this doesn't make you a) hungry or b) dying to rush over to Mellow this second, then I can't help you anymore.