Kool Keith's Snug Harbor Show Moved to Monday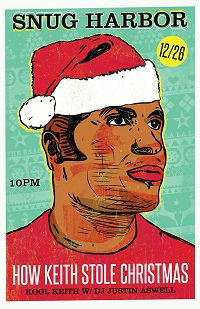 Kool Keith's Friday show at Snug Harbor has been moved to Monday, Dec. 29. The announcement first came from the rapper's Twitter feed Friday evening. The venue told the Revue blog that the move is due to Keith missing his flight.
Keith's set is now part of DJ Justin Aswell's Knocturnal, a weekly party that takes place at the venue. An 8 p.m. show on Monday, featuring Breakout and K9-Unit, is still planned and free. Despite the Friday show's move, BlacKostume still performed, with Monster Crux and STEREOLOUD. It wasn't immediately clear whether BlacKostume would also play the Monday show.
Advanced tickets to the Friday Kool Keith show will be honored at the Monday date. Otherwise, the price remains the same ($20). Tickets are available here.
Keith is a legend in hip-hop, ushering in the era of horrorcore. He is also a founding member of Ultramagnetic MCs, which includes Ced Gee and TR Love. His solo career began with 1996's Dr. Octagonecologyst, widely revered by critics and hip-hop fans. Keith's latest was a double-album, titled Demolition Crash, released last summer.