Labor Day Weekend 2016 Parties and Social Events
From white parties to luaus, it's all about saying farewell to summer this Labor Day weekend.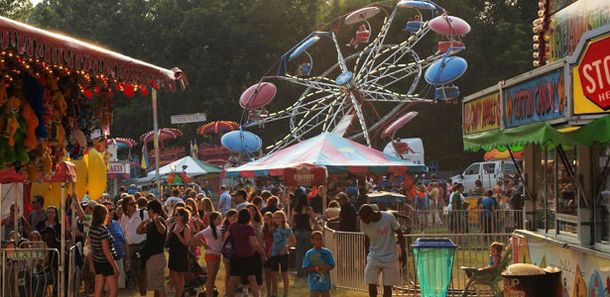 It's Labor Day weekend, Charlotte. Break out your best whites and prepare to say goodbye to summer with these social events. See y'all out there!
P.S. With college football returning this weekend, did you see our list of watch-party bars in Charlotte? Did your team make the list? Find out here.
Thursday, Sept. 1
Atlantic Coast Conference Kick-Off Mixer
As college football returns this weekend, Charlotte ACC alumni are kicking off the season at BlackFinn, 210 E. Trade St., from 5 p.m. until 7 p.m. Show your ACC team pride with your favorite Georgia Tech shirt or Clemson University jersey. A $6 ticket gets you in the door with a free glass of beer of wine and free appetizers. The party also features giveaways. Buy your ticket here.
Friday, Sept. 2
Bats and Buds: Friday Night Fireworks
This is your last chance to catch the fireworks at BB&T Ballpark on a Friday this season. A $10 ticket gets you a seat on the Home Run Porch, one free beer before the game at Draught, 601 S. Cedar St., and two after the game. Check-in is at Draught from 5:45 p.m. until 7 p.m., and the after party is back at Draught, starting at 10 p.m. Buy your ticket here.
Matthews Alive
The annual Labor Day festival is back! Lasting through Monday, this carnival hosts a parade, a cultural center, loads of food and drink options and so much more. (You don't want to miss this.) For more information on hours of operation, weekend events and ticket prices, go here.
Boot Barn Fashion Show
Whisky River turns into a runway tonight as this fashion show takes the reins. "Big Sexy" from 103.7 FM hosts the show tonight, which also features local vendors, giveaways and drink specials. The party from 8 p.m. until 10 p.m. tonight as 210 E. Trade St. has no admission fee.
Flashback First Friday: All-White Affair
It's Labor Day weekend, so you should expect a slew of white parties. This party at Label, 900 NC Music Factory Blvd., features three DJs for an "old-school event." Tickets start at about $24, and the party begins at 10 p.m. Buy your ticket here.
Saturday, Sept. 3
Cocktails Through the Decades Cooking Class
Join the crafty folks at Passion8, 1523 Elizabeth Ave., today as they teach a class in crafting four iconic whiskey/bourbon cocktails. Each of the cocktails is paired with select food. Tickets for the class from 11 a.m. until 1 p.m. cost about $41. Buy your ticket here.
King Day Party: Labor Day Weekend Edition
Head to the top of Vault, 210 E. Trade St., today to enjoy your holiday weekend. The event description labels this party as only for the "city's crème de la crème," so you should come prepared. The party also features DJ Weatherman. Tickets cost about $12 for this party from 4 p.m. until 8:30 p.m. Buy your ticket here.
Labor Day Party Cruise
What better way to celebrate (hopefully) having the day off on Monday than a booze cruise? Join DJ Z and top-40 hits tonight on board as you cruise around Lake Norman. Boarding starts at 10:15 p.m., and the ship doesn't return to 1459 River Highway in Mooresville until 12:45 a.m. Tickets cost about $33 and include food on board. Buy one here.
Sunday, Sept. 4
Margarita-Making Class
Spice up your Labor Day weekend with a bit of tequila at the Ballantyne Hotel and Lodge, 10000 Ballantyne Commons Parkway. For $25 (plus tax and gratuity), you'll learn how to craft the perfect margarita, using several tequilas. To make reservations for this class at 4 p.m., call 704248-1000.
Labor Day Luau
Bid adieu to summer at Howl at the Moon, 210 E. Trade St., and its Labor Day Luau. This party features $3 Miller Lite bottles, $5 Malibu cocktails and $20 86-ounce sunshine punch buckets, which sounds like a hangover. Wear your Hawaiian shirt for free entry. The party starts at 7 p.m.
Labor Day Party at Bubble
No work on Monday means plenty of playtime on Sunday. Join Bubble and its two DJs today at this holiday weekend day party from 4 p.m. until 8 p.m. at 210 E. Trade St. RSVP here for free admission before 5:30 p.m.
Off-The-Wall Annual Michael Jackson Tribute
At Petra's annual Jackson tribute evening, it's all Michael, all Jackson Five all night. The dress code is "fresh," so make of that what you will. There's an admission charge of $5 before 11 p.m. or $10 after. Petra's is at 1919 Commonwealth Ave.
Verify dates, times, prices, and other info at the web addresses listed for each event.
Be sure to bookmark www.charlottemagazine.com/Blogs/Dusk-Till-Dawn to stay plugged into Charlotte's nightlife and social scene. Click here to sign up to receive the weekly Dusk Till Dawn e-newsletter.
Want your event featured in Dusk Till Dawn? Follow me on Twitter @Jared_misner and let me know about your event, or send me an email at dusktilldawnblog@gmail.com.