Labor Day Weekend Social Events, Sept. 3 to Sept. 6
From white parties to lake cruises and a one final Alive After Five, Charlotte's got your Labor Day weekend covered.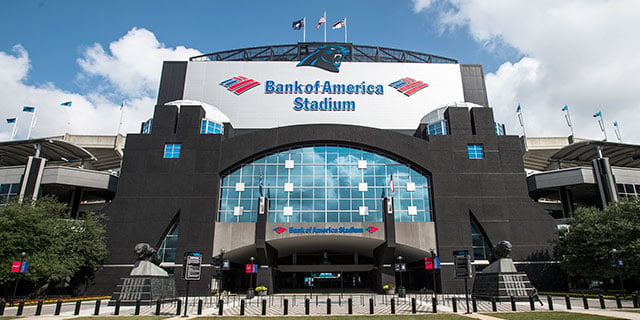 You've worked hard all year. Finally, the one day that celebrates you, the working guy or gal you are, is here. Labor Day weekend is full of white parties and final summer showdowns. Enjoy the long weekend, Charlotte. You've earned it. See y'all out there!
Thursday, Sept. 3
Belk College Kickoff/FanFest
Call it the Carolina clash. Bordering state football teams — the North Carolina Tar Heels and the South Carolina Gamecocks – battle it out tonight to usher in the start of the college football season. The game starts at 6 p.m., but there's a FanFest with three musical performances from noon until 5 p.m. The football game is at the Bank of America Stadium, 800 S. Mint St., and the FanFest is in the Charlotte Observer parking lot, at the corner of Stonewall Street and Mint Street. Ticket prices vary. Buy them here.
Alive After Five
Blue Monday takes the stage tonight for the last Alive After Five of the year. The happy hour event on top of the EpiCentre's roof is free. The fun starts at, well, 5 at 210 E. Trade St.
Battle of the Border
If you want to get in on the football atmosphere but don't necessarily want to deal with the crowds, Draught is hosting a special tailgate party throughout the day. Drink specials and live music starts at noon. The event at 601 S. Cedar St. is free.
Friday, Sept. 4
Bats and Buds Season Finale
Tonight is the Knights last home game of the season, and Draught wants you to help the boys go out with a bang. A $10 ticket gets you admission to the game, one beer before the game and two after the game. Check-in is from 5:45 p.m. until 7 p.m. at 601 S. Cedar St. Buy your ticket here.
Labor Day Bash
Ashley Nicole from VH1's "Love and Hip Hop Atlanta" and Freekey Zekey & 730 Dipset perform tonight to help kick off your Labor Day weekend. DJ Fame also has beats spinning from 10 p.m. until 2 a.m. The bash is at Mynt Restaurant and Lounge, 1508 S. Mint St. Buy tickets for $15 here.
A White Tie Affair
It's Labor Day weekend. Would we be complete without some type of white party? Tickets are $35 in advance or $40 at the door, and proceeds to this white party go to the Cystic Fibrosis Foundation. Your ticket also includes an open bar and appetizers. The party is from 8 p.m. until 11 p.m. at SIP, 200 N. Tryon St. Buy tickets here.
Grown and Sexy Labor Day Weekend Jumpoff
Described as the "ultimate turnup," this event says it's for those who love to dance, turn all the way up and look good while doing it. With BOGO drinks "until we say so," we can't find a reason to say no. The event starts at 9 p.m. at Chima, 139 S. Tryon St. Tickets are $10. Buy them here.
Labor Day Weekend Blacklight Party
Come wearing white to say goodbye to summer and get ready to get blacklighted all night. Doors open at 9 p.m., and there's free admission before 11 p.m. with an RSVP. Free bull rides and drink specials also come with the evening. BAR Charlotte is at 300 N. College St. RSVP here.
Saturday, Sept. 5
The Lake House Party
Join 102.9 The Lake tonight in saying goodbye to summer. With one last summer hurrah, Rick Springfield, Loverboy and the Romantics are taking the stage as we prepare for fall. The "lake" party begins at 7 p.m. at the Uptown Charlotte Amphitheatre, 820 Hamilton St. Ticket prices vary. Buy them here.
Lake Wylie Music Fest and Craft Beer Extravaganza
Head a bit south of the border for this two-fest event. This year, the annual free music fest combines with a craft beer festival to create the "Extravaganza." The unlimited tasting and music gets underway at 2 p.m. at the Red Fez Shrine Club, 1600 Red Fez Club Road. Tickets are $40. Buy them here.
Matthews Alive Festival
According to the event description, this event has the Southeast's largest Labor Day parade, a complete carnival, three stages, more than 170 vendors, 25 food vendors and more. The event is free and runs from Friday until Monday at Stumptown Park, 120 S. Trade St., in Matthews.
Sunday, Sept. 6
Hoe-Down Throw-Down
Here's a definite way to send summer off into the sunset. Take a booze cruise around Lake Norman with live music from the Steel Blossoms today from 1 p.m. until 5 p.m. Registration is from 11:30 a.m. until 12:30 p.m. at Mojo's Grill and Pub, 19901 Holiday Lane in Cornelius. There's a cash bar on board, and tickets are $20. Buy them here.
Summer Heat II
In the second installment of its summer parties, Bubble wants to host you tonight as you wind down your Labor Day weekend. "The Blend King," DJ Shaun Nyce, returns to the Bubble today for the party that begins at 4 p.m. Entrance is free with an RSVP before 5:30 p.m., and it's $5 after that. Buy your ticket here. Bubble is at 210 E. Trade St.
Labor Day Finale
Hopefully, you don't have to work Monday, so why not play hard on Sunday? Doors open at 10 p.m., and the music will be by DJ Cali & Power 98's DJ Phalse ID. There's free entrance to the party at Suite, 201 E. Trade St., until 11 p.m., or it's $10 afterwards. RSVP or buy tickets here.
Verify dates, times, prices, and other info at the web addresses listed for each event.
Be sure to bookmark www.charlottemagazine.com/Blogs/Dusk-Till-Dawn to stay plugged into Charlotte's nightlife and social scene. Click here to sign up to receive the weekly Dusk Till Dawn e-newsletter.
Want your event featured in Dusk Till Dawn? Follow me on Twitter @Jared_misner and let me know about your event, or send me an email at dusktilldawnblog@gmail.com.