Ladies Tailgate, Brief Fashion Show, Panthers and Hornets Watch Parties, DJ Jubilee, and More – Oct. 30-Nov. 2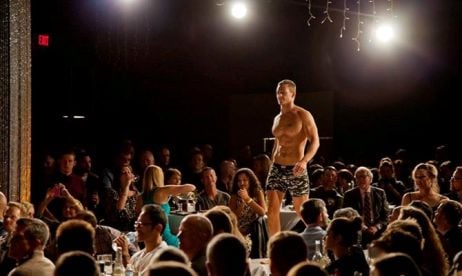 Another month comes to a close in 2014. Now keep the party going!
Thursday, October 30
Fall Concert Series Finale
It's your last opportunity to enjoy this outdoor event series before it concludes for the season, offering live music by Trial By Fire (Journey tribute band), and you can dine at the many surrounding restaurants. 6-9 p.m. Free admission. The Shoppes at University Place, 8929 J.M. Keynes Dr., shoppesatuniversityplace.com.
Ladies With Game Tailgate
PopSugar and Smirnoff Ice are creating a fun evening for the ladies, with complimentary food and drinks, a DJ, games, giveaways, a photo booth, beauty bar, and more. Hosted by Lindsay Gladden of the Ace & TJ radio show. 7 p.m. Free admission; RSVP requested. CenterStage @ NoDa, 2315 N. Davidson St., popsugar.com/celebrity/Ladies-Game-Tailgate-35919481.
Thursday Night Football: New Orleans Saints vs. Carolina Panthers
The Panthers host the Saints in this nationally televised Thursday night game. Game time, 8:25 p.m.

Where to Watch the Game
@ All American Pub, 200 E. Bland St., facebook.com/allamericanpub.
@ Angry Ale's, 1518 Montford Dr., facebook.com/angryalesmofo.
@ Dilworth Grille, 911 E. Morehead St., dilworthgrille.com.
@ Draught, 601 S. Cedar St., draughtcharlotte.com, facebook.com/thecansrecycled.
@ Hickory Tavern, at Metropolitan, 1100 Metropolitan Ave., facebook.com/ht.metropolitan.
@ Sports One Bar & Lounge, 521 N. College St., sportsoneclt.com.
@ StrikeCity, at EpiCentre, 210 E. Trade St., strikecitycharlotte.com.
Panthers Game After-Party
After a victory by the home team (hopefully), keep the party going at this posh nightclub, with music by DJ Paradime. 10 p.m.-2 a.m. Free admission. Suite, at EpiCentre, 210 E. Trade St., suitecharlotte.com.
Friday, October 31
Happy Halloween!
Click here for a list of more than 20 Halloween parties taking place tonight.
JCSU Homecoming Golden Hour
This has become an annual tradition for Johnson C. Smith University alumni and friends to kick off their homecoming weekend. The evening will include complimentary food, drink specials, and music by DJ OP. Hosted by the Charlotte JCSU Alumni Chapter, Derrick Dillard, and Nepherterra Estrada. 5-10 p.m. $10. Tilt on Trade, 127 W. Trade St., tiltontrade.com, jcsugoldenhour.eventbrite.com.
Saturday, November 1
Pulled Pork for Prostates (Shave the Date)
It's an all-day event to raise money and awareness for prostate cancer. There'll be fun activities for all ages, food and drink specials, and live music in the evening. 11 a.m.-11 p.m. Free admission. Elwoods BBQ & Burger Bar, 16139 Lancaster Hwy., facebook.com/elwoodsbbq.
Drinks Yard Sale
This Uptown bar is cleaning out its shelves again, offering $1 premium liquor drinks and $1 shots. 4 p.m.-2 a.m. Free admission before 9 p.m.; $5 after. Prohibition, 200 N. Tryon St., prohibitionclt.com.
Brief Fashion Event
This seventh annual runway event showcases male underwear and swimwear, providing eye-candy for the ladies, and raising money for Time Out Youth and the Human Rights Campaign. 7:30 p.m. General admission, $35-$50. VIP, includes two bottles of champagne per table and hors d'oeuvres, $125. Extravaganza Events and Props, 1610 N. Tryon St., briefafeteforfashion.org.
Charlotte Hornets Watch Party
The Buzz returned in a major way Wednesday night with the Hornets' thrilling season-opening victory. And you're invited to watch the next game here on a 25-foot screen, and enjoy drink specials, and prize giveaways. Doors open 5 p.m.; game time is 7 p.m. Rooftop 210, at EpiCentre, 210 E. Trade St., facebook.com/rooftop210.
Live Music and Wine
Enjoy live music by HC Oakes, and order from a good list of wines and tapas. 7-10 p.m. Free admission. Bacchus Wine & Tapas, at LangTree Lake Norman, 138 Village View Dr., Mooresville, bacchuslkn.com.
Smiff: JCSU Homecoming Finale
MAZ Entertainment hosts this homecoming after-party (last year's party drew 900 people, they say), with music by DJ Flash. 10 p.m.-2 a.m. General admission, $7 and up in advance; VIP admission, $20; VIP tables available. Phoenix, 300 N. College St. phoenixofcharlotte.com, smiff.eventbrite.com.
Sunday, November 2
Set your clocks back an hour at 2 a.m. for daylight saving time!
The DJ Jubilee
It's a night of great music by DJs, food, drinks, games, and a pop-up shop by Enemy To Fashion. 4 p.m.-2 a.m. Free admission. 'Stache House Bar & Lounge, 1520 South Blvd., stachehouseclt.com.
Sunday Fundae (weekly event)
Different guest bartenders are featured every week, serving great drink specials, and there are games such as beer pong and cornhole, while DJs Wiggz-n-Wonz (begin at 10 p.m.) get the dance party going. 8 p.m.-2 a.m. Free admission. Prohibition, 200 N. Tryon St., prohibitionclt.com.
Verify dates, times, prices, and other info at the web addresses listed for each event.
Be sure to bookmark www.charlottemagazine.com/Blogs/Dusk-Till-Dawn to stay plugged into Charlotte's nightlife and social scene. Click here to sign up to receive the weekly Dusk Till Dawn e-newsletter. Follow me on Twitter @HollidayInk; email me at jarvish@grownpeopletalking.com.