Landscape Lighting
Adding landscape lighting to enhance—and secure—your home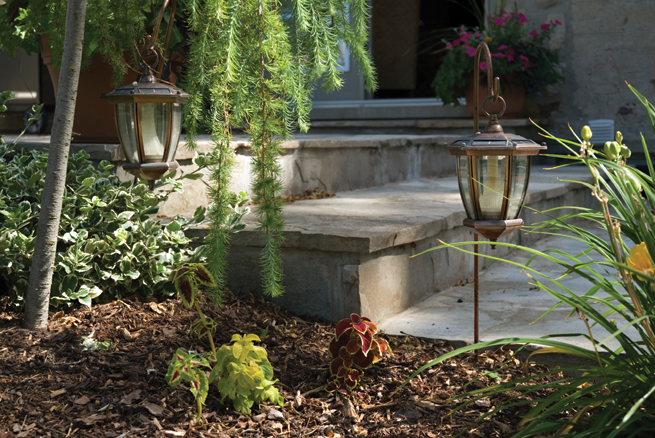 Dinner on the deck, backyard barbecues, and patio parties are summertime must- haves. If you don't want the outdoor fun to stop when the sun goes down, great lighting is important. But outdoor lighting can be a true art, especially when it comes to enhancing your home and landscape in a way that's beautiful—and subtle.
How can lighting enhance a landscape?
"Lighting can create a striking effect. It has the ability to transform an ordinary deck or patio into an almost magical scene," says Tom Coogan of Coogan's Landscape Design. "Well placed spotlights on trees and flowers add drama, especially in large areas with lots of color and diversity. You can also add shimmering underwater lights to shine up through a fountain or twinkling lights to sway overhead [in] tree branches."
What should a homeowner consider when investing in outdoor lighting?
It's important to maintain consistency from left to right when accenting architectural features of a home, whether the goal is to enhance brick, columns, or windows, says Sean Hogan, a landscape lighting design consultant with Roby Electric. "I like to create lighting as subtle as possible while still highlighting what you want to see," says Laurie Durden of Laurie Durden Garden Design. To do that, she often uses a technique called uplighting—lights that literally shine up—and recommends using two fixtures instead of one to cancel out shadows.
Can proper lighting help keep a home secure?
"A well–lit home is a big deterrence to crime," Hogan says. When it comes to using lights for security, he suggests uplighting beneath entryways. In addition, Hogan recommends using a system that works with motion sensors. "I would do floodlights at the corner of the house and use the sensors as a scare tactic. When someone comes by, [the floodlights] come on, but it looks like the homeowner turned the lights on because they saw something."
When should a homeowner consider solar lights in place of electricity?
"If you don't have electricity in a certain area, solar lights are a good option," says Coogan. "They are low cost, easy to install, and will not add to your power bill. Keep in mind that they obviously need direct sun to work, so if there are obstacles blocking the sun, it will greatly lessen their ability to provide light at night."
What's the safest way to illuminate a pathway?
"Walkway lights not only make your home more inviting to visitors but also make walkways safer," says Coogan. "Low voltage lights can be placed just above grade level and nestled in the foliage to provide a soft glow to illuminate the way." These low-voltage lights come in a range of styles that are versatile enough to work just as well around a pool area as they will throughout a front or back yard.