Las Vegas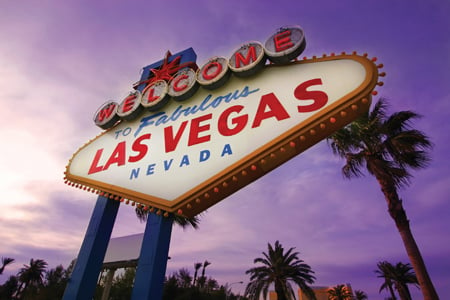 Yes, we know it's July and the thought of heading to Vegas for 100-plus degree sunbathing isn't your idea of a vacation. So consider this your guide to the City of Sin — sans the gambling and clubs — for the trip you're planning for the fall when things cool off. With dining choices that satisfy the pickiest eaters, shows that rival even the best on Broadway, and mini adventure getaways, Las Vegas has morphed into a place where just about everyone can get a taste of what they want.
Stay
You could, of course, book the Wynn, Bellagio, Aria, Palazzo, or Venetian, Vegas's premier properties. But if you're looking for a hotel without having to walk through the smoky clouds hovering over the casino floor, you'll want to stay at Vdara (from $149 per night, vdara.com). The first nongaming, nonsmoking property to hit the Strip — since, well, ever — this gorgeous modern 1,495-suite hotel is (literally) a breath of fresh air. Sandwiched between Aria and the Bellagio, Vdara's also in a prime location.
Eat/Drink
For the newest (and arguably one of the best) meals in town, head to American Fish (arialasvegas.com/dining), chef Michael Mina's most recent addition to his superb culinary roster (XIV, Nobhill Tavern). Described as "refined American cuisine with a focus on seasonal ingredients, fish, and shellfish," Mina utilizes four signature cooking methods — salt-baking, wood-grilling, cast-iron griddling, and ocean-water poaching — which result in the most tender and flavorful seafood you've ever experienced. More of a pasta person? Chef Mario Batali and Joe Bastianich's B&B ristorante at the Venetian is a delightful take on seasonal pastas (for example, delicate halibut with peas and orichette with fresh broccoli rabe) (bandbristorante.com).
Explore
There's more to do than gamble, shop, and lounge by the pool. Choose from one of the pink Jeep Tour's half- or whole-day journeys to national landmarks like the Grand Canyon, Hoover Dam, and El Dorado Canyon. A quick half-day trip to red rock Canyon is well worth it — it explains why so many people love to live in nearby Las Vegas. For a longer two- or three-day jaunt, rent a car and head three hours northeast to Zion national park (nps.gov/zion). Photos don't do this historic landmark justice — with its stunning scenery (waterfalls, winding river, gorgeous rock formations) and moderate to strenuous trails (a must is Angel's Landing, a winding trail with 1,000-foot drops), it's an outdoor enthusiast's paradise.
See
It's no secret that you have to see a show while in Vegas. And while Cher, Garth, and Celine are all good options, reserve tickets to what is possibly one of the best shows in town: la reve at the Wynn Las Vegas (702-770-9966). Meaning "the dream," La Reve is set in an intimate aqua theater-in-the-round and features aerial acrobatics, provocative choreography, and artistic athleticism. (Casino developer Steve Wynn recruited Cirque du Soleil performers for this show.) If singing and dancing coupled with acrobatic feats is more your speed, a must is Viva ElViS! at Aria (702-590-7760). Cirque du Soleil performers pay tribute to the King's life and music. You'll be tapping your feet throughout the show.
Getting There
Fly direct daily on most major airlines from Charlotte Douglas International Airport. (The flight is about five hours long.) Expect to spend about $300-plus per direct, roundtrip ticket.