Last Call With Ron Stodghill: Bling in Banktown
Thoughts on an art installation, a local rapper, and the lure of money and street cred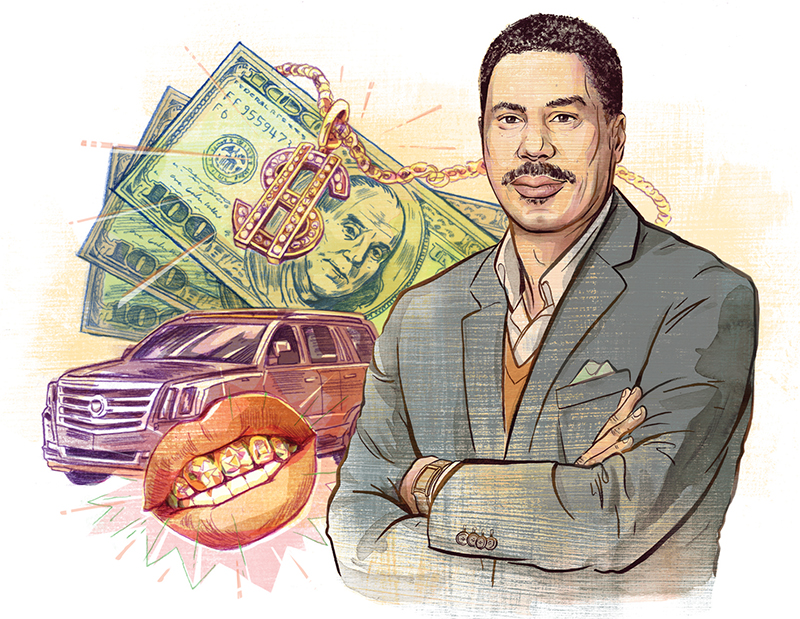 ON A RECENT afternoon, I was sitting with artist Stephen L. Hayes Jr. in his studio at the McColl Center of Art + Innovation and musing over How to Make a Dollar, his mixed-media work-in-progress that examines our culture's worship of money and material things. The installment was still embryonic, save a couple of concepts: a series of 4-foot by 4-foot replicas of U.S. currency, featuring Franklin, Jefferson, Lincoln, and Jackson staring out from commercial shipping planks; and an artificial cornfield, with newspaper stock listings lacquered into the stalks. "I like to use my work as a teaching tool to youth," says Hayes, a Durham native who joined the McColl Center as an artist-in-residence last spring. "I want to open their eyes about how they play into the hands of our materialistic society."
In Charlotte, where a rising tide of talented rappers pushes for blinged-out, badass street cred, one hopes Hayes's message will reach beyond the McColl Center's cocktail crowd and into the neighborhoods. While the city's marketing engines pump out images of pristine white-collar prosperity, there is a generation of local rappers with monikers such as Well$ (his crew suggested he drop Fargo), Lute, and Bankroll Bird staging their own rise in a parallel universe—one that, often along with drugs and sex and gunplay, casts money in its starring role. A couple of months back, on Christmas Eve, Charlotte's two worlds collided, fittingly, at a mall—in this case outside a Northlake Mall shoe store. The incident made national headlines: An undercover officer shot and killed 18-year-old Daquan Antonio Westbrook (aka Donkey Cartel), an up-and-coming rapper (with a long arrest record), in a gunfight.
Stephen Hayes refers to his work at the McColl Center as apolitical, but it's hard to take that claim seriously. After all, How to Make a Dollar was inspired by the infamous 1712 Willie Lynch Letter, The Making of a Slave, in which, as lore goes, slaveholder Lynch stood on the bank of Virginia's James River and exhorted fellow plantation owners to approach black labor as though taming a horse. The letter, it turns out, is phony, but it's still a popular reference among rappers. A portion of it reads like this: "For fear that our future generations may not understand the principle of breaking both horses and men, we lay down the art. For, if we are to sustain our basic economy we must break both of the beasts together …"
Hayes says his ideas about wealth and class division are rooted in childhood, when his older brother would take him on long drives through Durham's richest and poorest neighborhoods and point out racial paradoxes. "My brother showed me how in wealthy neighborhoods, their houses are worth more than their cars, and in our neighborhood the cars are worth more than our houses." Hayes, who is black, chuckles: "We'll have a BMW in the projects, and you have to ask, why do you have this type of car, and you're living this type of way?" In essence, Hayes argues that popular media fuel a message of consumerism that has created a bondage all its own—and he makes the statement using, among other things, cast concrete, crocheted twine, graphic work, and blacksmithing.
If Hayes's work is globally provocative, viewing Charlotte through Daquan Westbrook's eyes is surreal—to posthumously reconcile the self-described west-side outlaw with the provincial Banktown culture in which he subsisted, to find the line between his art imitating life and showmanship. There's a track on YouTube entitled "Pac." It's a nod to rap icon Tupac, in which this young man who went by Donkey preens uptown on the hood of a convertible Mercedes, Charlotte's skyline glowing behind him as he riffs on making cash to pay legal bills: "… I wanna lawyer with the quickness. … They don't even give a f**k, right or wrong you get a sentence/without money, a public defender gon' get you fifty."
Hayes's How to Make a Dollar follows Cash Crop, his emotionally gripping mixed-media installment anchored by life-sized concrete sculptures of slaves bound to wooden pallets, as though packaged for market. For this upcoming work, Hayes says he wants to turn up the "wow" quotient by adding a live horse (think Willie Lynch) and tricked-out carriage to the exhibit.
"My goal is to get that carriage here to work on it, but I …" He stammers. "… But I don't have … I mean, I could probably pay a hundred dollars or so to get the carriage here, but …"
His voice trails off, and he mumbles something about making furniture for a while to fund production of his elaborate masterwork. For now, his artistic vision has stalled. He shrugs. He doesn't have the money.
---
This article appears in the March 2016 issue of Charlotte Magazine
Did you like what you read here? Subscribe to Charlotte Magazine »
---