Last Call With Ron Stodghill: Books in the 'Hood
One man's commitment to keep his childhood neighborhood safe and prosperous, one literary adventure at a time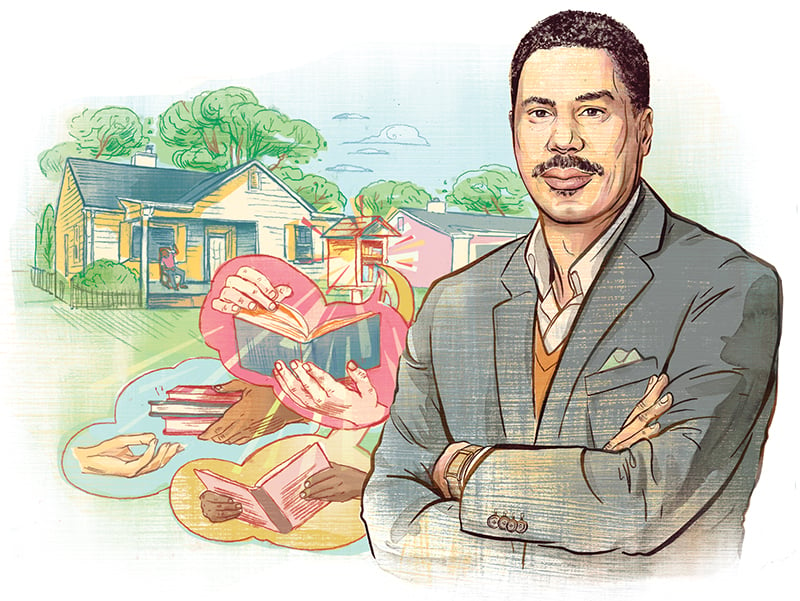 THE CURIOUS EXPRESSIONS amuse him. On warm afternoons, he sits on the front porch of his home in the Druid Hills community on the north side and watches folks react to the wooden box on a pole in his yard on Edison Street. He delights in their confusion.
The small, wooden container with the Plexiglas doors looks like a birdhouse. But upon closer examination, I realize the darn thing is full of books. When I arrived to speak with the man who owns the house about a growing neighborhood activism revitalizing Druid Hills, the box contained a couple of dozen books—a random mix of memoir (How Starbucks Saved My Life, by Michael Gates Gill), adult fiction (Black Fridays, by Michael Sears), and children's fiction (A Boy No More, by Harry Mazer).
One of my favorite pleasures as a kid was rummaging through all my grandmother's books. She was an elementary school teacher and a voracious reader. Books were everywhere in her house—crammed on shelves, lying on tables, scattered throughout the basement. I read whatever was there. By the time I was 10, my literary palette was undiscriminating, drawn as easily to a story about a great white shark attacking a bunch of tourists (Jaws, by Peter Benchley), as to a spiritual homily about a bird brooding over the meaning of life (Jonathan Livingston Seagull, by Richard Bach), as to a sober account of my ancestral roots (Before the Mayflower: A History of Black America, by Lerone Bennett Jr.).
"It's OK. Take one if you'd like."
The voice startled me. I glanced up and there was Darryl R. Gaston, standing in the driveway, bracing against the frigid morning air, his shoulders hunched in a peacoat, his dark brown face partly buried behind a thick scarf. He gestured for me to follow him behind the main house and into a loft-style carriage house that he had built on the property in 2005.
Druid Hills was once the proud home to the Ford Model T plant (closed in the 1930s), which then became a U.S. Army supply depot and later a missile plant (closed in the late 1960s). The community's streets are lined with craftsman-style homes, many of which have a view of uptown. But starting in the 1970s, with jobs scarce, Druid Hills was hit hard by drug dealing and its related crimes. Norris and Justice avenues became notoriously dangerous, even to residents.
Gaston knows the little library in his yard poses a fresh contrast to the community's tough reputation.
"I think you are probably a little shocked and surprised to see something of that nature in the Druid Hills community," he said. "That's because typically in fragile, threatened, transitioning inner-city neighborhoods that are predominantly black, we typically don't see things that are designed to encourage and/or empower people." Translation: Ain't nobody thinkin' 'bout no books.
Gaston, 55, told me his own story. It's an inspiring narrative of reclaiming one's community and importance in a city where history is often forgotten or devalued. Gaston is the third generation in his family to own the house on Edison. In the 1950s, his maternal grandmother was among the first blacks on the street when she bought the six-room house. Gaston's mother inherited the place after her mother's death and helped create the Edison Street Block Association. The group supported a cadre of new working-class and professional black homeowners. The association collected dues and used the money to help take care of any neighbors who fell on hard times and couldn't pay their mortgages.
Gaston lived in the house from his birth in 1961 through the late 1980s. "Growing up on Edison Street, we didn't have to lock our doors or close our windows in the summertime. I remember that all of the neighbors were people I actually knew by name. I knew that I could be cared for and nurtured—I didn't have to worry about hurt, harm, or danger from my residents."
In the mid-90s, Gaston moved back to take care of his mother in the house after she had a stroke and her diabetes required a leg amputation. By then, crime had risen and a sense of despair plagued his community. Gaston decided to fight back. He bought and renovated a foreclosed home on Edison Street and rents it out as affordable housing. He also created and led neighborhood watch and beautification clubs, and hosted social gatherings at his home and Smallwood Presbyterian Church, where he is pastor. He's now the key leader of the neighborhood block association his parents helped create, as well as president of the Druid Hills Neighborhood Association.
In 2015, a friend at Habitat for Humanity told him about the popular Little Free Library initiative, a simple concept that works on a "take a book, return a book" honor system. Gaston put up his library this past August.
"These books are slowly helping to bring my community together again," he said. "I'm not expecting to be acknowledged or awarded or crowned. I don't need those 'attaboys' either. My reward is knowing that I've made a difference, that I've been light in a dark place."