Last Call With Ron Stodghill: Coming Home Again
I left Charlotte for New York, and I couldn't wait to get back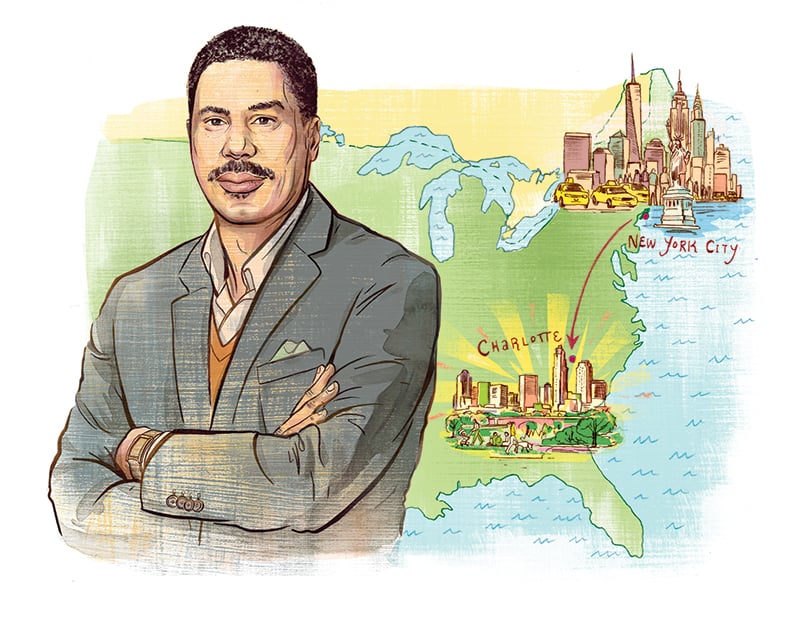 ONE EVENING in the spring of 2004, I sat in a living room with a small group of family and friends plotting a big escape. We were 40-somethings, married with children living and in and around New York City, and all second-guessing our decisions to relocate there. The choice once seemed bold and enlightened but had now left us feeling disillusioned—by long commutes in choking traffic, sky-high rents in tiny spaces, daily Herculean feats to balance work and family.
I'll blame the wine, partly, for the pact we made that night. We vowed that within three years we would all move to the same city. It was an impetuous moment, our own real-life sequel to The Big Chill, the 1980s Boomer classic about old college pals reuniting to grieve a mutual friend's death. We were, if anything, mourning our derailed, shrunken, frenetic lives—and the prospect of growing old in a city whose quality of life we had come to loathe. Looking back, I'm not sure how serious we were about packing up, but the idea sure sparked a good debate that night—which cities had the best weather, the most progressive politics, ethnic diversity, fittest economy. What became clear was that we all were looking for the same thing: a better balance between work life and family, or more simply, an antidote to the big-city, soul-sucking drudgery that greeted us at Starbucks at daybreak and bid us farewell from the office at night.
We had intense discussions about Houston, pondered Nashville, and even considered Atlanta. I listened for a while, amused, but before long I slipped into my own reverie about the year I spent right after college in the friendly, growing town of Charlotte.
It was Monday, October 19, 1987. I'll never forget that day because I was starting work as a business reporter at The Charlotte Observer. That morning, as I settled behind my desk, the stock market began its historic plunge, 508 points in one day, earning its doomsday Wall Street moniker, "Black Monday." Back then, I barely knew what the Dow was; the only blue chips I knew about were the kind you dipped in salsa. But that rollicking moment—plus some handholding from such veteran business journalists as Doug Smith, Dave Mildenberg, Steve Matthews, and David Dykes—was my entry point to Banktown.
I remember the small brick duplex I rented on Romany Road in Dilworth. It was my first time living alone, and I used the quiet time to write letters to loved ones and gush over my new life down South. I told them about the beautiful trees right outside my place in quaint Latta Park; about my fixation on the collards, smothered pork chops, and peach cobbler served at a hole-in-the-wall soul food joint called The Coffee Cup. I told them about an unlikely jazz spot downtown in the basement of Jonathan's restaurant, where local songstress Maria Howell crooned numbers by Billie Holiday, Sarah Vaughan, and Nancy Wilson. And I told them about partying at nightclubs like Kings & Queens, Side Effects, the Adam's Mark Hotel, the Excelsior Club.
I was young, ambitious, and single, though. Charlotte was, and frankly still is, a quintessential family town. So when the opportunity arose a year later to work for BusinessWeek magazine's bureau in Washington, D.C., I knew I had to leave.
A couple of decades later, though, as I sat in that suburban New York living room, Charlotte, with its churches and YMCAs and public parks and bike paths, seemed a perfect match. In fact, the week after our pity party, I marched into my boss's office and told him I'd prefer telecommuting from a place like, say, Charlotte. Shockingly, he said yes, and few months later, in August 2004, my family moved into our new home in the University area. (Incidentally, only one other couple from that night relocated here, to Waxhaw. Another couple moved to Houston, while another is still slugging it out in New York.)
As the years went by, the Charlotte I'd known and adored in the late '80s largely disappeared. There's no Coffee Cup, but there's a Bank of America Stadium; there's no jazz at Jonathan's—it's the Cellar at Duckworth's now; as for Side Effects, I think it's a Wal-Mart. But really, that's OK; Charlotte's evolving into a new life stage, just as everything does eventually. I think of this now as the city rushes to expand its image as a grown-folk paradise to appeal to a younger crowd. My oldest son's generation, now college age, is making their memories and mark on the city these days. They hang out at nightclubs, eateries, hookah bars in NoDa, the University area, South End, the Music Factory—none of which could claim today's buzz back in 1987. They're the people who will keep this city alive, growing and moving forward, while brimming with, for me at least, a sense of déjà vu, and the feeling that I've been here all along.
---
This article appears in the August 2016 issue of Charlotte Magazine
Did you like what you read here? Subscribe to Charlotte Magazine »
---