Last Call with Ron Stodghill: Do As I Say
As a playful son grows into a working man, his father wants him to slow down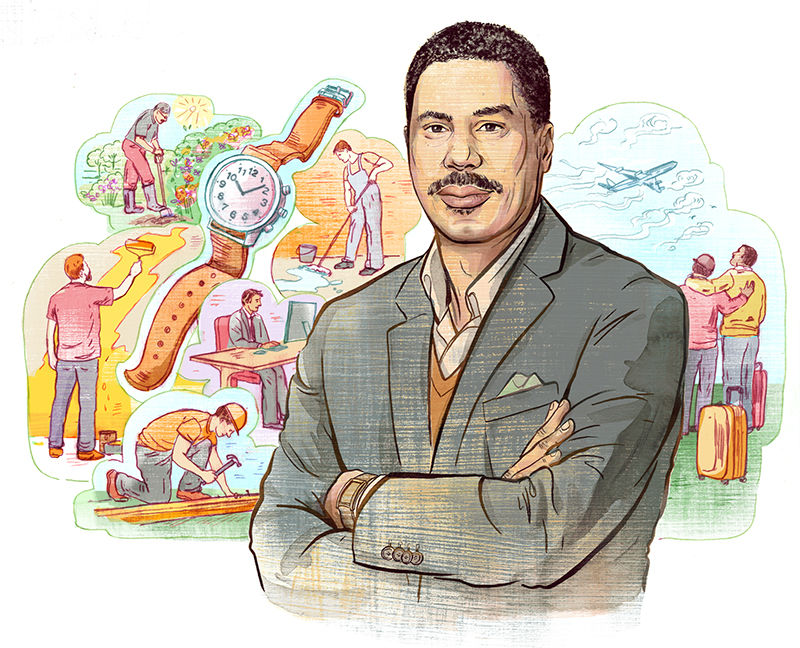 A FEW weekends ago, my oldest son visited us from college. Only three weeks had passed since Ronnie left Charlotte, this bright and moody graduate of Mallard Creek High School (class of 2015) who had promised in a moment of pre-college rage: "I'm never coming back here!" I took this to mean that we'd see him at Thanksgiving. Nonetheless, I was picking him up from the Amtrak station on a rainy Friday night in mid-September.
He looked good, in that free-spirited, so-glad-to-be-calling-my-own-shots kind of way. He had sunny eyes, wild hair, rumpled khaki shorts, and a sweatshirt. He wore a blue visor emblazoned with the logo for Barton College, the small liberal arts school about 50 minutes east of Raleigh now charged with spiriting him into manhood. The boy brimmed with Bulldog pride. Over dinner, he gushed tales: about Cam, his totally cool, nerdy roommate ("His anime storyboards are amazing"), about his decision to lay off red meat ("Seriously, Dad, I recently read that humans take on the dying emotions of the animal they're eating"), and the pretty senior whose Friday night flirtations evaporated by Monday morning ("I think she found out that I'm only a freshman, which sucks").
Most intriguing, though, was what occurred the next morning. Without any protest, Ronnie worked around the house—for hours, without pause. He hoisted heavy furniture up and down stairs, scrubbed floors, cleaned closets. It was a remarkable display of Millennial productivity, a spectacle I had rarely witnessed away from his avatars in Grand Theft Auto and Dragon Ball Z. I could only marvel at the transformation, at how a child who used to disappear at the sight of hard labor was now taking his place in a family lineage of males who prized work above all endeavors.
The moment seemed like a rite of passage that has guided—and at times misguided—the men in my family for several generations. I was taught early in life that men define themselves by their work; it is a birthright and barometer. We find our identity in the gloss of our shoes or the dirt on our boots. My grandfather spent his most of his life toiling on a Cadillac assembly line, and when he was too old for that, he found corners of his house that needed painting or appliances that needed fixing. A few years ago, my father retired as the superintendent of a school district a few miles outside St. Louis. Among his proudest achievements: In more than 20 years on the job, he never took a vacation. The men in my family would plot their own tombstone if they could.
Only recently have I begun to question our Alpha Dad doctrine, to ask myself whether a day spent loafing with loved ones is as honorable as grinding it out in the office or even the yard. I'm not alone. Increasingly, men are starting to fret over work-family balance, once the parlance of women on Oprah. A few months ago, I read that Google CFO Patrick Pichette resigned to spend more time with his family. He had an epiphany, he said, during a rare vacation with his wife, Tamar, as they watched the sun rise from the summit of Mount Kilimanjaro. As he reportedly explained in a memo to employees: "And Tamar out of the blue said, 'Hey, why don't we keep going? Let's explore Africa, and then turn east to make our way to India. It's just next door, and we're here already. … Then, we keep going; the Himalayas, Everest, go to Bali, the Great Barrier Reef … Antarctica, let's go see Antarctica!' " Initially, he squirmed at the idea. But months later he caved, and he's happier for it.
I took Ronnie to the Amtrak station at daybreak the following Monday morning. In the car, we chatted about his plans for next summer. He was hoping to line up an internship, he said, and start saving money to purchase a car. He said he might work two jobs, if time allowed. I was moved by his sense of drive, by his yearning to catapult deeper into adulthood. But there was also something somber about the moment, in hearing my son recite from a blueprint he had inherited from generations of men— men who, I should say, left this world in various states of feeling unfulfilled, unrealized, unhappy.
"What about Japan?" I heard myself say. "Didn't you say you want to travel there? You ought to try and go."
Ronnie laughed. "Really, Dad? You'd help?"
"Yeah, man. Why not? And if I can, I might even join you."
---
This article appears in the November 2015 issue of Charlotte Magazine
Did you like what you read here? Subscribe to Charlotte Magazine »
---