Last Call With Ron Stodghill: Farewell, Friends
After 13 years in Charlotte and 28 back-page columns, this writer and teacher is headed to Missouri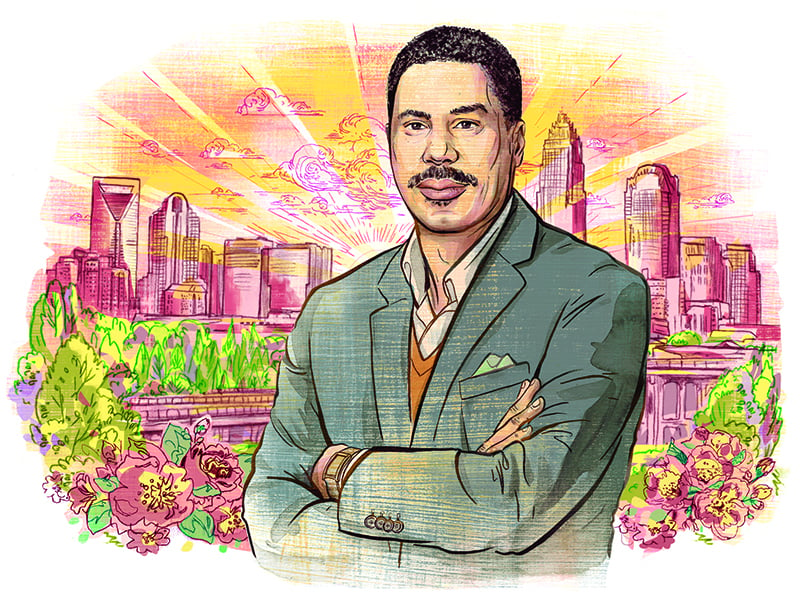 A FEW WEEKS AGO I was sitting with a group of friends at Tupelo Honey Cafe, one of my favorite South End haunts. The occasion was bittersweet: the group, former colleagues from The Charlotte Observer, gathered to wish me farewell. In less than a month, I was scheduled to leave Charlotte for a gig as a journalism professor at the University of Missouri, my alma mater. That's right—after 13 terrific (well, mostly) years living and working in Charlotte, most recently at Johnson C. Smith University, I am packing up.
I'm eager for the change, which surprises a bit. The truth is, when I arrived here back in 2004, with a wife and three young sons, I assumed this is where I'd retire. At the time, the weather, pace, and people made relocating seem unlikely. But there are no certainties in this life; plans morph, goals shuffle and reshuffle, fate derails our best intentions. And it can happen without your even noticing: You look up, your little boys are teenagers, your newsroom is a smartphone, you've discovered a passion for teaching, Michael Jackson and Prince have died, you develop a palate for eggplant, and you're a divorced single dad (I've often wondered whether there's a connection between these last two). The point is, a lot can happen over 13 years.
If you're as fortunate as I've been, you come across some amazing people along the way—folks who change your life in radical and subtle ways. I have too many to count. That evening at Tupelo Honey, for instance, I was surrounded by a half-dozen former colleagues-turned-friends, and midway through our meal expressed to each one how they had personally touched my life while enriching my experience in Charlotte. They were a tribe of creative types—designers (Holly, Monty, and Tracy), editors (Angela and Leigh), and a photographer (Wendy)—whose devotion to our craft inspires me.
Lots of folks working outside of journalism left their mark on me, some quite prominent around town. I'll always cherish being invited to private lunches with Hugh McColl at 300 East in Dilworth, and sitting rapt as he waxed nostalgic about his days growing Bank of America into a global powerhouse. Or sipping coffee at The Duke Mansion with historian Tom Hanchett, and marveling at his command of Charlotte's past, from its roots as a town of textile mills to its rise as a full-bodied metropolis. Or chatting with former Charlotte mayor and architect Harvey Gantt not about politics, but his evolution as a business owner, and the importance of attracting and nurturing a new class of entrepreneurs to keep this city thriving.
Or Robin Emmons, the impassioned founder of the nonprofit organization Sow Much Good, who won a 2013 CNN Hero Award for championing local food in low-income neighborhoods; or Suzanne Fetscher, the thoughtful force behind the McColl Center for Art + Innovation, which brings artists from all over the world to live and create in Charlotte. Or my friends Damian and Jermaine Johnson, whose barber chain No Grease, Inc., has become a local symbol for racial pride, progress, and empowerment in a city deeply fractured along color lines. Or Emily Zimmern, whose 20-year stewardship of the Levine Museum of the New South (she retired in 2015) made it one of the city's most memorable attractions; or the sweet-natured Charles Jones, a 1960s Freedom Rider, whose remembrances about growing up in the South and sit-ins during the Civil Rights Movement place him at the top of this city's most important figures—and best raconteur.
And then there is Erica Johnson, one of my dearest friends, who left me before I could leave her. Not long ago, I was scrolling and deleting old text messages and choked up as I came across the final one I received from Erica, dated December 11, 2011. "Thanks for stopping by… meant so much to have u there. Call u when I'm back in Charlotte … we're overdue for lunch … no more Five Guys … LOL!" Not long before that text, she had resigned from a brief, tumultuous stint as a publicist for then-Mayor Anthony Foxx. As I recall, she had thrown a holiday party at the old 15 North Roadside Kitchen on Montford Drive to lift her spirits. A few months later, in July 2012, Erica was found dead in her mother's High Point home. In an instant, Erica, my funny, wise, and, often incredibly sad friend—a Charlotte native who helped me learn this town as a journalist and transplant—was gone.
Most of what has appeared in this space in the past couple of years has, in some way, been shaped by friends and good colleagues I've made in Charlotte. Their love, great expectations—and often disappointment—are the seeds from which this column has grown. Each month, this magazine has given me a remarkable platform to reflect on what's best about this city, and how we can be better. I'll miss telling stories in this space and the people who meet me here to read them. Thank you, Charlotte, and goodbye—at least, for now…