Last Call With Ron Stodghill: Hoop Dreams
Searching for victories with people "just like me"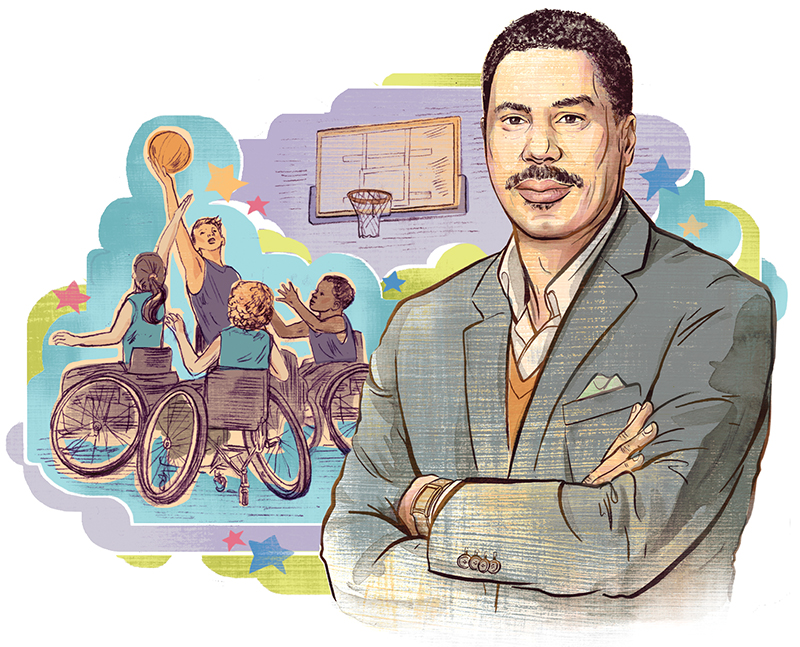 A FEW WEEKS AGO, I was in the gymnasium at Providence Presbyterian Church watching one of Charlotte's most successful basketball programs prepare for the national tournament. The action was intense: picks and rolls, bounce passes, players scrambling for loose balls. Whistle around his neck, head coach Mike Godsey paced the sidelines, scrutinizing every play and clapping sharply as he pushed his players to work harder. "Let's go!" he called out. "Good job!"
Coach Mike, whose mild manner belies a competitive spirit, may be the best—and most uncelebrated—hoops coach in Charlotte. Since Godsey took over as head of basketball operations in 2005, the Rollin' Hornets—who compete in the National Wheelchair Basketball Association—have won one national tournament, finished second in another, consistently ranked in the top 10, and boasted members on the Academic All-American Team 13 times. Twelve athletes in his program have earned college scholarships.
Yet despite his on-court success, Coach Mike, 46, struggles to keep the program going. Every season, he faces the same obstacles—raising enough money to pay for basic equipment and trips to away games, finding a local gym or training facility that can accommodate his players (the Rollin' Hornets have three junior teams and two adult teams), persuading public schools and teachers to support his players like other student-athletes (the schools themselves don't offer wheelchair basketball).
Coach Mike, a small business owner, was inspired to coach wheelchair basketball when his son, born with cerebral palsy, needed a recreational outlet in a city with precious few. "It's unfortunate, because Charlotte is so affluent," Godsey says. "There's tons of public money being invested elsewhere for other kids." In Birmingham, Alabama, for example, the Lakeshore Foundation Sports Arena has a state-of-the-art athletic and research center for kids and adults with everything from cerebral palsy to amputation to visual impairment. The Coach Mikes of the world obsess over these issues: Are the doorways wide enough for passage of players' wide basketball wheelchairs? Are the bathrooms furnished to accommodate a physically challenged athlete and an assistant?
A few years ago, one of my colleagues at The Charlotte Observer, Wendy Yang Brunk, and her husband, Doc, were looking to adopt a child. They came across Sophia, who had been left at birth in front of a children's hospital in China, in 2011. She was three years old and living in an orphanage, diagnosed with cerebral palsy and suffering regular seizures.
The Brunks assessed Sophia's challenges. As Doc blogged: "A picture of a little Chinese girl with a crooked smile in one picture and tear-stained eyes in another, a description written in the stilted language of a Chinese bureaucrat and translated by an American bureaucrat—these were all we had to go on. Could we love this little girl? Could we help her find her way in the world? Could we be her parents? Yes. Yes. And Yes."
Caring for Sophia has come with a steep learning curve, but the Brunks know the exact moment of their breakthrough. It was Saturday, August 22, 2015. Wendy and Doc took Sophia to a celebrity wheelchair basketball game hosted by former Hornets guard Gerald Henderson at Johnson C. Smith University's Brayboy Gymnasium. When Sophia rolled into the gym and saw the other kids playing basketball in wheelchairs, her eyes lit up. She looked up at Doc. "Baba (Chinese for dad)," she said. "Just like me." At that moment, her shyness disappeared. Choked up, Doc said to Wendy: "I guess she'll be playing basketball."
In the Rollin' Hornets, the Brunks have a community and support group. Every season, seven or eight Rollin' Hornets have major surgery—one kid on the team has had 31 in his lifetime. Parents travel from as far as Fayetteville and Greenville, South Carolina, to make Monday afternoon practices to experience that camaraderie.
As one Rollin' Hornets parent recently posted about her son on Facebook: "This weekend at a pit stop on our road trip, he asked me why everyone in the restaurant was looking at him. … I told him it was likely because he was wearing a sweet looking Rollin' Hornets jersey and some new Steph Curry kicks, but my mama heart knew that's not why they were staring."
After the National Wheelchair Basketball Tournament in Louisville March 30-April 2, Coach Mike turned his attention to getting his players ready for the next big tournament—the North Carolina Winter Classic. The good news is that this year, the Rollin' Hornets plan to host the annual tournament in Charlotte in November. The bad news is that, so far at least, Coach Mike has no idea how he'll pull off this 18-team hoopfest in a town where facilities and fans are hard to find.