Last Call With Ron Stodghill: In Search of Calmer Waters
A morning trip to Stone Mountain with a fly-fishing expert, and the peace we find in quiet rhythms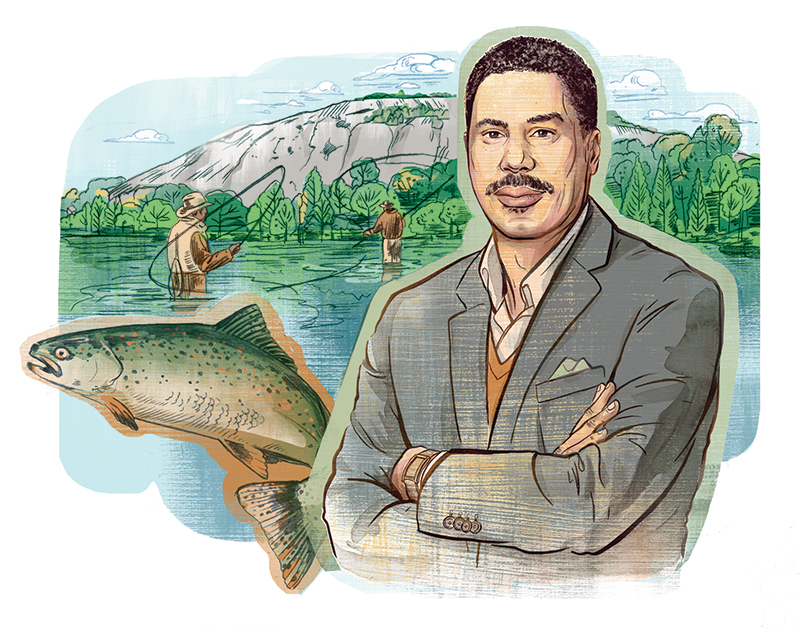 IT'S JUST after 7 a.m., and the fog shrouding the creek at Stone Mountain State Park has begun to clear. The air is quiet, except for leaves swaying in the spring breeze and the stream rushing across the rocky creek bed. Fishing rods in hand, we stand in our waders in knee-deep water beneath Stone Mountain and its 600-foot granite dome, about 90 minutes north of Charlotte. "Any day on the water is a good day, don't cha think?" asks my fishing companion, Tucker Horne.
I can't respond, at least not right away. I am mesmerized. By the cloudless blue skies capping the mountain. By the vast greenness of the park's panorama. By the Great Blue Heron soaring regally across the horizon. By the graceful motion in which Tucker casts his line, and the swiftness with which he tugs and, voila, pulls out a small rainbow trout.
Tucker grins, unhooks his catch, and releases it back into the stream, as is his custom. He gazes skyward, taking in the beauty around us. "The one thing about trout," he says, "is that they don't live in ugly places."
Tucker is neither rich nor famous. He's a 27-year-old, round, jovial, and otherwise nondescript native Charlottean who by day is the owner of a digital marketing company. During his free time, he competes in fly-fishing tournaments across the U.S. as a member of the North Carolina Fly Fishing Team.
It's a precious sight, watching an expert in his element, witnessing how passion and technique work together to produce a kind of magic. If mastery is born in private—and, by author Malcolm Gladwell's Outliers calculus, accompanied by some 10,000 extra hours of practice—it's the sharing of mastery that's divine.
I've been awed by plenty of experts during my nearly three decades as a journalist, but none so seasoned as Tucker in the wonderful art of escape. There was the time I got schooled by billiards pro and trick-shot artist Ewa Mataya Laurance (a.k.a. "The Striking Viking") during a game of nine-ball at her Charlotte home. The late racecar driver and designer Carroll Shelby took me riding with him through California's Mojave Desert in a Dodge Viper roadster at breakneck speed. And there was the time I sauntered the streets of lower Manhattan with Ian Schrager, co-founder of the legendary Studio 54 nightclub, listening to his theories on creating popular spaces. Still, I never mistook those experiences as anything more than famous aficionados softly plugging their brands.
My outing with Tucker, whom I met in town socially, is different. This is strictly about pleasure.
Every time I encounter Tucker, he talks about fly-fishing. His joy for it inspired me to ask him whether I might be able to join him one day. Not only had I never been fly-fishing, I needed a short break from a few escalating stresses in my daily life. The next morning, before dawn, we were in his MINI Countryman heading north on Interstate 77. "You're gonna have the time of your life," he told me.
Think of fly-fishing as a snootier cousin to traditional bait fishing in which anglers use an artificial fly to catch fish. Because the lures are nearly weightless, casting techniques are different, too. For some, there is no more enjoyable way to fish.
During the drive, Tucker explains his love affair with the sport: how wrong he was for protesting when, during his senior year at North Mecklenburg High School, his parents made him take a weekend fly-fishing course at Carolina Mountain Sports in Statesville; how he went on to Western Carolina University, where, as a communications major, he joined the North Carolina Fly Fishing team. "I got good really fast," he says. "You couldn't drag me off the river."
After graduation, while working as an assignment editor at a local TV station in Charlotte, he stayed busy competing in professional fly-fishing tournaments. On occasion, he hires himself out as a fishing guide. He's fished with chef Paula Dean ("a wild personality"), former UNC basketball player and head coach Matt Doherty ("super relaxed"), and baseball Hall of Famer Tony Gwynn Sr. ("very inquisitive").
"Some are good at helping people do math homework," he says. "I help people learn to fly-fish."
At Stone Mountain, Tucker teaches me how to cast (a smooth swing across my torso) and how to set the hook when the trout strikes (quickly lift the rod straight up so it's parallel to the stream). I prove a poor angler as I miss dozens of trout, yanking my line too early or too late. After a few minutes, though, I finally catch a small rainbow trout; yellow-green with black specks, not quite a foot long. "Very nice," Tucker says. As I release the trout back into the stream, I hear myself speak my first words from the river. "Yeah, man," I say. "It's better than nice. Thank you."
---
This article appears in the July 2016 issue of Charlotte Magazine
Did you like what you read here? Subscribe to Charlotte Magazine »
---