Last Call with Ron Stodghill: Is the American Dream Possible in Charlotte?
Take a walk in neighborhoods that look like the future—and reconsider those that look like the past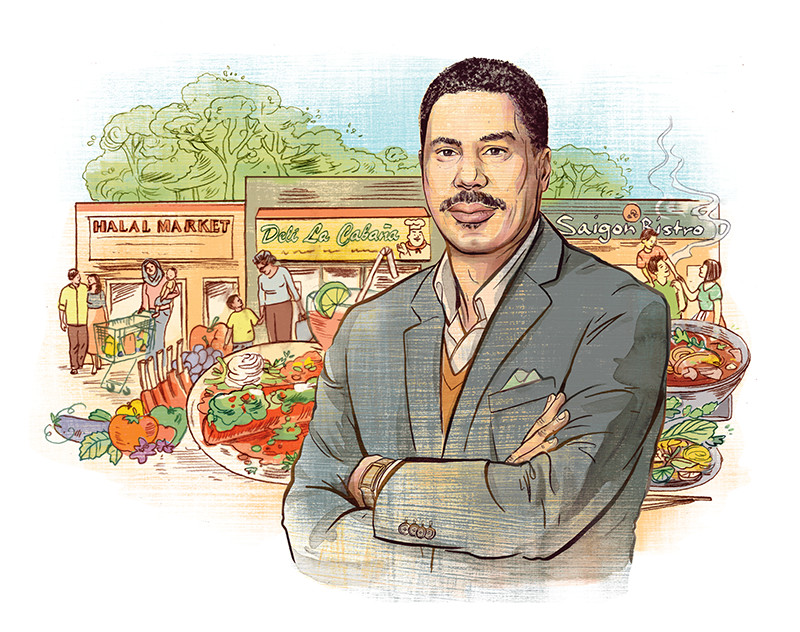 IT'S THE KIND of scene native Charlotteans could have scarcely imagined a few decades ago. Just a couple miles from uptown along the Central Avenue corridor is a community as culturally diverse as anything you'd encounter in New York or Los Angeles. You see them, immigrants from all over, eating Salvadorian and Mexican food at Deli La Cabana; or shopping nearby at Bosna Market, the European grocer; or shooting pool at Bay Le, the Vietnamese-run billiards hall.
This cultural rainbow, tiny as it may be, is not some random demographic aberration but rather a telling glimpse into Charlotte's future. Charlotte has become a place to which the world wants to move—to find work, raise a family. In recent years, we've outpaced many other American cities in attracting the world's ethnic minorities and immigrants, luring them from such distant lands as China, India, Europe, and Africa.
The influx, while putting a modern twist on good ol' Southern hospitality, should also inspire bigger questions about our civic character, about our readiness to befriend folks who think and eat and pray differently than we do. We can continue debating the feasibility of toll roads and airport expansion. That's the easy stuff. But can we, for example, respect our neighbor's struggle to understand our need for privacy or individuality, decidedly Western ideas; or their disinterest in our pulled pork, pop music, or God forbid, the Panthers? Tom Hanchett, consulting historian for Levine Museum of the New South, puts it this way: "The real challenge for Charlotte will be learning enough about each other and caring enough about each other so that we can function as a community."
Take a quick tour through Charlotte and it's easy to conclude that we're the prototypical Southern metropolis, still deeply torn by race and class, with, in our case, the grandest homes, ritzy shops, and best schools largely in the southeastern part of town while the poor and working-class folks scrape along on the gritty west side. Nothing dramatizes the rift better than affluent Ballantyne's threats to secede from Charlotte, an "urban municipal society," as dubbed by county commissioner Bill James.
If there is an antidote to our divided city, it will be occurring quietly on Saturday mornings in May, away from the grandstanding of public meetings and debates. That's when folks like Hanchett and city historic districts administrator John Howard and about a dozen others, organized by Mary Newsom and Claire Apaliski of UNC Charlotte Urban Institute, will lead walking tours. They'll peruse Beatties Ford Road, the Plaza Midwood or Brightwalk neighborhoods, the Hebrew Cemetery, or Little Sugar Creek Greenway, sharing stories about the city's history. Not just lore of old textile mills, or the rise of Banktown, or our future as an energy hub. They'll tell decidedly human stories about the generations of people who have lived and worked here, and how their values, lifestyles, and policies shaped what we are today. In essence, Charlotte, a city of new newcomers, is getting re-introduced to itself.
And frankly, there's hope in the history they share. It turns out, for instance, that just before the turn of the 20th century, whites and blacks throughout Charlotte were, in many cases, living side by side. "Before 1900, everything was mixed up," Hanchett says. "In 1875, a decade after the Civil War, there was a level of integration that set me back on my heels. I mean, there were black people and white people living in First Ward. … One of the first pieces of property sold in Dilworth was to an African-American church. Latta Park was integrated. The first white and colored waiting rooms at the train station didn't come until 1896."
A severe economic downturn in the 1890s set in motion a racial rift in Charlotte from which we have yet to recover. Blacks and working-class whites aligned to vote their interests, taking power from property owners, mill owners, and bankers. The overthrow, among other things, got them improved lending rates from banks. But by the next election cycle, a growing local white supremacy movement pushed hard to divide the races, starting with black lynchings and fear-mongering and morphing into much more through the century. There were voter poll taxes and literacy tests, redlining, so-called "urban renewal" projects, and various other tactics that promoted residential segregation.
That was then. Charlotte now has an opportunity to show once again what kind of city it is—or, rather, wants to be. Just take a walk along Central Avenue and you'll see that opportunity as clear as ever. As Hanchett once told a Charlotte audience that looked pretty much like him: "Look, I'm speaking as a white person. We've gotta reach out and make common cause with people. We've got to create a place where the American Dream works."
---
This article appears in the May 2016 issue of Charlotte Magazine
Did you like what you read here? Subscribe to Charlotte Magazine »
---