Last Call With Ron Stodghill: Love Cuts
How to initiate a breakup, and when it's OK to move on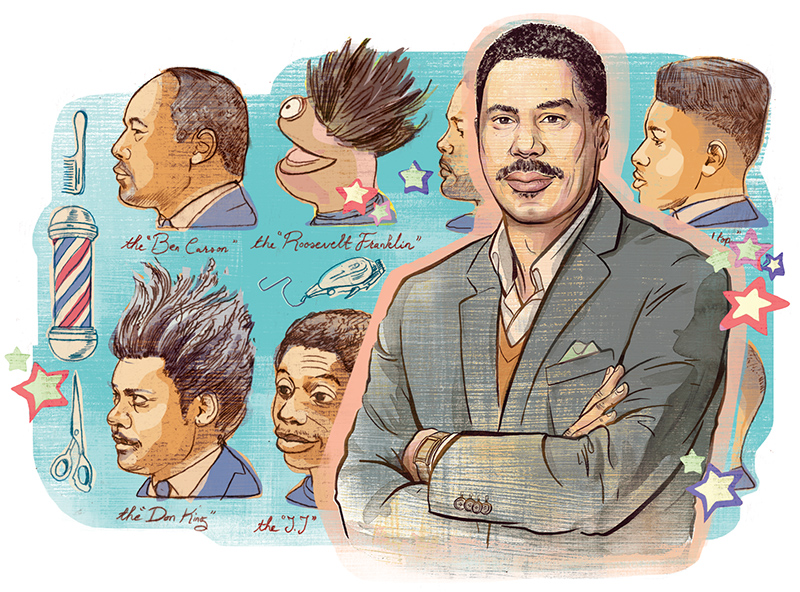 LET'S JUST SAY that some breakups are harder than others. One, in particular, continues to bother me. Perhaps my experience might help someone else.
Before you judge, which we all tend to do when any couple splits, let me say my decisions were not meant as a betrayal, or even infidelity. The bond we enjoyed was never based on the heart, but rather the head. This is critical to understanding why I walked away. And as every man knows, no matter the length of the relationship or size of the ego, there comes a time when it's simply beyond repair, and it's time to move on.
There comes a time in every man's life when he must quit his barber.
Which brings me to Tony. (At least that's what I'll call him here.) I had been seeing Tony for a couple of years. In better times, after workday PowerPoints at Johnson C. Smith University or hanging out at the Music Factory or Epicentre, I'd get comments about how good I looked.
I had Tony to thank. He knew what I liked: closely cropped around the sides and back, leave a bit up top, no harsh lines at the neck, ears, or forehead. And above all else, avoid the church-boy perfection.
We had our routine down: When I walked in and sat in his chair, we were Fred and Ginger, Magic and Kareem, Snoop and Dre. As he clipped and trimmed, we'd chop it up about Cam Newton, city hall politics, or the CIAA Tournament. Time seemed to stop. I'll admit, I even felt that familiar tingle, that buzz I get when I know it's really working, that the bond is real.
That kind of feeling is priceless. Well, in my case, it was 15 bucks, plus tip.
But then, like in so many relationships, Tony started taking me for granted. I would show up for an appointment and he'd make me wait. And when I finally got in his chair, he grumbled on about how busy he was, how others wanted his time or left bigger tips. Even worse, his clipper performance started to slip as he eyed his next customer; an uneven line here, a small nick there. When I was a kid, Sesame Street had a black Muppet named Roosevelt Franklin—his hair stuck straight up like Don King's. Twice, I left Tony's chair looking like Roosevelt—or even worse, Don King.
Tony not only didn't apologize, he didn't even notice. I felt taken for granted and sensed it was time to part ways. So here's how I moved on:
I STOPPED WAITING.
After a few minutes of sitting around without even a nod, I casually leaned over to Tony, tapped my watch and whispered, "I'm on a tight schedule, dude. I'll catch you another time."
Bottom Line: His refusal to acknowledge the importance of my time revealed his lack of investment in our relationship.
I STOPPED LYING.
At the end of a haircut, when he thrust that mirror in my face and showed me another Roosevelt look, I said nothing.
Bottom Line: His failure to note my disapproval and offer to work things out was a sign: The problem wasn't me; it was him.
I STARTED STRAYING.
I started sampling the services of other barbers. Several had caught my eye in the past, and now was the time to play the field.
Bottom Line: His negligence forced me to detach and seek affection elsewhere.
I'm seeing Steve now. It's a funny story: I was actually seeing him before but had lost touch after I found Tony. Fortunately, we bumped into each other recently at a strip mall in the University area. As we chatted, he began eyeing my hair. It was a mess, bordering on nondescript— a cross between J.J. on Good Times and Ben Carson.
It was clear we still had chemistry, though. Before the words were even out of his mouth, I could tell he still cared.
"So," Steve asked, being coy, "who's cutting you?"
"Oh," I said, "nobody special … at the moment."
Steve nodded. "Cool. Stop by sometime."
He handed me a business card. Its red and blue embossed letters caught my attention.
I rubbed my hair. "How about Thursday, around noon?" I said.
He didn't have to say anything. We stood silent.
And when we shook hands, I realized how much I missed him.
---
This article appears in the September 2016 issue of Charlotte Magazine
Did you like what you read here? Subscribe to Charlotte Magazine »
---