Last Call with Ron Stodghill: On Uneven Ground
A story of racism, small steps forward, and larger steps backward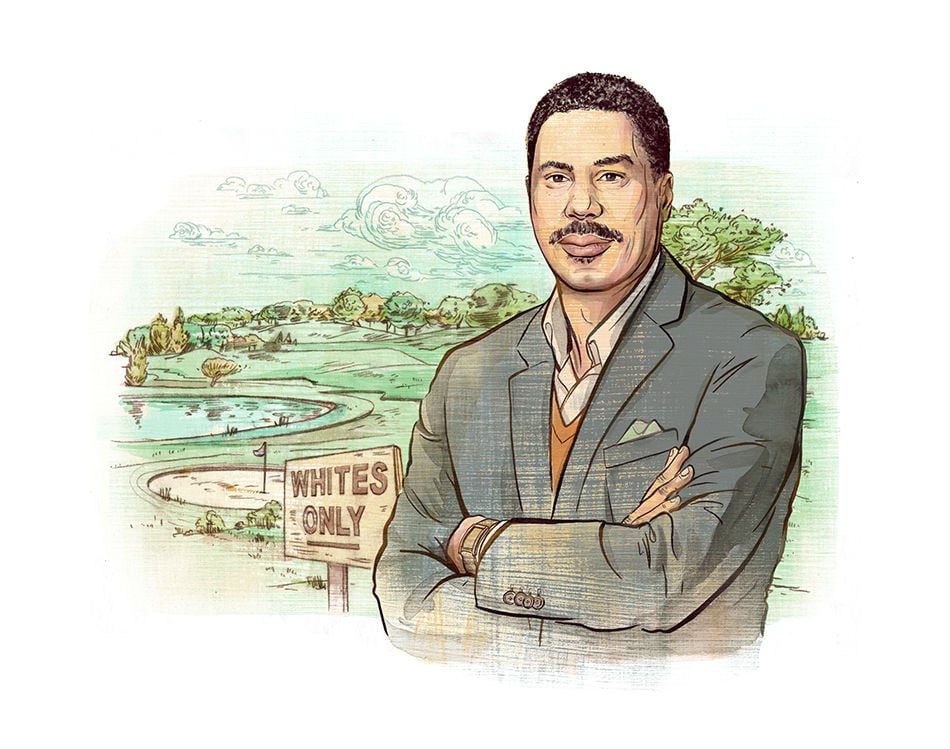 NOT LONG after my mother was diagnosed with cancer in 2006, I started taking golf lessons as a kind of escape. For a while, we suff ered together. My mother's specialist tried to zap away the bad cells from her lungs, while my instructor tried to tame my unruly swing. Those were hopeful days. In the early stages, we phoned each other frequently to tally our progress and were mostly satisfi ed; her spots seemed to be getting smaller, my shots were going straighter.
"So how'd you do today?" she'd ask wearily, and I'd recount my miracle shot from the rough or a bunker. The stories tickled her; golf, in her eyes, was the province of wealthy, white guys, and my playing symbolized a kind of racial progress.
By the autumn of 2008, our endless rounds—hers in chemotherapy at the Barbara Ann Karmanos Cancer Institute in Detroit, mine from the middle tee-box at Highland Creek Golf Club—had begun to betray us. Neither of us, it seemed, was getting much better. Our chats became less frequent until we rarely spoke at all. And then early one November morning, as I slept, the phone rang.
We buried my mother on an unseasonably warm November afternoon on the sloping, green landscape of Elmwood Cemetery, minutes away from her home on Detroit's east side and, incidentally, feet away from the tombstone of Coleman A. Young, the city's fi rst black mayor. Elected in 1973, Young in his day was the voice of black pride and progress in a city hemorrhaging from white fl ight.
A few years after Young was elected, my parents bought a big, stucco house along a stretch of other grand homes on the city's northwest side. In a sense, 2250 West McNichols was our George Jeff erson moment, our material debut into the ranks of Detroit's upper middle class. Our neighbors were doctors, attorneys, entertainers, business executives, and politicians. Our house sat on one manicured acre and boasted fi ve bedrooms, a couple of fi replaces, and a maid's quarters. Its most seductive feature was a long, sunny den overlooking the rolling, lush fairway of the Detroit Golf Course.
Back then, blacks were prohibited from joining this private, nearly-century-old club. In fact, the first blacks would not be admitted until 1986. Frankly, I don't think my parents gave their exclusion much thought; as a status symbol, the property more than adequately served its purpose.
As a child, though, I grew to resent living on the racially restricted golf course. It seemed a cruel hoax. There are few things more disillusioning to a kid than an unplayable playground, and the golf course, with all its trees and sand and water, beckoned to every fi ber of my being. In time, I would learn not to question the invisible line between my house and the vast greenness beyond, to try and live within my limitations.
My recollections of that house are few: I remember collecting the golf balls that landed errantly in the yard. I remember winters when the golf course wore a blanket of blinding, white snow, how my buddies and I would bundle up in our coats and boots and sneak out onto the course to play tackle football until our fingers and toes were frozen. I remember the bloom of spring and the appearance of white men in their plaid pants marching past my house, along the fairway, their hunched, black caddies in tow. And I remember looking at those black men with a blend of curiosity and pity, and asking myself why the black mayor couldn't make a law that allowed black people to play where they lived.
Some decades later, as my mother was taking her final breath, Barack Obama won the United States presidential election. She hung on to witness the country she loved voting a black man into its highest offi ce. Still, I sometimes wish that I could tell her about other things that have happened since. I want to tell her about the tragedies of Trayvon, Jonathan, Eric, and Michael. I want to tell her about the nine black people gunned down in a Charleston church, including the sister of my friend and colleague Malcolm Graham. I want to tell her about the surge in white hatred, and how I fear for my sons. And I want to tell her about the time, a couple of years ago on the 18th hole at Highland Creek, I scored an eagle.