Last Call With Ron Stodghill: On Your Own
A lesson from Oprah, a dose of humility, and other tips on entrepreneurship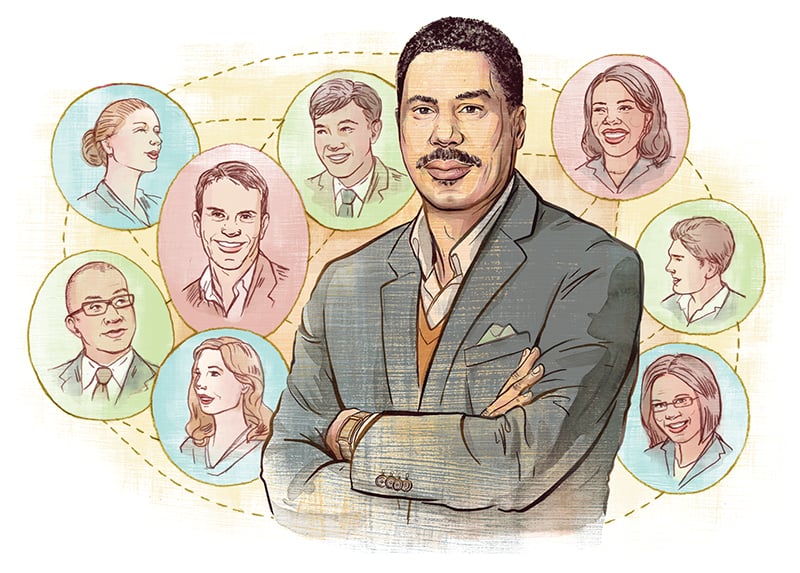 WHEN SOMEONE tells you, matter-of-factly, about the time Oprah Winfrey fired him, it's tough to hide the pity that swells in your gut. You squirm, look away, pick at your knuckles, and fight the urge to hug the poor soul. But one morning this past February, Clarke Allen is turning Kenilworth Espresso in Dilworth into his own confessional booth, and he seems oblivious to my discomfort. He plunges forward, lost in a woeful tale about how his Charlotte-based event planning and design firm, picked by Oprah herself to plan Maya Angelou's 85th birthday party, made a spelling mistake on a shipping address label sent to Oprah's office, and ended up canned.
It was 2013, revenue was up at his firm, he'd already handled two events for Oprah, and he was, admittedly, a bit full of himself. Well, at least until the Queen of Talk phoned him that afternoon, hot. "Mr. Allen, I know what I could have done for your career," he recalls her saying. "You aren't ready yet. You need to surround yourself with better people." Allen tried to explain himself, but to no avail. There between them it floated, an epic pink slip, casting a long shadow over Allen's fantasy of becoming Oprah's next progeny—Dr. Phil, Dr. Oz, or Nate Berkus.
It's an embarrassing story, but Allen, a Charlotte native, has learned through the years to wear failure and disappointment as a kind of badge of honor, as proof of an entrepreneurial life richly lived. In fact, the Oprah story, along with many others—poor hirings, bad firings, and near-bankruptcy meltdowns—are threads in his earnest new memoir, The Inevitable Box: A Quest for Significance. I've spent much of my career writing about entrepreneurs and business leaders such as Allen, a passion that led to my founding an entrepreneurial leadership program at Johnson C. Smith University. On occasion, I've even turned to Allen, a gifted raconteur, to share with students the good, the bad, and the ugly of entrepreneurial life. In his book, Allen chronicles his tumultuous journey to create Clarke Allen, Event Planning and Design, one of Charlotte's most innovative brands.
Charlotte is buzzing with entrepreneurs these days—laid-off banker-types, frustrated soccer moms, and freshly graduated geeks angling to launch the next big app, renewable energy alternative, or farm-to-table eatery in some startup incubator. But theirs is a decidedly insular world, a kind of Camp Inc., where the cool kids wax about "accelerator programs," "pitch competitions," and "entrepreneurial ecosystems" over sips of trendy coffee. Truth is, many of these Steve Jobs wannabes will fall flat—nearly half of businesses launched in the United States don't survive the two-year mark.
Allen, who launched his business as Charlotte Arrangements in 1994, has stayed afloat by reaching for expertise beyond the likes of uptown's Packard Place, UNC Charlotte's Ventureprise, or the BIG Council (Business Innovation and Growth). In fact, the first time I met Allen was at a party he hosted a few years ago in his colorful, cavernous headquarters in NoDa, where some 150 guests were participating in his "social experiment." Allen had just read Malcolm Gladwell's The Tipping Point, in which the author explores whether human connections are merely random or the result of an elaborate, interlocking web.
That night, Allen staged his own networking experiment. He invited 30 contemporaries from the hospitality industry and asked them to each to invite five people from the business community. What he learned by breaking Charlotte out of its industry silos was that the city's business people enjoy only two degrees of separation, rather than the generally believed six degrees—and that connecting through such social networking sites as LinkedIn and Facebook bore less fruit than actually meeting face to face.
Allen's memoir is another experiment of sorts—a gamble that his story, with all its warts, will foster a more transparent and meaningful dialogue among entrepreneurs in town. Although there's a lot of talk in Charlotte about entrepreneurship, much of it is superficial. It fails to cover issues such as character, ego, and accountability—the stuff that may have stifled his ventures through the years. In his memoir, Allen confronts such issues directly. Writing about his early fears of bankruptcy, he talks about a time just after the economic crash of 2008, when he says he realized he couldn't blame the economy for his troubles: "It wasn't until I began evaluating myself as a business owner, and as a man, that I began to see what had gone wrong. Having spent the first 45 years of my life with little to no self-awareness, it became clear—it was me. I was the problem. I had gone wrong. And in August of 2009, as I sat alone in the dark of my 30,000-square-foot building with no staff left, no pending projects, and no hope in sight, I was forced to face that fact."
Sounds like the kind of life lesson you'd hear on Oprah.