Last Call With Ron Stodghill: One Man's Trash
You never know what you'll find at the Goodwill store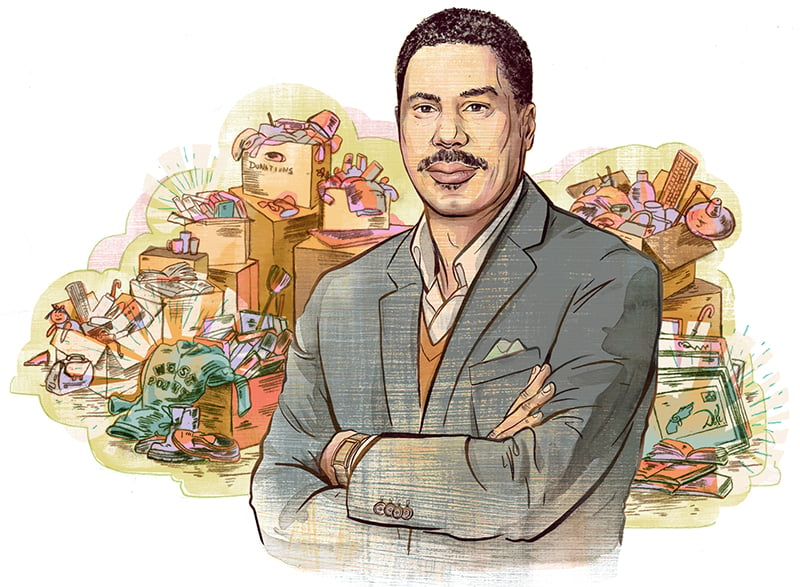 THERE IS something supernatural about the local Goodwill, in the swirl of past pleasures and pain that move ghost-like through the aisles. In 2014, a couple from Knoxville went into a Goodwill Outlet in Asheville and brought home a sweater for 58 cents. They later discovered while watching a documentary that the sweater was Vince Lombardi's during his midcentury Army football coaching days (the sweater fetched $43,000 at auction in February 2015). A few years back, in Seattle, an anonymous donor dropped off a colored etching. The store staff thought it was junk, but soon learned its creator was legendary painter Salvador Dali (an online auction of "Reflections" brought $21,000). Then there were the small, white boxes mistakenly dropped off in December 2014 at a Goodwill in Lafayette, Indiana—donations which contained, as it turned out, ashes of cremated family members (the remains were promptly returned to the donor).
But Goodwill is also a place where old scores settle, fractures heal, lives diverge and intersect. A couple of months ago, I dropped off several boxes of old books at the Goodwill on West W.T. Harris Boulevard. A few days after my donation I received a message on Twitter—one that I initially ignored if only because of its sender's dark handle, @bereftofhope, and the cryptic post attached to it: "do you believe in fate? lol." The stranger then posted something to my Facebook page that captured my attention: "A chance purchase at Goodwill. The book Armand Hammer signed to Ron."
The message flooded me with memories of my old journalism professor and mentor, Steve Weinberg, who, early in his career, had written an unauthorized biography on the late industry titan who reigned at Occidental Petroleum. @bereftofhope also posted a photo of an envelope addressed to me at my former office in Washington, D.C., and another of the inscribed title page of Armand Hammer: The Untold Story. It read: "To Ron, A far better writer than I could ever be. I look forward to reading lots more. Steve Weinberg, November 1989."
Weinberg's modesty has always bordered on outrageous. When he wrote that note, I was a cub reporter working my first magazine gig; he was a rising star, admired in the profession not only for his chops as an investigative reporter, but also as a serious teacher of the craft. I came to know him when I was an undergraduate studying journalism at the University of Missouri-Columbia. There, in the rural flatlands of central Missouri, Steve's passion for words and ideas transported me—and frankly helped me to survive the most racially isolating place I'd ever lived.
Steve and I could not have been more different. I was a 20-ish, R&B-bopping, basketball-playing inner city kid; Steve was a curly-topped, backpack-toting, bicycle-riding, Jewish 30-something. Yet we could sit in his office, or at The Heidelberg restaurant, and talk writing until there was no doubt in my mind what I wanted to do in life. Of course, I wonder now why I never bothered to share other important matters with Steve, such as how frightened I was, for instance, the night a truck full of white guys pulled up and shouted Nigger go home! at me as I headed back to the dorm after a party. Or how frustrated I was the time, desperate for a haircut, I walked into a downtown barbershop and was told, We don't cut or shave y'all. Or how crestfallen I was when, in a creative writing course, my novelist professor shrugged off her lack of familiarity with the works of my favorite authors, from James Baldwin to Richard Wright to Zora Neale Hurston—seminal literary figures of the Harlem Renaissance era.
It boggled me that nearly three decades later, my trip to Goodwill would dredge all this up. It's painful, murky, complex stuff . I would be forced to relive these memories yet again during the November furor over Mizzou's black student protests and football player boycotts that thrust the university's hidebound, only-white-is-right culture into national headlines. But as much as I regretted sending the gift from my mentor to the Goodwill bin and into the hands of a stranger, there was some consolation in my sudden desire to re-connect with my old friend.
I found Steve on Facebook. Sadly, I learned that he had recently suffered a stroke, from which he had yet to recover. He posted this on his page in November: "Six months after the stroke paralyzed my left arm/leg and wiped out 66 years of excellent health, the quick version of how I'm faring, in answer to your kind inquiries: good progress below the neck, less so in the portion of my brain that the stroke compromised. …The brain will not be hurried. But I can walk up to two miles before resting, can dress myself, can even floss my teeth as before."
Soon after, @bereftofhope and I connected on the phone. He described himself as an old white guy, a collector of sorts, who lives in Cornelius. I'd like my book back, I said. He laughed at my desperation, but agreed. You never know what you'll find at Goodwill, he said. Yeah, I said, you got that right. And then @bereftofhope invited me to come and retrieve Armand Hammer, a chapter in the best, most bittersweet days of my youth.
---