Last Call With Ron Stodghill: Oprah's Child, All Grown Up
As graduation awaits a Johnson C. Smith senior, a look back on the home she left in South Africa, and the program that helped bring her here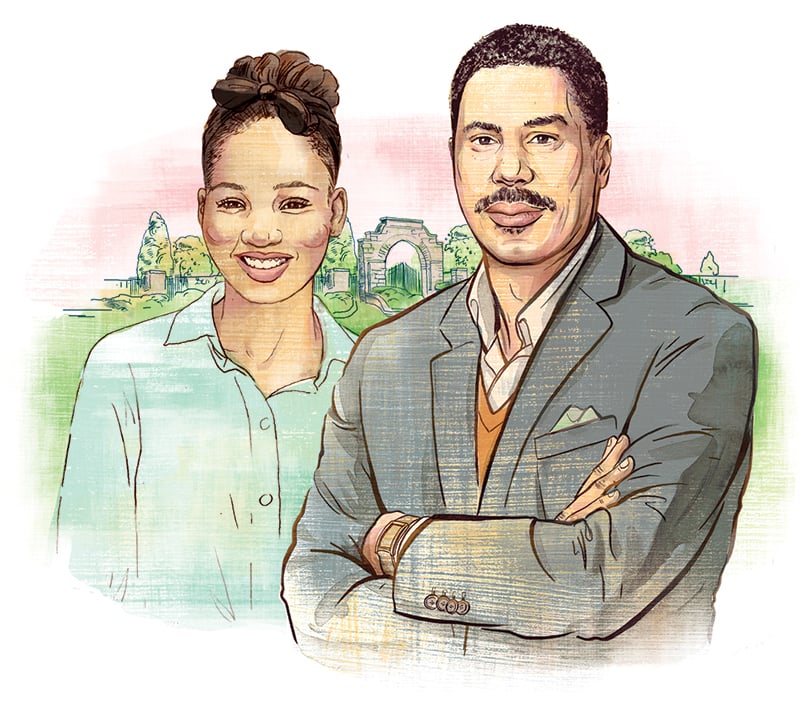 A FEW WEEKS AGO, I had lunch at Midnight Diner with Andronica Klaas, a brainy, gregarious computer science major at Johnson C. Smith University. A native of South Africa, Andi brims with colorful paradoxes that make her one of JCSU's most beloved students: a snappy British accent issued from a diminutive mocha frame, an intellect's curiosity bubbling beneath a hip-hop sensibility, a quick laugh that disarms the most sour spirit. For lunch, in a polite flourish conjuring Mary Poppins, Andi ordered a decidedly Southern meal of shrimp and grits, and an iced tea.
I met Andi a couple of years ago when she joined Innovo Laboratory, a student entrepreneurial leadership program I launched on campus. During her initial interview, she told me, "I really have no interest whatsoever in starting my own business. I don't think I'm particularly creative or innovative. Not really. But I'd like to invest in entrepreneurs one day. I think I'd be good at that." I scribbled three words in my notebook: "candid," "confident," "self-aware."
I can't lay claim to discovering Andi's exceptional talents, even though I wish I could. Those bragging rights go to Oprah Winfrey, who, encouraged by the late Nelson Mandela, in 2007 opened a boarding school for disadvantaged and academically gifted girls near Johannesburg. Born about an hour northwest in the township of Kagiso, Krugersdorp, Andi was among thousands of girls who applied, most from the impoverished villages and shantytowns across the country. The opportunity radically altered what's possible in life for a little black girl whose mother earned $200 a month. Last year, Andi asked me to help her write about the emotional odyssey of being the chosen one, of racing home from school that day to tell her mother she had been admitted into Oprah's academy. It was a life-changing moment that, while propelling Andi out of the poverty that had gripped her family for generations, also meant detaching, at 13 years old, from her mother and siblings to start seventh grade.
"There she was outside our two-room, tin house. I remember it vividly because for the first time the sight of our struggle brought me joy," Andi wrote of her mother. "I charged towards her with the paper in my hand and waved it to her face. Her only concern was why her little girl had been let out of school by midday, because education was our only escape. Little did she know that I had in my hand our escape: an acceptance letter from the Oprah Winfrey Leadership Academy for Girls—an institution that offered me free housing and education…"
Andi had no way of knowing this, but halfway across the world, a man named Dr. Ronald Carter had taken the president's job at JCSU in 2008 and made a point to aggressively recruit international students. Having spent about a decade living in South Africa and fighting apartheid, Carter invited Oprah's students to apply to JCSU. Three enrolled, with two coming in the fall of 2012 and Andi arriving a year later. (The first two graduated this past spring, with Oprah delivering the commencement address, gushing with pride over her "daughters.")
In my view, Andronica Klaas—and all that her arrival as an international student in Charlotte symbolizes—is Carter's crowning achievement. As North Carolina and Charlotte reel in the aftermath of racial unrest and division, I see Andi's life in this city as an antidote to any perceived backwardness, proof of our promise as a city that is diverse, global, and a place where young people can thrive.
From that two-room house in South Africa, Andi, now 22 years old, has come here and contributed—not just to JCSU but to the rest of the city. Along with numerous student clubs and committees, she's had internships—locally for corporations like Electrolux and Bank of America, and in New York at Discovery Communications. More recently, she has traveled as a student ambassador for the White House Initiative on Historically Black Colleges and Universities.
The best news is that, for a while at least, Charlotte will keep Andi around. In August, Bank of America offered her a job in its IT division after graduation. She gladly accepted.
---
This article appears in the November 2016 issue of Charlotte Magazine
Did you like what you read here? Subscribe to Charlotte Magazine »
---